Clubs Corner: Student Public Relations Association
At Hobart Hall on Thursday's in room 142 enthusiastic students of the Public Relations Association are hard at work. Every meeting is like a workshop; students experience hands on activities. The meetings are held as an open form. President, Daniel Leedy a senior with a major in PR begins by going over the agenda. Others on the board are Vice President Edgar Enriquez, secretary Thomas DeMartino, treasure Kyle Delahanty, and social media director Michele Ciz.
After the agenda student involvement begins. SPRA members break off into different groups. There is currently a social media, event planning, and a Pioneer PR Report team. Students are encouraged to get involved. Throughout the semester workshops are held, professionals come in and speak to students.
SPRA is driven for professional development in PR, to model what a PR firm would do and networking for career opportunities.
When asked in what ways has the SPRA affected his career, Leedy said it helped him learn what PR truly is.
"Joining the club developed my character as a PR professional," said Leedy. "It taught me how to adapt and feel prepared, and that's something taking courses can't teach you"
Leedy is currently interning at Green Room Communications, a company that deals with the healthcare industry.
In the fall semester the SPRA held their 7th Annual PR Internship and Career Fair. This is an opportunity for students to network and make connections with professionals in the field. In the spring semester the association organizes a New York City Trip to visit PR firms. In the past they have visited TAYLOR, 5W Public Relations, and Coburn Communications. Student received tips and advice as well as internship and job opportunities. In certain occasions the firms have reached out to students. Coming up in March is the SPRA Alumni mixer. SPRA invites William Paterson's PR alumni to interact with students.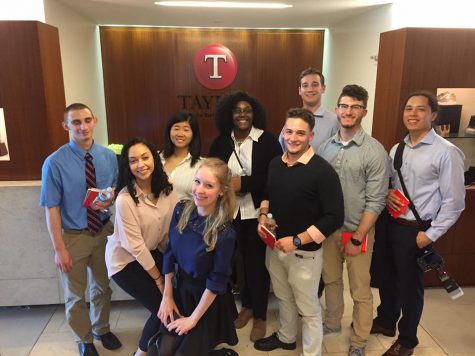 Ciz said SPRA has helped her become for confident in PR. Her involvement also opened many doors for her career as well. She is working part-time job at CSBK, PR and marketing. Ciz was also one few students selected from William Paterson communications department to go to Puerto Rico for a community service opportunity after Hurricane Maria.
A focus for the SPRA this semester is to bring back the Pioneer PR Report. The Pioneer PR Report contains articles PR related such trending topics and tips for peers.
SPRA is involved within their community. They previously worked with children in an Oasis community center in Paterson. The students also participated in a goodwill clothing drive. SPRA often collaborates with other clubs on campus for volunteer opportunities.
For Charles Delvalle a senior with a major in PR this is his first semester with SPRA. He said it has really opened up opportunities for him to get hands training with PR practices.
"I am grateful for what the staff has done to help me gain the experience I need for a professional job in PR," said Delvalle.
SPRA is active on social media outlets Twitter, Instagram, and Facebook @SPRA_WPU. The association is always looking for new talented and determined students to join the team.