Kesha, Not Ed Sheeran, Deserved that Grammy
"Praying," a song about sexual assault, ironically lost to "Shape of You."
Amidst a firestorm of sexual assault allegations in the media, Ed Sheeran's single, "Shape of You," about loving a female for her "assets," ironically trumped "Praying," Kesha's pain-fueled ballad inspired by her grueling sexual assault case, for "Best Pop Solo Performance" at the 60th Annual Grammy Awards.
Sheeran's win caused a stir on social media for revealing how little progress the nation has actually made in understanding consent and respect.
Fans were distraught that Sheeran beat out not only Kesha, but female icons Kelly Clarkson, Pink and Lady Gaga, whose songs feature lyrical competition with themes of political divide and surviving heartbreak, according to Paper Magazine.
Also ironic was how Kesha gave a tear-jerking performance of "Praying," while Sheeran was noticeably absent and awards had to be accepted on his behalf. Iconic female singers Cyndi Lauper, Camila Cabello, Andra Day, Julia Michaels and Bebe Rexha joined her on stage and hugged the sobbing singer as the audience rose in standing ovation.
Sheeran, on the other hand, stayed mum until the next day, when he posted a celebratory picture on Instagram of his cat in lieu of an acceptance speech. "Woke up to the news I won two Grammys last night," Sheeran captioned. "Thank you!"
Twitter reacted with praise for Kesha and disgust for her loss.
"Praying" came from her album "Rainbow", which consisted of the first songs Kesha was allowed to release in four years due to her binding contract. Additionally, she was one of the first celebrities to bravely come forward about her sexual assault before recent movements urged others to.
After speaking out, Kesha endured four years of suffrage in court as a result. Many sexual assault victims stay tight-lipped for this very reason, but Kesha's endurance proves to them that victory is possible.
In October 2014, Kesha filed a civil suit against Dr. Luke, who "sexually, physically and emotionally abused [Kesha] to the point where [she] nearly lost her life," according to official court documents that are available online for the public.
In her claim, Kesha reported numerous counts of Dr. Luke drugging, sexually assaulting and raping her, taking full control over her career, antagonizing her about her weight and threatening her family and career in exchange for her silence. Glamour Magazine reported that Kesha admitted herself to rehab for an eating disorder early in 2014.
In response, Dr. Luke countersued Kesha for breach of contract and defamation through "false and shocking accusations," according to Rolling Stone. As a result, Kesha could not legally release any music for the next four years.
Kesha's lyrics encourage others to find inner and outer peace in such situations.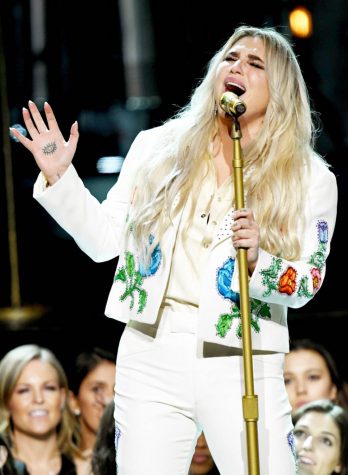 "This song is about coming to feel real empathy for someone even if they hurt or scare you," she explained to Lenny Letter. "It's a song about learning to be proud of the person you are even during low moments when you feel alone. It's also about hoping everyone, even someone who hurt you, can heal."
On the contrary, "Shape of You" was a smash hit song, but cannot measure up to "Praying" in significance.
"None of us thought that much into it," Sheeran explained about the song's creation video to The New York Times. He also admitted that the song was originally written not for him but for Rihanna.
Still, the song broke the record for the most weeks in the Billboard Hot 100's Top 10 and became the most streamed song on Spotify, according to Billboard.com. As for the Grammy win, the song was one of two wins for Sheeran, who was also awarded "Best Pop Vocal Album" for "Divide".
Considering how Sheeran slept through the awards, one award for his album should have been enough.
The loss of Kesha's power ballad to Sheeran's sexual song was ironic and sad. To the millions of Americans who were personally affected by #MeToo, #TimesUp, the Harvey Weinstein scandal and more, the loss showed us as a society that sex still remains a powerful force in America's morality.
While Kesha and many Americans wiped tears from their eyes after her emotional performance, Sheeran slept soundly through his acceptance speech for a song about having sex with a curvy girl.
Although she lost the award, Kesha won something in her song that cannot be bought. She wrote to Lenny Letter, "I've found what I had thought was an unobtainable place of peace."
Regardless of the outcome, "Praying" is a unique piece hidden beneath an array of songs that bank out from glorifying sex and degrading women, such as "Shape of You."
The single was a work of peace for sexual assault victims everywhere and deserved its rightful recognition.
At least Kesha would have been present for her own award.