Pioneers Baseball Looks Forward to Fresh Start in 2018
"One of the things that we stressed is that it's not ok to be ok." -Pioneers head baseball coach, Mike Lauterhahn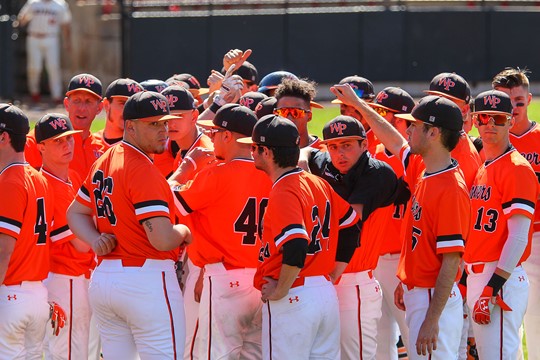 The William Paterson University baseball team is loaded with talent to match the hype surrounding the squad heading into the upcoming 2018 campaign. The level excitement and expectations start at the top, with head coach Mike Lauterhahn, who is entering his eleventh season guiding the Pioneers.
Coming off a dismal season last year with many of his players injured, this year is expected to be a complete turn around with many players already showing flashes of mid-season form, which can be credited to their strenuous offseason practice regimen, "So far we look pretty good, they did a lot through the offseason on their own [and] to come in and be prepared so we kinda hit the ground running and up to this point things has been very good," said Lauterhahn.
Following a poor showing last year that resulted in a 15-21-2 (8-10 NJAC) mark, the Pioneers completed what some would call the collegiate version of a "rebuild" constructing a roster loaded with rookies; 18 new players compared to the 14 returning from last season.  With that being said, Lauterhahn believes that the freshman and transfers have adjusted well to collegiate baseball, "they've adjusted fairly well, they had a little taste of it in the fall  because we had a three week fall season so they had an idea to what was going on," Lauterhahn said.
"But we gave them a very specific plan to follow during the offseason so to make sure they'll be able to catch up to the speed of everything, up to this point they've met the expectations were looking for and their adapting to the speed of the game very well."
With their first game less than three weeks away, Lauterhahn has seen great results from his players both on the field and in the classroom. All 32 players met the University and NCAA academic requirements in order to compete in a collegiate sport, en route to accumulating a team GPA of 3.06 in the Fall semester.  Lauterhahn feels strongly that his players proved that they are committed both athletically and academically, as this was a collective effort impart that the coaches made sure that the practices will not clash with the players class schedule.
In spite of the good grades, it is not enough to win games, as the Pioneers compete in what is widely regarded as the toughest conference across all of division III baseball, the New Jersey Athletic Conference (NJAC).  While playing in the NJAC will be a huge testament to each players individual skills, as it is every year, Lauterhahn notes that the chemistry that has developed amongst his players has helped in their progress and their chemistry as a whole, "there guys that are whe we brought them in we knew what exactly what they were cable of doing.  They're all doing their part and they realize that their a small part of something big and if they do what they supposed to do it could lead to a very successful season for us," Lauterhahn said.
In the midst of a five week practice schedule prior to Opening Day on February 24,  players have been given the opportunity to improve on their skills in each facet of the game day by day, which includes the mental side of the game and learning from the mistakes from last season. "We struggled a little bit last year and that shows off on our record and were just trying fill the void," Lauterhahn said.