Gone Fishing: Yankees Aquire Baseball's Biggest Slugger Stanton From Marlins
"I'm very excited to be here and to be a part of the Yankees, and I'm just looking forward to stepping up and being with this winning environment and winning culture." -Giancarlo Stanton
KENDALL PARK, N.J.- Less than a week after holding an introductory press conference for the newly named manager of the New York Yankees, Aaron Boone, general manager, Brian Cashman and company suited up for another introduction for the next man to don the Yankee pinstripes, reigning National League MVP, Giancarlo Stanton.
Away from the friendly confines of Yankee Stadium, the Yankees welcomed their new slugger in front of a large crowd Monday afternoon at the MLB Winter Meetings in Orlando, Florida.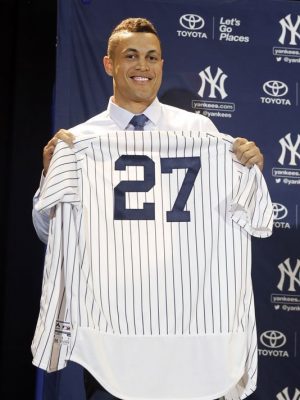 Stanton, 28 was acquired by New York from the Miami Marlins and Yankee fan favorite Derek Jeter, who now holds the Chief Executive Officer position with Miami, in exchange for all-star second baseman, Starlin Castro and minor league prospects RHP Jorge Guzman and INF Jose Devers.  Miami will also take on $30 million of the $295 million owed to Stanton over the next 10 seasons, as long as he does not opt out following the 2020 campaign.
After missing out on the Shohei Ohtani sweepstakes earlier in the week, Cashman and co. turned their attention towards acquiring Stanton who listed New York as one of four clubs  that he would waive his no trade clause for  This came after Miami already had potential deals in place with both the St. Louis Cardinals and San Francisco Giants.
New York's front office worked tirelessly throughout the wee hours of the night to reel in the biggest fish on the market.  The deal first surfaced near the midnight hour Friday night. Stanton was flown to NYC and passed his all important physical on Sunday morning before the deal was confirmed by the two clubs on Monday.
Stanton now joins a long list of sluggers the Yankees have acquired through trades or free agency over the years, joining the likes of Babe Ruth, Reggie Jackson, Dave Winfield, Jason Giambi and Alex Rodriguez, just to name a few.
The most recent instance, the Rodriguez deal, presents many similarities to that of Stanton.  As we are now well aware of, or have been reminded a lot of in the past week, Rodriguez was acquired by New York prior to the 2004 season, large-in-part to now current manager, and Yankee third baseman at the time, Aaron Boone suffered a season ending injury after tearing a ligament in his knee while playing pickup basketball.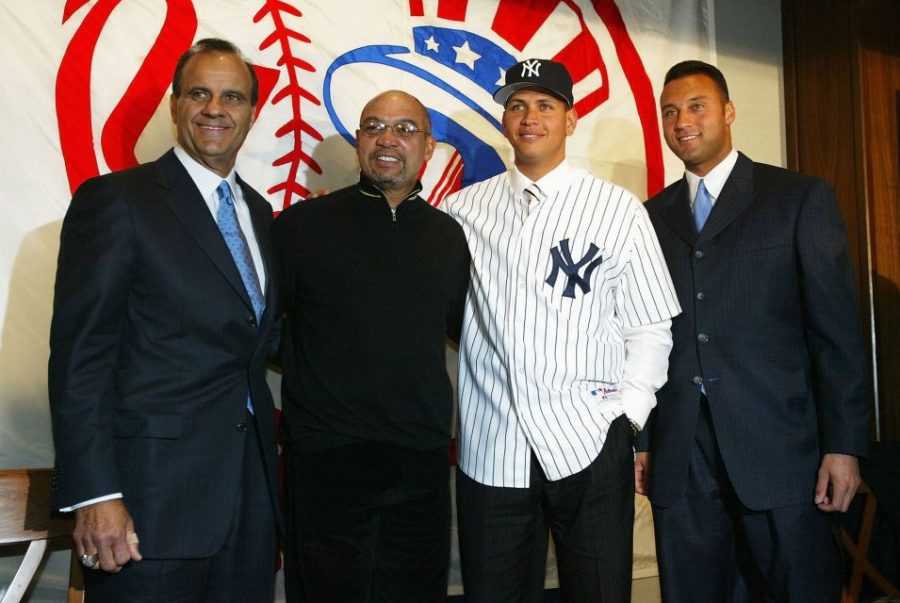 Stanton, like Rodriguez is coming off a stellar age 27 season in which he lead the league in home runs en route to taking home league MVP honors.  Rodriguez had previously signed the most lucrative deal in baseball history with the Texas Rangers; a 10 year deal worth $252 million with a full no-trade clause, Stanton doing the same with Miami, 13 years, $325 million prior to the 2015 season. In both instances, Rodriguez and Stanton had played through three years of the contract before their basement dwelling clubs determined they could no longer afford their services.  
Continuing on the deja-vu path, it appeared that both players would not land with New York.  For Rodriguez, it was a three team trade had been agreed upon between Rodriguez' team, Texas and its trade partners the Boston Red Sox and Chicago White Sox.  Rodriguez was to be dealt as part of the three-team trade to  Boston, in which the White Sox would have received Manny Ramirez and 19 year-old pitching prospect, Jon Lester.  The Red Sox would have also parted ways with shortstop, Nomar Garciaparra who would have went to Chicago in exchange for Magglio Ordonez and Brandon McCarthy.  Ultimately, the MLBPA vetoed the trade large-in-part to Rodriguez' willingness to restructure the seven years, $175 million remaining on his contract.
Somewhere in the files of Jed Hoyer, former assistant to the general manager of the the Boston Red Sox, there is a contract signed by Alex Rodriguez…For Stanton his situation is a bit less complicated, having never signed on the dotted line as Miami only had previously mentioned deals in place with both St. Louis and San Francisco, both organizations that Stanton was not willing to waive his no-trade clause for.
Ultimately, Rodriguez was traded by Texas to the Yankees in exchange for all-star second baseman, Alfonso Soriano and infield prospect Joaquin Arias with Texas picking up $67 million remaining on Rodriguez' contract.  Rodriguez' move to New York saw him change positions, moving from shortstop to third base to accommodate the then face of the franchise, Derek Jeter…Stanton will now do the same, coming to the Bronx where Yankee fans were captivated by the slugging prowess of rookie phenom, right fielder, number 99, Aaron Judge.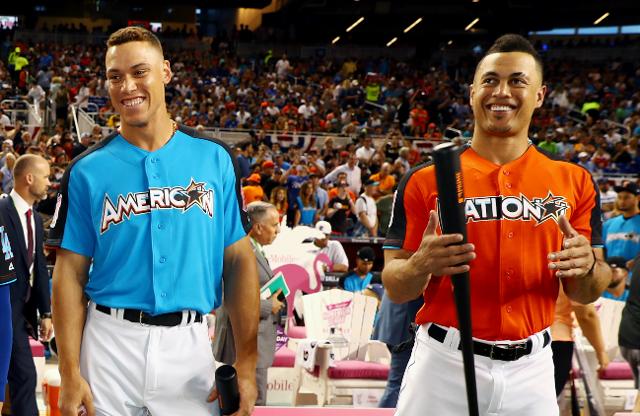 The Stanton/Judge duo will now help form the modern day "Murderers Row" or recreate the likes of the "M&M Boys" Mickey Mantle and Roger Maris, whichever you prefer.  In the case of the later, the duo combined to slug 115 home runs in their record setting season for the 1961 World Series winning Yankee team.  Judge, 25, clubbed 52 home runs of his own in 2017 while taking home AL Rookie of the Year honors and finished runner-up in the MVP race.
It has been well documented that the two sluggers are utterly similar.  The obvious is their physical stature, Stanton listed at 6'6" 245 lbs, Judge, 6'7" 282 lbs.  Digging into their roots, both were born in California, separated by about 300 miles; Stanton, Panorama City, Judge, Linden.  Both have a Home Run Derby title under their belts, Stanton in 2016 and Judge taking home the crown this past season in Stanton's former home ballpark in Miami.
"We're excited to get better together and use our talents together because we're very similar," Stanton said in regards to playing alongside Judge at his press conference Monday.  "And we're going to learn from each other and make each other better."
By the looks of it, it appears that Judge is equally excited for his new teammate to join the team that already paced the league in long balls with 241.