Welcome Back to the Boone Down Bronx, Aaron
Yankees tab former postseason hero Aaron "Bleepin" Boone as next manager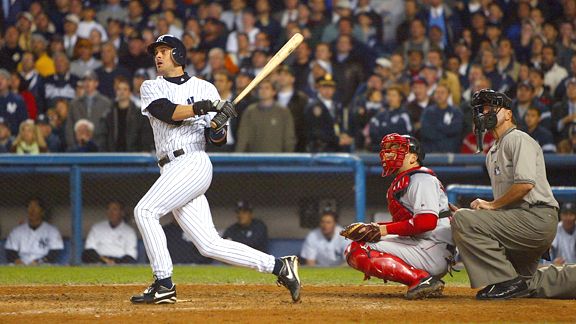 Hang on for a minute...we're trying to find some more stories you might like.
WAYNE, N.J.- At the July 31st trade deadline of the 2003 season, New York Yankees general manager Brian Cashman acquired thirty-year-old third baseman Aaron Boone from the Cincinnati Reds to fill the void of a struggling platoon duo of aging veterans Robin Ventura and Todd Zeile.
Boone would go on to play 54 games during the regular season, but he earned his pinstripes and briefly earned his way to the heart of Yankee fans that year for his heroics in Game 7 of the ALCS against rival Boston Red Sox.  With the score tied 5-5 Boone came to bat to lead off the home half of 11th inning, after entering the game as a pinch runner in the 8th inning, and drilled the first offering from Tim Wakefield deep into the left-field seats at the Old Yankee Stadium to send the Yankees to their 39th American League pennant.
Following his heroics in Game 7 of the 2003 ALCS, Boone would go on to play parts of five more MLB seasons from 2005-2009 before assuming an analyst role for ESPN prior to the 2010 season.  
Nearly 15 years later, Cashman holding the same GM position has turned to Boone to fill another void, the highly coveted managerial position.
It was first reported on Friday, December 1 that Aaron Boone will be the 33rd manager of the New York Yankees and the 19th former player to manage the club.  Boone was selected over five additional candidates, a list that included the reported runner-up, Hensley Meulens, Carlos Beltran, Rob Thompson, Eric Wedge and Chris Woodward.  
Through the interview process, Boone was able to impress the organization with his immense communication skills, in addition to having a strong understanding of and willingness to implement an analytical style of managing.  Boone also has valuable experience in handling the New York media.
The man Boone will be replacing at the helm, Joe Girardi, held the managerial position for the past ten seasons (2008-2017), guiding New York to a 910-710 mark with three American League East division titles, six playoff appearances and a World Series championship in 2009.   
New York made Boone's deal official on Monday as the two sides agreed to a three-year contract through the 2020 season with a team option for 2021.
"Words cannot express how humbled I am to wear the pinstripes again as the manager of the Yankees," Boone said in a statement to the New York Daily News.  "I want to thank the Steinbrenner family and Brian Cashman for entrusting me with this tremendous honor and responsibility. I believe we are entering into a special time in New York Yankees history, and I am so excited to be a part of it. I can't wait to get to work — and that work starts now."
Although he has no prior managerial experience, Boone, 44, comes from one of baseball's most accomplished families.  The Boone family became baseball's first three-generation family with the debut of Aaron's brother Bret in 1992.  The Boone's are one of just five such families in MLB history.
His grandfather, the late Ray Boone was a two time all-star in 13 MLB seasons from 1948-1960.  Boone's father, Bob had an accomplished 19 year career from 1972-1990 in which he garnered three all-star selections, seven Gold Glove Awards and a World Series ring with the Philadelphia Phillies in 1980, while his son, Aaron's brother, Bret was a three-time all-star and four-time Gold Glove Award winner over his 14 year career spanning from 1992-2005.  Bob Boone is the only Boone with prior managerial experience, guiding the Kansas City Royals from 1995-1997 and the Cincinnati Reds from 2001-2003.  He currently serves as the Assistant General Manager and Vice President of Player Development for the Washington Nationals.
Boone also fits the mold of the modern day manager and will be one of 17 of the 30 MLB managers who are working their first managerial job during the 2018 season.  Boone is also one of 26 current managers who attended college and has professional playing experience.
As Michael Kay, the Yankees play-by-play announcer for the YES Network stated when the Boone hiring first broke, "Boone is being handed the keys to his first car. And it's a Lamborghini."
The features of the 2018 New York Yankees model Lamborghini includes a 6'8″25-year-old super star who is coming off a Rookie of the Year Award-winning season, setting the rookie mark with 52 long balls while finishing second in the AL MVP race.  Additional features include 24-year-old catcher who has blasted 53 home runs in just 1 1/2 big league seasons, a twenty-three-year-old ace who finished third in the AL Cy Young Award race, a flame-throwing closer at the back end of a loaded bullpen and a farm system ranked near the top in all of baseball.
Boone will inherit a team that finished 91-71, just two games behind the Boston Red Sox for first place in the American League East.  New York then beat the Minnesota Twins in the AL Wild Card game before overcoming a 0-2 deficit in the best of five, ALDS against the defending AL champion, Cleveland Indians.  New York then came within one game of a World Series berth, their first in eight years before falling to the eventual World Series champion, Houston Astros in seven games in the ALCS.
Perhaps Boone's best quality is he is a part of one of baseball's greatest families, and that is what he will have to create within the Yankee clubhouse; a family.
Boone will be introduced as the Yankees manager with a press conference beginning at noon on Wednesday at Yankee Stadium.