The Hope WorldWide Club Hosts JamQuest
Last spring semester, the HOPE worldwide club began at William Paterson University. HOPE worldwide is a faith-based, non-profit organization that focuses on the less fortunate and personal spiritual growth.
The mission of the club is the same as the national organization. Their mission is to serve the needy especially kids. The focal point of the club is to hold events to raise money for the needy and to volunteer within their community.
HOPE worldwide was founded through Christian scriptures, the beliefs written in the bible. The club holds bible studies for those who are interested in learning and expanding their knowledge on the Christian faith.
The president of the club is Marc Persing, a junior with a major in philosophy, who pushed forth the presence of this organization on campus. The public relations representative is Charles Delvalle, a senior with a major in public relations. The advisor of the organization is Mayra Soto. The club currently has about 25 members and is continually growing. They are very active on campus taking part in campus service events, Persing described this as 'servant leadership.'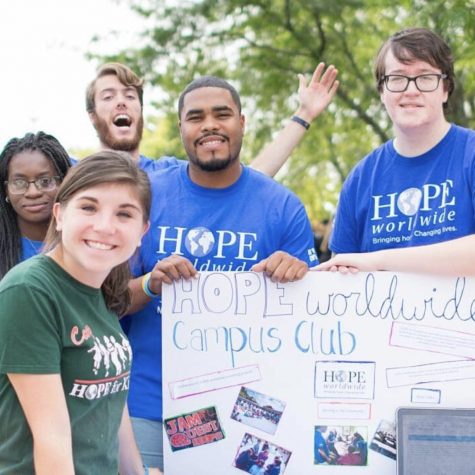 The club recently partnered with JamQuest, another non-profit organization with similar goals to hold an event on campus. On Nov. 28, in the Campus Rec Center, WPU students are encouraged to register for a 3 on 3 basketball tournament. The cost is ten dollars per player and all the proceeds will go to help students in Kenya go to school. The main goal of this event is to get the youth to give back while doing what they love. By holding an event like this, the club hopes to also spark a sense of desire in students to help and care.
For the holidays, the club is planning to go to Camden Street Elementary School in Newark along with the HOPE worldwide New York Metro Chapter. The members will be there to sit down with children and help them read. Persing and Delvalle, who have attended this event before, have been extremely touched by it. Persing states that in these kinds of events social barriers are broken, 'we are human, we need each other.' Without being part of this organization, Persing would have never found himself in such a diverse environment. Persing relates his experience to the way Jesus served, 'he served everyone and the world needs more of that.'
"It was inspiring to see that kids have the potential to read at their grade level," said Delvalle. "I had the opportunity to take a part in that process, that alone inspired me to serve even more."
When asked in what ways has the organization impacted him personally, Persing stated that he felt 'like deciding to go and serve really impacted' his life.
"My compassion changed. I want that same experience for other students. We may not be able to change the whole wide world but deciding to go serve is changing the world one person at a time. Just because we can't change everything doesn't mean we shouldn't try. I cannot not do anything."
The club meets on Tuesday's at 1 p.m. in room 127 and on Thursday's at 6:30 p.m. in room 120 in University Hall. The club is open to anyone who is interesting in joining and for those who want to simply serve their community or grow in faith. The club is active on social media, Twitter @hopewwclub and Instagram @hopeworldwideclub.