How One Start Helped Corey Kluber Win The American League Cy Young Award…Again
Half man, half robot and soon to be 2-time American League Cy Young Award Winner. This is how Cleveland Indians right hander, Corey Kluber "vultured" another Cy Young Award.
WAYNE, N.J.- In society, we often use the phrase "history repeats itself."  In baseball, we often make comparisons between America's Pastime and life itself, most commonly in the sense that you know there will always be an end to the game, you just don't know when.
On Wednesday night at 6 p.m. the Baseball Writer's Association will announce the winner of the American and National League Cy Young Award, following suit with the announcements of the Rookie of the Year Awards on Monday, Manager of the Year Awards on Tuesday before finishing up with the league's Most Valuable Player Awards on Thursday.
With that being said, it seems that this year's awards are the most "cut and dry" of any year in recent memory.  New York Yankees right fielder, Aaron Judge of the AL and Los Angeles Dodgers first baseman, Cody Bellinger of the NL were unanimously named the Rookie of Year recipients after receiving all 30 first place votes becoming the first duo to win the award unanimously since Ichiro and Albert Pujols did the same in 2001.  The Cy Young Award will likely be handed out to Max Scherzer in the NL, his second consecutive and third in his career, while Corey Kluber will garner his second. The MVP Awards are just as secure with Houston Astros Jose Altuve and Miami Marlins slugger Giancarlo Stanton taking home their first career honors.
But what if I told you one crucial start changed the entire landscape of the AL Cy Young Award race, just as it did three years ago.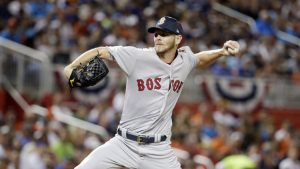 While there are three finalist nominated for the award: Cleveland's Corey Kluber, Boston's Chris Sale and New York's Luis Severino, it was ultimately a two-legged race between Kluber and Sale.
Heading into his 32nd and final start of the season on September 26, 2017 Boston Red Sox southpaw Chris Sale looked poised to "clinch" his first career Cy Young Award.
 Sale, 27, had a stellar first half, getting the starting nod for the AL  in the All-Star Game and entered the game leading the American League in strikeouts (300), innings (209 ⅓), second in ERA (2.75) and wins with 17.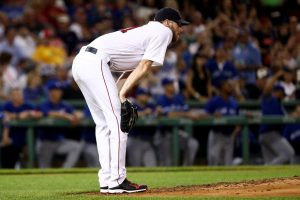 Sale seemed like a near lock to win the award, his outing that night officially flipped the script.  Facing off against AL dormat, Toronto Blue Jays (75-83) Sale followed his recent alternating pattern of following up a sensational outing with an uncharateristic clunker.  Just five days after blanking the Baltimore Orioles over 8 innings, racking up 13 strikeouts in the process, Sale lasted just 5 innings, while serving up 4 long balls (5 er), tying a career high.
Enter Corey Kluber, Cleveland Indians 31 year-old right hander who has a Cy Young under his belt in 2014.  Kluber lead the league in wins with 18, ERA (2.25), fourth in innings pitched (203 ⅔), despite having four less starts than the three guys ahead of him, and second behind Sale in strikeouts with 265.
While Sale limped to the finish line to the tune of a 4.09 ERA over his final eleven starts of the season, which included two seven run outburst against Kluber's Cleveland Indians,  Kluber over that same stretch went 10-1 with a 1.42 ERA, fanning 104 batters while surrendering just 9 walks over 89 innings.
Sale would finish with a 17-8 mark with a 2.90 ERA and a career high 308 strikeouts over 214 1/3 innings.
So where does the "history repeats itself" element come in?  Turn back the clock to 2014.  Seattle Mariners ace, then 28-year old, King Felix Hernandez appeared to be a Cy Young lock heading into his 33rd start of the season on September 23, 2014 against who? You guessed it, the Toronto Blue Jays.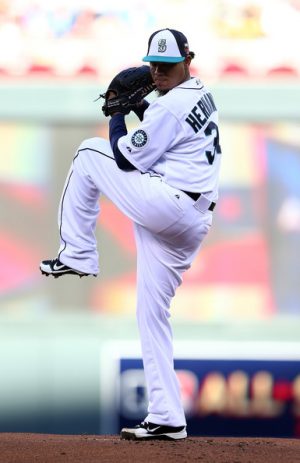 Like Sale, Hernandez too was the starting pitcher for the AL in the mid-summer classic and had the chance to better his team's postseason chances as the Mariners entered the game 83-73, two games behind the eventual AL pennant winning Kansas City Royals for the second wild card spot.
Before taking the mound, Hernandez was 14-5 with a glistening league leading ERA of 2.07 and 236 strikeouts, good for second.  Hernandez proceeded to allow seven runs of the home half of the 5th inning, the most he had ever given up in his 9 year career in Seattle.  His final line read: 4 ⅔ ip, 6 hits, 8 runs, all of which were recorded as earned (which would have tied his career high, like Sale did on 9/26/2017), prior to a statistical correction that reduced the number to four.  
Hernandez would rebound in his next start, which ended up being his final start of the season, where he twirled 5 ⅓ scoreless innings, while striking out 7, lowering his season ERA to 2.14.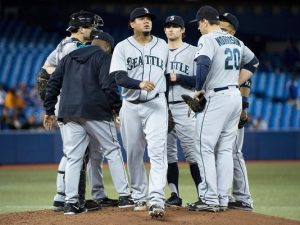 And once again, there was Corey Kluber, this in his breakout season, the then 28 year-old did exactly what he did this season.  Though he is often compared to a robot, for his stone-cold, blank facial expressions, in this instance, Kluber waited in the wings like a vulture stalking it's prey, and when the moment mattered most, the "Klubot" went in for the kill.
Kluber struck out 11 over 8 scoreless innings capping off a five start stretch in which he improved his win-loss record from 13-9 to 18-9, allowing just 5 earned runs over his final 40 ⅓ while striking out 54.
Hernandez finished the season 15-6 with a league best 2.14 ERA over the course of 236 innings, good for second.  His career high, 248 strikeouts were good for fourth and his opponents batting average of .200 and WHIP of 0.92 also paced the league.
Kluber's 18 wins were good enough to lead the league, though the wins statistic doesn't carry nearly as much weight as it once did.  The only other category that he bested Hernandez in was stirikeouts where his 269 K's bested the latter by 21.
Ultimately Kluber edged Hernandez by ten points in the voting 169-159. Kluber received 17 first place votes compared to Hernandez' 13.  Both Kluber and Hernandez appeared on all 30 ballots, receiving 17 second place votes while Kluber was left off of one ballot received 11 second place votes and two third place votes.
Expect to see a similar outcome in the voting results come Wednesday night, with Corey Kluber taking home his second career Cy Young Award, this time over Chris Sale, just as he did to Felix Hernandez three years ago.
UPDATE: Corey Kluber has officially taken home the 2017 AL Cy Young award, dominating the vote over Chris Sale, even more so than he did in 2014 over King Felix. Kluber received 28 of the 30 first place votes, edging Sale 204-126 in the balloting. For more information visit bbwaa.com for full voting details.