Remembering The Life and Career of Roy Halladay
The baseball community lost one of its greats, following the sudden and tragic passing of former pitcher Roy Halladay. On Tuesday, November 7 it was reported that Halladay had tragically passed away when the plane that he had been piloting crashed in the Gulf of Mexico, off the coast of Florida. Halladay played 16 MLB season spanning from 1998-2013 with the Toronto Blue Jays, and Philadelphia Phillies.  The 40 year-old leaves behind his wife Brandy and two children.
Career
The Toronto Blue Jays selected Halladay with the  17th overall pick of the 1995 first year player draft, making his debut with the big league club on September 20, 1998. Halladay spent the first 12 years of his career north of the border before being traded to the city of brotherly love, where he would play for another four seasons and finish out his career. For his career Halladay posted a 3.38 ERA, struck-out 2,117 batters, and had a win-loss record of 203-105. Halladay was also selected to the All-star team eight times in his career in 2002, 2003, 2005, 2006, 2008-2011.
Toronto Blue Jays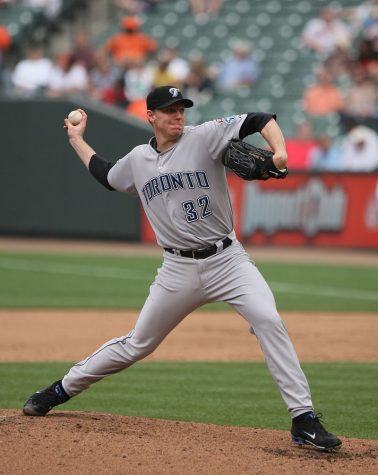 Halladay made a name for himself with the Toronto Blue Jays, whom he played with from 1998-2009. Halladay spent the early years of his career coming out of the pen for the Jays, primarily in the mop up role. In 2002 Halladay started his run of dominance by winning 19 games, and striking out 168 batters. In this season Halladay was selected to his first All-Star game. Throughout his tenure in Toronto he posted double digit wins in 2002,2003, 2005-2009. While with the Blue Jays he would go onto win 148 games, 49 of which were complete games, and 15 were complete game shut-outs.
First Cy Young Award
Roy Halladay truly established himself as one of the league's top pitchers when the then 26 year-old unanimously won the 2003 Cy Young Award, earning 136 total votes, finishing ahead of Pedro Martinez, Andy Pettitte, Jamie Moyer, and Johan Santana. That season he won a career high of 22 games, where he pitched 266.0 innings, striking out 204 batters, and posted a 3,25 ERA. Also that season he pitched nine complete games, two of which were complete game shut-outs. He also finished the season by averaging 6.9 strikeouts, 0.9 walks, and 8.6 hits per nine innings.
Traded to the Philadelphia Phillies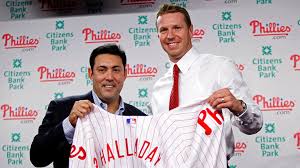 Following the conclusion of the 2009 season the Blues Jays shipped their Ace to Philadelphia in return for three minor league prospects. The Phillies signed the pitcher to a four year contract extension worth up to $60 million. While with the Phillies from 2010-2013, he had a win-loss record of 55-29, and racked up 612 strikeouts. During his short stent in Philly, Halladay was selected twice to the All-star team.
Second CY Young Award
Arguably the greatest season of his career in 2010 Roy Halladay won his second CY Young award. Following his dominating run with the Blue Jays, Halladay had a career year with his new team. In the 2010 season Halladay went 21-10 in 33 games, and posted an ERA of 2.44, while striking out 219 batters. He Also threw nine complete games, and four compete game shutouts. On May 29, 2010 he cemented his place in history, and locked up the Cy Young award when he threw the 20th perfect game in MLB history.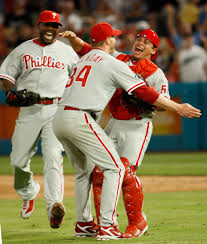 Halladay's historic performance came against the then Florida Marlins where the Phillies won 1-0. For that game Halladay retired all 27 batters that he had faced, and struck out 11 of them. The only run scored by the Phillies that game came off of a run scored by Wilson Valdez, as a result of a Marlins error. To thank his teammates Halladay gave his teammates each a Swiss-made watches with "We did it together. Thanks, Roy Halladay".
2010 marked Roy Hallway's first trip to the MLB postseason of his career, and continued to make history. In Game one of the National League Division Series (NLDS) on Oct., 6, Halladay threw the first postseason no-hitter since Don Larsen's perfect game with the New York Yankees in the 1955 World Series.  The Phillies beat the Cincinnati Reds 4-0 in the shutout victory. In that game Halladay retired 28 batters, striking out eight, and one walk.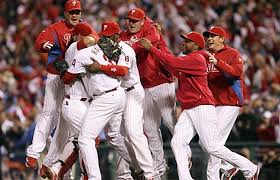 That season he made history by being the first pitcher to throw two no-hitters in the same season, since Nolan Ryan did so in 1973. He also made a place for himself in history as being the seventh pitcher to throw a perfect game, and a no-hitter in his career. He joined Randy Johnson, Cy Young, Mark Buehrle, Sandy Koufax, Addie Jones, and Jim Bunning.
Retirement and Legacy
Following the conclusion of the 2013 season Halladay decided to call it a career. On Dec., 9, Halladay returned home and signed a one-day contract and retired as a Blue Jay. He decided to retire due to an on going back injury, and wanted to spend time with his family. Even though he retired from baseball, he did not completely leave, as he served as a guest instructor for both the Jays and the Phillies.
The sport of baseball will feel the impact that Roy had on the game for many years to come. He had created moments that will live in the memories of fans for generations. He also gained the respect of his peers for his work ethic and approach to the game. Former teammate on the Phillies Chase Utley shared a story on his Instagram page about the first time he met Roy after he had been traded to the Phillies he said,
"My heart hurts writing this. I can still remember the first day we met, It was 5:45am on the first day of spring training when I arrived. He was finishing his breakfast but his clothes were soaking wet. I asked if it was raining when he got in. He laughed and said 'No I just finished my workout. I knew right then- he was the real deal. Thank you Roy for allowing us to witness what it takes to be the best. We will all miss you."
Memorabilia from Hallady's historic 2010 season is on display at the National Baseball Hall of Fame in Cooperstown. 2019 marks the first year of eligibility for him to be voted into the Hall of Fame, hopefully one day down the road much like his memorabilia, he too will he enshrined in the Hall of Fame. Thanks for the unforgettable moments and memories, rest in peace Roy Halladay.