Astros Veterans McCann, Verlander, Beltran Finally Capture World Series Title
"Winning a World Series is something I've been trying to do for 20 years. It only took me 20 years to get to this position." -Carlos Beltran
WAYNE, N.J.- Every team needs a healthy mix of eager youngsters and experienced veterans. The Houston Astros created that exact mix, the recipe to their first World Series title in franchise history.
In the week since Corey Seager grounded out softly to Jose Altuve for the final out of Game 7 of the World Series, it's been the younger players by the likes of Altuve, Alex Bregman Carlos Correa and George Springer garnering all the attention, and rightfully so. The Houston quartet combined to hit 79/288 (.274) while blasting 23 of the team's 28 home runs and scoring 48 of 77 runs scored over the course of Houston's 18 game postseason run.
Altuve, 27, signed with the organization as an international free agent back in 2007, and is likely to receive American League MVP honors in recognition of his league-leading 204 hits, eclipsing the 200 hit mark for the fourth consecutive season, en route securing his third career batting title (.346).
The second overall pick of the 2015 draft, Bregman, 22, brought home his second championship of 2017, after winning the World Baseball Classic as the youngest member of the Team USA squad. Bregman etched his name into the Fall Classic history book when he delivered a walk-off single in Game 5 of the World Series to give Houston a 3-2 series lead.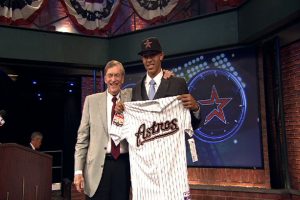 Correa, 23,  the number one overall pick of the 2012 draft, hit seven home runs in the postseason, which included being the back end of a back-to-back effort with Altuve in the 10th inning of Houston's 7-6 win in Game 2.
Springer, the eldest of the bunch, 28, was the Astros first round pick in the 2011 draft.  Six years later and four years into his career, Springer took home World Series MVP honors, blasting a World Series record five home runs, which included a streak of a home run per game from Game 4 through 7.
What players in their seventh, second, third and fourth years in the league have done, in such short time, is something that some of the game's best players spend their entire career searching for.
It's been a long time coming for three Houston Astro veterans in particular; Brian McCann (13 years), Justin Verlander (13 years)  and Carlos Beltran (20 years).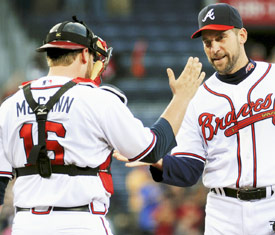 Brian McCann, 32, signed with the Yankees prior to the 2014 campaign and was acquired by Houston in a November 17, 2016 trade that sent prospects Albert Abreu and Jorge Guzman.  The former second-round pick out of high school by the Atlanta Braves back in 2002, McCann made his big league debut in 2005, the final year of the Braves 14-year reign over the NL East might I add, and quickly emerged as one of the most consistent players at the position. McCann reigned supreme as far as NL catchers go, making the all-star team in seven of his eight seasons as Atlanta's starting catcher, winning the game's MVP award in 2010, while eclipsing the 20 home run mark in each of those seasons.  Amidst all of his personal success, McCann had played in just 13 playoff games over the first 12 years of his career.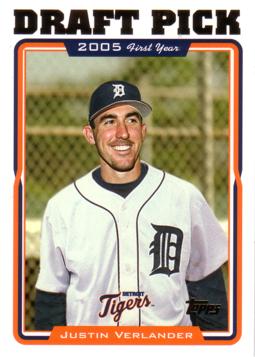 Justin Verlander. Arguably the best pitcher of his generation.  The former second overall pick of the 2004 draft by the Detroit Tigers, Verlander, now 34, was a hired gun by the Astros, similar to the way Beltran had been 13 years earlier. Up until this point, JV had done just about everything you could do in a Major League Baseball career besides winning a World Series ring.  The league's ROY in 2006, Verlander added to his mantle winning both the MVP and Cy Young Award, to go with the pitching triple crown in 2011.  He's thrown two no-hitters, started an All-Star Game and lead the league in strikeouts four times.  His 183 wins in his 12 ½ years in Detroit ranks seventh in the franchise's all-time ranks, while his 2,373 strikeouts are good for second.  He did all he could for the city of Detroit and their beloved owner, Mike Ilitch; making a World Series appearance in 2006 and again in 2013 amidst a stretch of four Central division titles for Detroit from 2011-2014, but he had never won a World Series title.
Beltran, 40 years old and a 20-year big league veteran, signed a one-year deal in the offseason with Houston following a two and a half year stint with the New York Yankees followed by a 52 game stint with the Texas Rangers.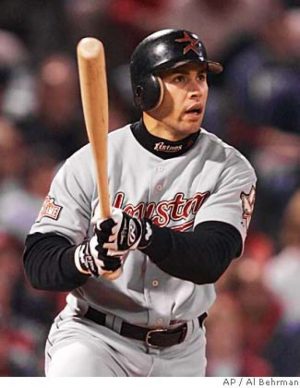 Beltran was drafted by the Kansas City Royals in the second round of the 1995 draft and burst on to the scene with Kansas City in 1998, winning the AL Rookie of the Year Award the following year.  In 2004, Beltran was shipped to Houston, then of the National League, at the trade deadline where he played extremely well, hitting 23 home runs in just 90 games. It was Houston that gave "Señor Octubre" his first taste of postseason play at the age of 27.  Beltran continued his hot play, hitting a whopping eight home runs in 12 games as the Astros fell in the NLCS four games to three to the St. Louis Cardinals.  Nine all-star games and five cities in the 13 years since Beltran's first stop in the lone star state. Beltran has become one of the best postseason players in the history of the sport, where his 16 career postseason home runs place him ninth all-time, but he had never won a World Series title.
Despite breaking his streak of consecutive seasons with 20 home runs, hitting 18 during the regular season, McCann made the most of his opportunity to play deep into October, driving in seven runs over the three series including RBI doubles in both Game 6 and 7 of the ALCS against his former club.
Verlander was nothing short of stellar in his new threads, winning all five of his starts during the regular season while posting a 1.06 ERA over 34 innings.  Verlander added four more wins in the playoffs improving his record with the Astros to 9-0 which included 16 innings of dominant, one-run ball over the Yankees in the ALCS en route to series MVP honors.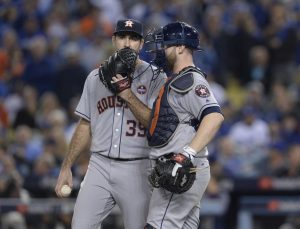 Beltran, had a down year, in what could be his last, hitting 14 home runs during the regular season, while adding three hits during the postseason, served as the veteran role model that every championship team needs, "I take a lot of pride in trying to impact my teammates in a positive way," Beltran said following Houston's Game 7 victory.  "I'm glad I was able to come here and contribute."
So now, a catcher who in his career has joined the likes of Hall of Fame catchers, Yogi Berra and Mike Piazza as the only players at the position to hit 20 home runs, eight seasons in a row in Brian McCann, finally has a World Series ring.  One of the best switch hitters of all-time, a potential Hall of Famer with over 400 home runs, 300 stolen bases and 2,700 hits in Carlos Beltran, finally has a World Series ring. And the pitcher of his generation, a near lock for the lifetime brotherhood in Cooperstown, who is on his way to reaching the 3,000 strikeout mark, who has done what seems like anyone could dream of doing on a baseball field (and off with his recent marriage to Sports Illustrated Swimsuit model, Kate Upton)  Justin Verlander, finally has a World Series ring.
Large in part to a bunch of kids in their twenties who helped to do something special, that for some, was twenty years in the making.