Block Party Brings a Finale LGBTQ+ Celebration Week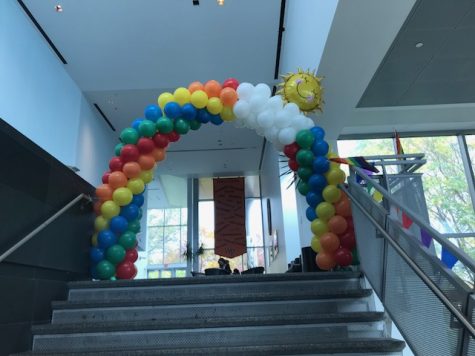 From Oct. 17 to 26, William Paterson University celebrated LGBTQ Week with fun and exciting guests, lectures, and activities. Many organizations and clubs on campus worked to help bring these events to the university.
On Friday, Oct. 26 there was a block party in the University Commons Ballrooms to wrap up the entire week with a bang.
An impressively constructed arc of rainbow balloons greeted people upon entering the block party where many different booths held activities for students to do.
One booth had people answer an LGBTQ related question and if answered correctly, they would get a prize, either a t-shirt or a necklace. Also, there was a Photo Booth with fun props to use. Most of the booths gave out free stuff like magnets, pens, and even condoms, which were at a booth promoting safe sex.
One of the most popular attractions was the Build-A-Bear station. Students were given a rainbow bear where a heart was put in the bear and then filled up by the students themselves with stuffing.
Not only were there fun attractions and food, but booths promoted ways for LGBTQ students to stay safe on campus and ways to help them educate themselves.
Matt Diaz, a women and gender studies major, organized the whole week.
"The week was a success," he said. "It's important because it's such a marginalized group and not widely talked about on campus. It really helps bring up important issues throughout the week and it's a lot of fun and provides a safe space for LGBTQ+ students."
Pioneer Players, the university's theater and improvisation appreciation club, and the Comedy Club hosted an event earlier in the week where comedians Matteo Lane and Emma Willman performed stand up.
Dylan Marron, known for his "Unboxing" videos and his social justice through media, was the week's headliner as he spoke about his avocation and about the LGBTQ community.
The university campus has not had many events centered around its LGBTQ students, and by the turn out of the week, there are many of them. This week helped WPU to move towards more events and safe spaces for these students to express themselves, learn and be surrounded by people who are just like them. Many WPU organizations lent a hand in this week which showed that when people come together, great things can be done.