Students Demonstrate Debatable Interest
New Jersey – William Paterson University hosted The last 2017 gubernatorial debate against Democrat Phil Murphy and Republican Kim Guadagno took place last Thursday, Oct. 28, and most students had no clue or interest in the event.
Announcements of the event were made well in advance before the candidates communicated their plans on taxes, immigration and legalization of marijuana. Although the topics should be of interest to a group of young people that will be joining the workforce soon, most of the people in attendance were older adults. It can be argued that Gov. Chris Christie's time in office has left many New Jersey voters disenchanted with local politics. Christie has become the least liked governor in New Jersey history and he simply does not care.
As each candidate's supporters grouped outside the front door of Shea Center, shouts of "Corzine 2.0" boomed from Guadagno's camp and "Civil Rights Matter" tolled from Murphy's assemblage. Nursing major Nafisa Chowdhury stood in the back of the designated protest area and soaked in the experience.
"I don't know too much about the debate, but I know I am on Phil Murphy's side because I know he supports women's rights and that's all I know so far," said Chowdhury.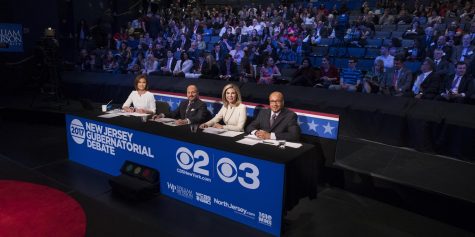 Meanwhile, inside Shea Center, Murphy and Guadagno did little in providing solid answers to the public regarding any of the night's main points. The two candidates poked fun at each other much more efficiently than they did in clarifying which of the two hopefuls the campus community should support. Murphy delivered a concise plan of action to protect immigrants and further develop computer and math technologies where 44 percent of the New Jersey workforce is comprised of immigrants, according to the American Immigration Council.
With each local and national election, researchers find difficulty in attempting to gauge how college students will respond to politics.
In May 2016, UCLA released a report which indicated great divides between genders, race and ideology among college students. For example, Guadagno can gain massive support for her stance on gun control from women college students as 74 percent of women strongly agree to stricter gun control laws as opposed to 58 percent of college men. Academic Advisor Cesar Castro attended the debate to see if either candidate could win him over.
"I just wanted to come here tonight and see what the candidates offer and then make a decision as a responsible voter," said Castro.
However, none of the points made that night, nor the candidates who made them has had a call to action impact on the demographic which will eventually be affected by the Nov. 7 vote. The only thing tougher than trying to find a student that was interested in hearing from Murphy and Guadagno was properly pronouncing "gubernatorial." Aziza Mcgill-Ayinde attempted to interview students looking forward to the gubernatorial debate and instead wound up with a blooper reel of awkward and confused five-second stares.
As of Oct. 24, Murphy leads the polls by 15 points ahead of Guadagno with only a few days left before the election is over.