Phil Murphy, progressive democrat for NJ governor with a Wall Street past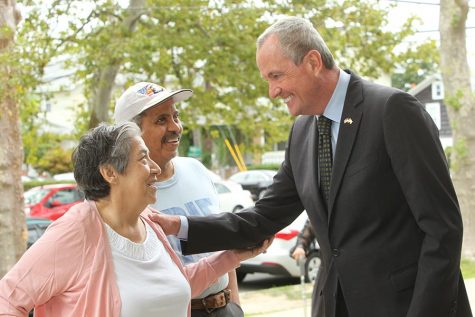 Phil Murphy, first time Democratic political candidate and former financier and ambassador is trying to persuade New Jerseyans to put him in the governor's mansion with a progressive campaign platform.
In last June's Democratic Party primary election Murphy received 48.37 percent of the more than half a million votes cast to face Republican Party candidate Lt. Gov. Kim Guadagno in the general election Nov. 7.
"It's time for fresh leadership in our state so we can focus on jobs, education, and restoring New Jersey's status as a place where people from all backgrounds come to find and live the American Dream," stated Murphy.
Of his wide ranging campaign platform two issues that may be of interest to New Jersey college students are free-community college, and a state-owned and run bank.
Murphy's initial proposal for free community college would have it be available for all state residents regardless of their age. In addition the the campaign said it could cost $200 million.
The concept of a state-owned and run bank has only been done in North Dakota where it supplies loans to businesses and college students. A state bank could limit private banks from state government financial activities, including his former employer Goldman Sachs.
There is some trepidation about how all these potential social welfare programs would be funded in a state that has the highest property taxes in the country.
The Middle Township resident has garnered numerous endorsements including from notable politicians like former vice presidents Joe Biden and Al Gore, and senators Cory Booker and Robert Menendez.
"I look forward to working closely with Phil to advance the priorities I've been fighting for in the United States Senate including efforts to bolster working families by creating jobs, raising the minimum wage, protecting health care, and making college more affordable," said Booker.
Furthermore, influential labor unions including the New Jersey Education Association, Fraternal Order of Police and the International Brotherhood of Electrical Workers have endorsed Murphy.
Prior to entering New Jersey politics Murphy served as U.S. ambassador to Germany under President Barack Obama from 2009 to 2013. Noticeably he has never been elected to office before starting this campaign.
In his private sector career Murphy worked for international finance company Goldman Sachs for 23 years, rising from a summer internship to senior director of the company in 2003. It is not unusual for financiers to jump into the political arena with Murphy's former colleagues Henry Paulson becoming secretary of the treasury, and Gary Cohn currently serving as White House chief economic advisor.
He will have to fight the negative stigma associated with Goldman Sachs and the New Jersey governorship thanks to unpopular former governor and Goldman Sachs CEO Jon Corzine.
The 60-year-old candidate's education is all ivy league with an economics degree from Harvard University and a master of business administration from the University of Pennsylvania.   
Murphy's running mate is experienced New Jersey politician Sheila Oliver. She fills the campaign's dearth of legislative experience with her more than a decade of service in the New Jersey General Assembly with four of those years as speaker.
"In the Assembly, Sheila has been a strong leader in standing up for working people against powerful interests. Most of all, she knows the hard work New Jerseyans do every day (sic) to put food on their tables and make ends meet," stated Murphy.