Sluggers Stanton, Judge on the brink of Home Run History
"I knew the record would stand until it was broken." -Yogi Berra
WAYNE, N.J.- 2017. The year of the home run, 5,879 through Sunday to be exact.  Having shattered the  previous record of the most home runs hit in a single season (5,693 in 2000) and there's still a week to go.  Entering Monday, 34 players have 30 home runs, while six teams have eclipsed their single season team record for home runs.
Two additional home run records are likely to be broken this week, by two players that are amazingly similar.  The first being Miami Marlins slugger, 27 year-old Giancarlo Stanton.  The other being New York Yankees rookie phenom, 25 year-old Aaron Judge.  
So just how similar are these two? The obvious is their physical stature, Stanton listed at 6'6" 245 lbs, Judge, 6'7" 282 lbs.  Digging into their roots, both were born in California, separated by about 300 miles; Stanton, Panorama City, Judge, Linden.  Both have a Home Run Derby title under their belts, Stanton in 2016 and Judge taking home the crown this season in Stanton's home ballpark in Miami.
Both hit baseballs really hard, accounting for eight of the ten hardest hit balls this season. Both hit baseballs really far, setting the mark for the farthest hit ball each of the last two seasons Stanton, 504' in 2016, Judge 495' this season. And both are on the cusp of rewriting the record books.
Records are meant to be broken, or at least that's what they say.  Roger Maris' single season home run record of 61 set back in 1961 stood the test of time for 37 years before being "broken" by Mark McGwire in 1998.  "61" was  surpassed five times in a four year span from 1998-2001.  McGwire again (65, 1999), Barry Bonds (73, 2001) and Sammy Sosa, three times (1998, 66, 1999, 63, 2001, 64), however it is still yet to be done without the unofficial, tainted, asterisk.
The last "clean" player to come within reach of 61 was Ryan Howard who bashed 58 in 2006.  Stanton sits at 57 with seven games to play.  Four home runs to tie, five to finally have a "clean" player as the unofficial, single season home run record; no asterisk attached.
So what are Staton's chances? Pretty high. In fact, he might even do it before the Marlins complete their current six game, West coast road trip.  The Marlins open the week with a 3 game set with the Colorado Rockies at Coors field.  In the previous meeting between these two teams (Aug. 11-13) Stanton homered once every four at-bats, 3 HR/12 AB, his highest HR/AB ratio against any opponent this season.  In his career at Coors Field, Stanton has gone deep once every 7.9 at-bats, 10 HR/79 AB, by far his best ratio in any ballpark, minimum 70 at-bats. On Monday, Colorado will send right-hander Tyler Chatwood to the mound whom Stanton has taken deep once in three career at-bats before facing Jon Gray in Wednesday afternoon's matchup in which he has two home runs in eight career at-bats, including one three at-bats this season.
If Stanton is unable to smash five home runs in Colorado, he will have four more chances (Thursday-Sunday) back home at Marlins Park.  The Braves will send Julio Teheran, Luiz Gohara, Mike Foltynewicz and R.A. Dickey to mound.  Both Teheran and Dickey have served up a pair home runs to Stanton in his career, both against Dickey coming in their August 4 matchup. Despite being just 2 for 11 lifetime against Foltynewicz, one of those two was a long ball.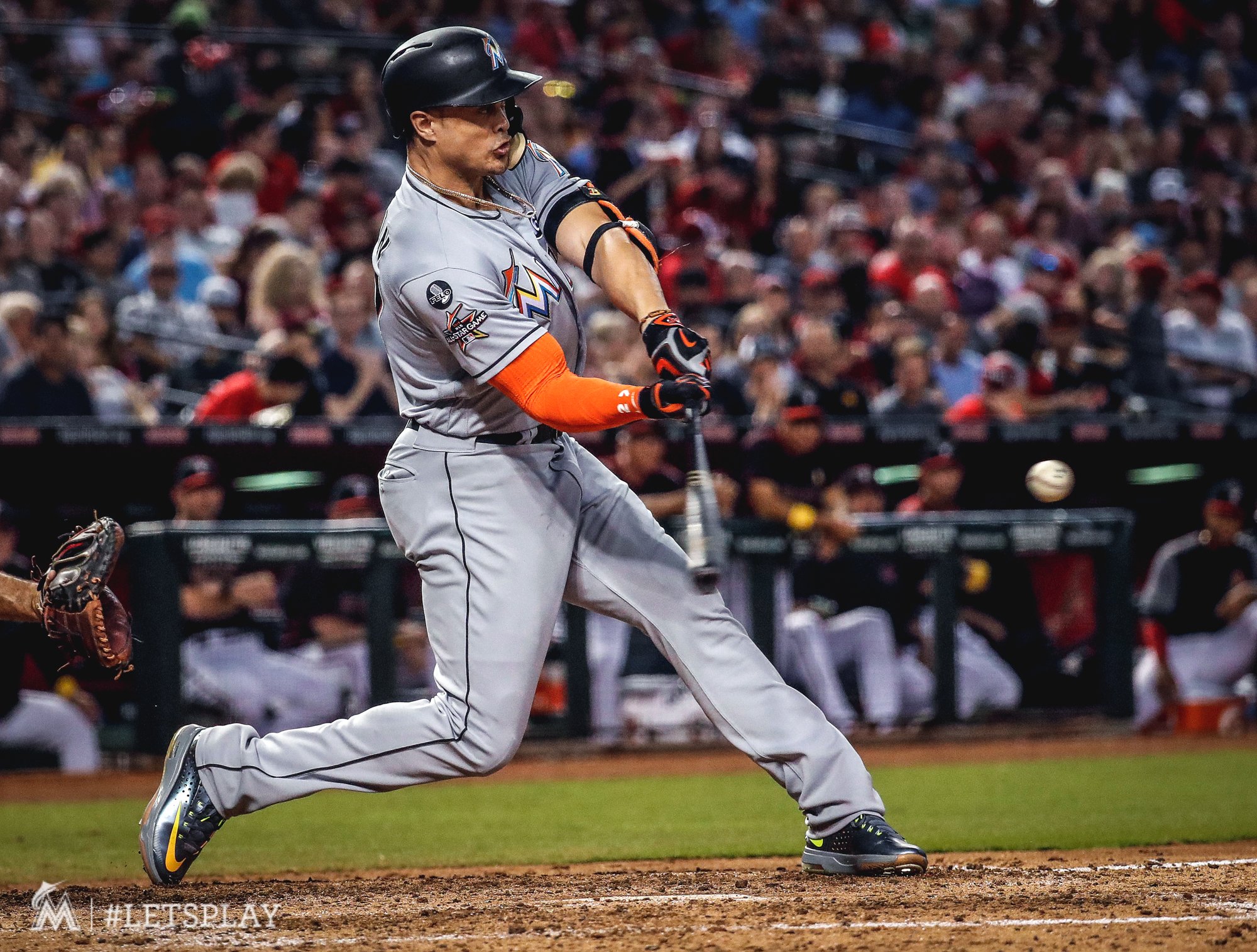 Rookie phenom Aaron Judge extended his lead in the American League home run race as he hit a pair of home-runs in a 9-5 Yankees loss on Sunday, moving him within one home run of tying Mark McGwire's record of 49 set back in 1987.  For Judge, is not a question of whether or not he will dethrone Big Mac, rather it is a question of when? Judge rides into the final week of the season extremely hot; especially in the power department, having clubbed home runs in four of his last six games, extending his September total to 11, his high water mark for any month this season.
The Yankees open their final homestand of the season with a makeup game against the Kansas City Royals on Monday followed by a three game set with the Tampa Bay Rays before Toronto comes to town for the weekend.  On Wednesday, Judge will get a crack at Tampa Bay's starter, Matt Andriese who could be the answer to a trivia question one day, as Judge took him deep in his first big league at-bat, on August 13 of last season.  Andriese also happens to be one of two pitchers, the other being Kevin Gausman of the Baltimore Orioles, who have surrendered more than one long ball to Judge in his young career.  Judge has a brief history with Thursday's scheduled starter, Alex Cobb, whom he has taken deep once in seven at-bats.
If Judge remains stuck at 48 going into the weekend, he will have three chances against Toronto Blue Jay pitching which has served up nine of Judge's home runs including a scheduled rematch with Marcus Stroman on Saturday, September 30  who he took deep for number 47 this past Sunday.  As an added incentive, Judge's next home run off of Toronto pitching this season with be his 10th, moving him past Manny Ramirez (2001) and Chris Davis (2012) for the most home runs versus the Jays in a single season.