COLUMN: Melo's Final Bow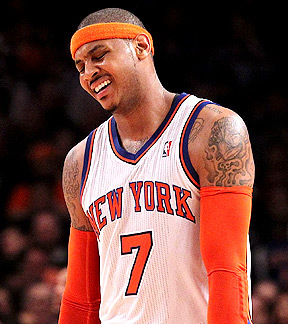 Let me start off by saying my father has done a lot for me in my life.  He taught me how to ride a bike, he taught me how to throw a baseball, and he gave me the ability to go to college.  One thing that he has forever cursed me with though is that he steered me in the direction of becoming a New York Knicks fan.
Very few things in this world are as tough on the heart as that.  I was too young to remember the Patrick Ewing years so essentially they have been the worst team in the NBA my whole life.  Every single year I have high expectations that this will finally be the year they turn it around, and every single year I realize how wrong I am with judging this team.
On February 22, 2011 my prayers seemed to have finally been answered as Carmelo Anthony, a perennial all-star that was consistently carrying his Denver Nuggets team to the playoffs, was traded to the New York Knicks.  "Melo" had made it very vocal that he wanted to be on the New York Knicks, so in my mind he would sign a long-term deal and they would be a championship contender for years to come.  Knicks fans finally had a reason to head to the Garden again.
The honeymoon phase was absolutely wonderful.  Melo led the Knicks to the playoffs in his first three years with the team.  These years included multiple all-star seasons from Melo, the hysteria that was "Linsanity" and the Knicks first playoff series win since 2000.  All seemed right as the Knicks had the pieces in place to contend for a title.  Then, in typical Knicks fashion, things would slowly start to spiral in a downward motion.
The Knicks have not made the playoffs since the 2012-2013 season, and to that point Melo had never missed the playoffs.  The injuries started to pile up for Amare Stoudemire, the big man that the Knicks were going to need to compete with the likes of the Miami Heat and Indiana Pacers.
In 2015, the Knicks traded JR Smith and Iman Shumpert to the Cavs in what was essentially the waving of the white flag for the Knicks.  We were now officially in rebuild mode.  As only a Knicks fan could, I have spent the past few years falling for the trap that the Knicks were successfully rebuilding the franchise.
I thought adding Phil Jackson into the front office included Michael Jordan and Kobe Bryant in their prime.  I thought Kristaps Porzingis would be able to average 50 points per game in his rookie season.  I thought LeBron James was going to sign a long term deal with the Knicks.  I do not know why I torture myself like this.
Now the 2016-2017 season has officially come to an end. It appears that Carmelo Anthony's reign with the Knicks may have as well.  Phil Jackson essentially told the media that he thinks Melo would be better off elsewhere at this point in his career.
I want to be mad at Melo for making me believe year in and year out that the Knicks were a contender, but I really only have myself to blame.  Melo was the first superstar in a very long time that genuinely wanted to be a Knick.  It's unfortunate that he never had the proper supporting cast around him.  Melo was not the reason that this team has been so bad in recent years, unfortunately being the star player and making the most money is also going to bring a large chunk of the blame with it.
Let's get to the real problem with this team: Phil Jackson.
Phil Jackson is obviously going to be looked at as basketball royalty because of the nine championship rings he won as a coach.  But it is difficult to deny that many people probably could have won those championships with players like Michael Jordan, Scottie Pippen, Shaquille O'Neal and Kobe Bryant.  Phil Jackson has completely buried this team due to his arrogance and unwillingness to adapt to today's game.
He insists on using the triangle offense even though it is clear to the entire world that the Knicks do not have the cast to successfully do that.  He was supposed to be a legendary figure that would draw the attention of big name free agents, but instead he has been toxic to the franchise.  And if I have to see his smug face pop on the screen during the game again I am going to lose my mind.
The only face that infuriates me more is James Dolan, but that's for a whole other day.  I just really hate everything about this franchise at the moment, but if this is the last season I was able to see of Carmelo Anthony as a Knick, I want to thank him for at least trying.