DiMarsico Impresses Scouts at Wagner, Fordham Pro Days
The former William Paterson captain and wide receiver put up some impressive numbers at his Division III Pro Days.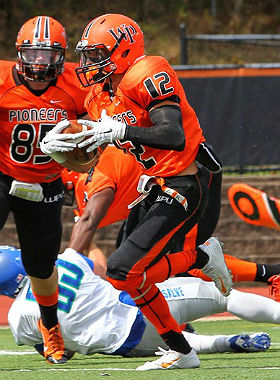 Anthony DiMarsico has always dreamed about playing in the NFL, and after impressive pro day performances at both Wagner and Fordham Universities, he may very well get a chance to do just that.
During his first pro day at Wagner in late March, the versatile former Pioneer captain and receiver, who ranks in the top 10 in program history in categories such as touchdowns, all-purpose yards and scoring, ran a blistering 4.39 seconds in the 40-yard dash, a 10-foot 3-inch broad jump and a 35-inch vertical leap.
A sub 4.4-second 40-yard dash is not a common feat, especially among Division III players. If DiMarsico were invited to the NFL Combine at Lucas Oil Stadium in Indianapolis, Indiana in early March, his 4.39 seconds would have been good enough for the third-fastest time among all wide receivers there.
That's faster than Michigan's Amara Darboh and East Carolina's Zey Jones, two players who will likely be off the board within the first two rounds, and it's safe to say that the Pioneer standout was in awe of some of his numbers.
"When I went into Wagner, I did not know what to expect," said DiMarsico. "After it was done, I realized I over-exceeded my expectations."
DiMarsico certainly did that, and in the process got the attention of a team not too far from William Paterson.
"I have heard from the New York Giants," DiMarsico said. "They sent an invitation to me inviting me to their 2017 local prospect day on April 7."
The Giants would be getting one of the most productive and selfless players in William Paterson football history in DiMarsico. In 2014, he was an All-NJAC selection, leading the Pioneers with 41 receptions and nine touchdowns on 697 receiving yards.
In 2015, DiMarsico garnered USA Football Preseason All-American First Team and Eastern Football Network Preseason All-East Team honors. In eight of his nine appearances as the starting quarterback for the Pioneers, he threw for 1,155 yards and eight touchdowns and added another four touchdowns and 418 yards on the ground.
As a senior in 2016, DiMarsico was back at receiver, catching seven touchdowns and accumulating 600 yards on 40 receptions. He finished his career with 16 offensive touchdowns, 1,643 offensive yards, 1,596 all-purpose yards and 96 points.
Since all scouts can't release pro day numbers at the present time, the only numbers that DiMarsico knows at the present time are his 40-yard dash times, his broad jump totals and his vertical jump measurements. At Fordham, he was clocked at 4.43 seconds for his 40 time, broad jumped 10 feet 1 inches and had a 34-inch vertical.
Even though his impressive numbers have garnered interest from an NFL team in the Giants, DiMarsico knows that his odds of being drafted aren't great. However, he still thinks he has the chance of getting a shot at making a roster.
"I would love to be drafted, that's every football player's dream," said DiMarsico.
"The chances are slim as a Division III prospect, [but] a free agent or an invitation to rookie minicamp is more realistic."