2017 MLB All-Opening Day Team
"You always get a special kick on Opening Day, no matter how many you go through. You look forward to it like a birthday party when you're a kid. You think something wonderful is going to happen." -Joe DiMaggio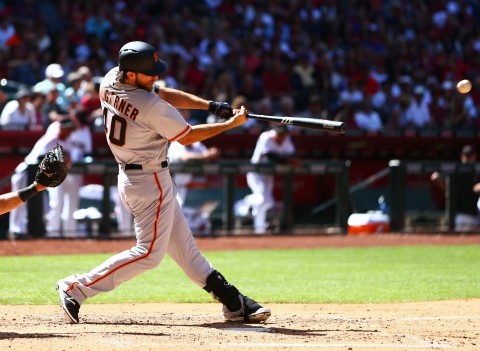 WAYNE, N.J.- Game 1 of 162. Sunday, April 2 marked Major League Baseball's Opening Day for 6 clubs while 22 of the remaining 24 teams followed suit on Monday.  The only exception lied within an American League Central matchup at Guaranteed Rate Field between the Detroit Tigers and Chicago White Sox was postponed until Tuesday afternoon.
With every team having played their season opener, it is only right to see which players were the top performers at each position in their team's first game, thus forming the 2017 MLB All-Opening Day team.
Starting Pitcher: Madison Bumgarner, San Francisco Giants Pitching: 7 ip, 6 h, 3 r, 3 er, 11 K, 0 BB, ND Hitting: 2-2 2 HR, 2 RBI, 2 R
Though there may have been better pitching performances such as those from  Carlos Martinez (7 1/3 ip, 10 K, 0 r) and Clayton Kershaw (7 ip, 8 K, 1 r), Madison Bumgarner put on a historic display in his 4th consecutive Opening Day nod.
From the mound, Bumgarner picked up right where he left off twirling 7 innings, the first 6 in no-hit fashion, surrendering 3 runs on 6 hits while fanning 11.
However it was Bumgarner or should I say "Bombgarner's" performance at the plate stole the show.
The lefty side winder, hitting from the right side, blasted not one but TWO solo home runs becoming the first pitcher in MLB history to hit 2 home runs on Opening Day, and the first pitcher to hit 2 home runs in a game since Micah Owings did the same back on August 18, 2007.
Despite Bumgarner's efforts, the Giants would fall to the Diamondbacks 6-5.
Catcher: Yasmani Grandal, Los Angeles Dodgers 2-5 2 HR, 3 RBI, 2 R
Yasmani Grandal kicked off his 2017 campaign in "Grand" fashion and joined a unique group with his performance in the Dodgers 14-3 rout of the Padres Monday afternoon.
Following a Joc Pederson grand-slam in the home half of the third inning, Grandal, batting left-handed, blasted Padres starting pitcher Jhoulys Chacin's 1-1 offering deep into a sea of blue and while down the right field line to put the Dodgers ahead 6-1.
Grandal's afternoon was not done however, in the 8th inning he blasted a 2-run  line drive, home run over the left field wall into the Dodgers bullpen while batting from the right side.
In doing so Grandal joined Felipe Lopez and Tony Clark (both with the Arizona Diamondbacks in 2009) as the only switch-hitters in MLB history to homer from both sides of the plate on Opening Day.
First Base: Mark Reynolds, Colorado Rockies 2-3 HR, 2B, 3 RBI, 2 R
With free agent acquisition Ian Desmond on the newly implemented 10-day DL with a fractured hand, Mark Reynolds took advantage of his second consecutive Opening Day at first base for the Rockies.
In his first a-bat of the season Reynolds sent Brewers starter Junior Guerra's 2-2 offering into the home bullpen in left field to put the Rockies ahead 2-0.
Reynolds added a RBI fielder's choice in his next at bat followed by a double and a walk in his final two at-bats en route to a 7-5 Rockies win.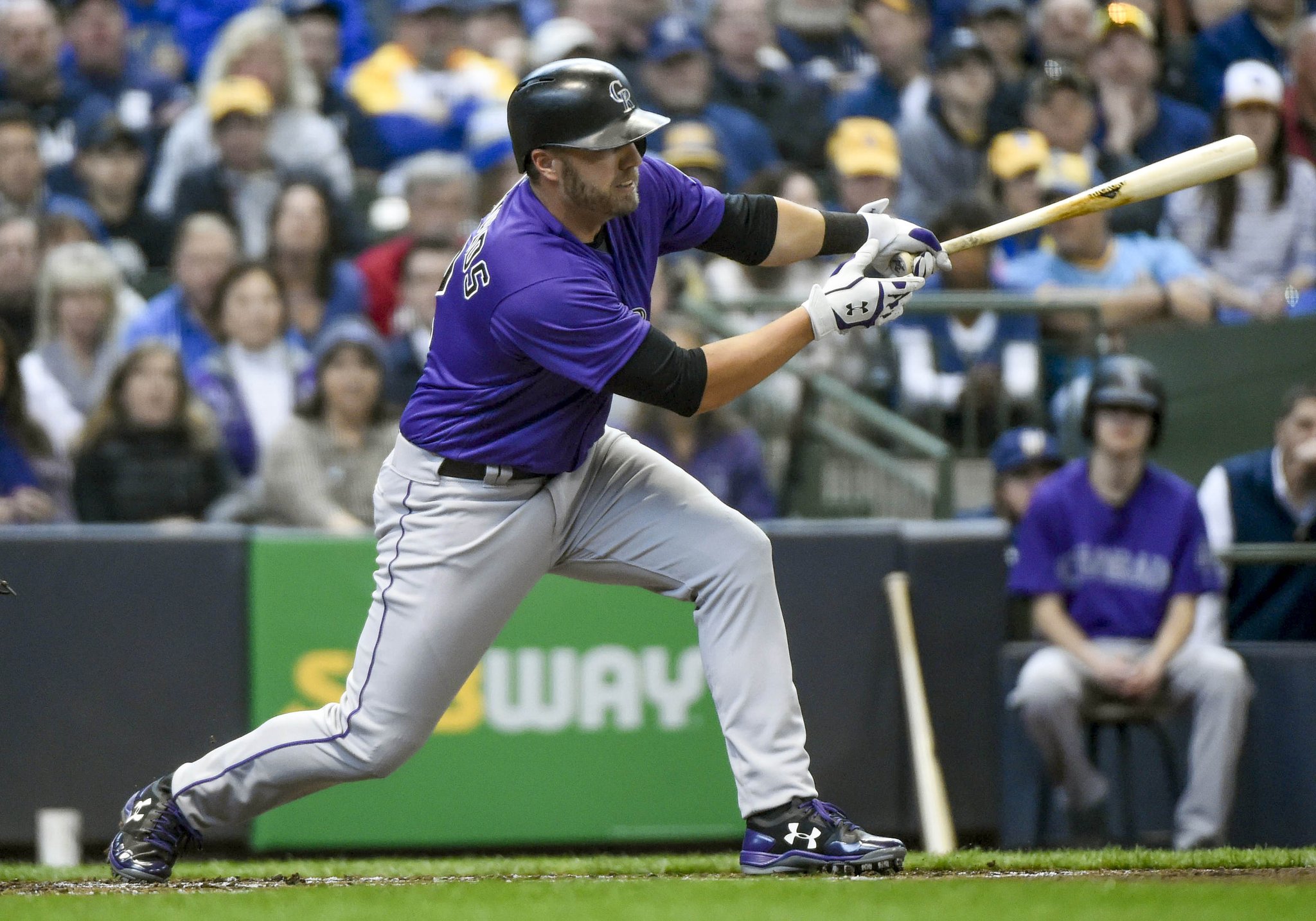 Second Base: Rougned Odor, Texas Rangers 2-4 2 HR, 4 RBI, 2 R
After enjoying a breakout 2016 campaign where he displayed his power at the plate with 33 home runs as well as his power behind his right hook (just ask Jose Bautista), Rougned Odor became the second player in as many days to homer in his first 2 at-bats of the season, sending 2 home runs into the right field seats at Globe Life Park in the Rangers Opening Day loss to the defending American League Champion, Cleveland Indians.
In his first at-bat of the season belted former Cy Young Award winner, Corey Kluber's full count delivery over the right-centerfield wall to open the Rangers scoring.
In the first pitch of his next at-bat, Odor put a charge into another Kluber fastball, this time with a 3-run shot giving the Rangers an early 4-0 lead, becoming the youngest player (23) in Rangers history to hit multiple home runs on Opening Day edging Juan Gonzalez in 1993.
Odor's performance was not enough however as the Rangers bullpen surrendered 8 runs in the final 3 innings to fall by a score of 8-5.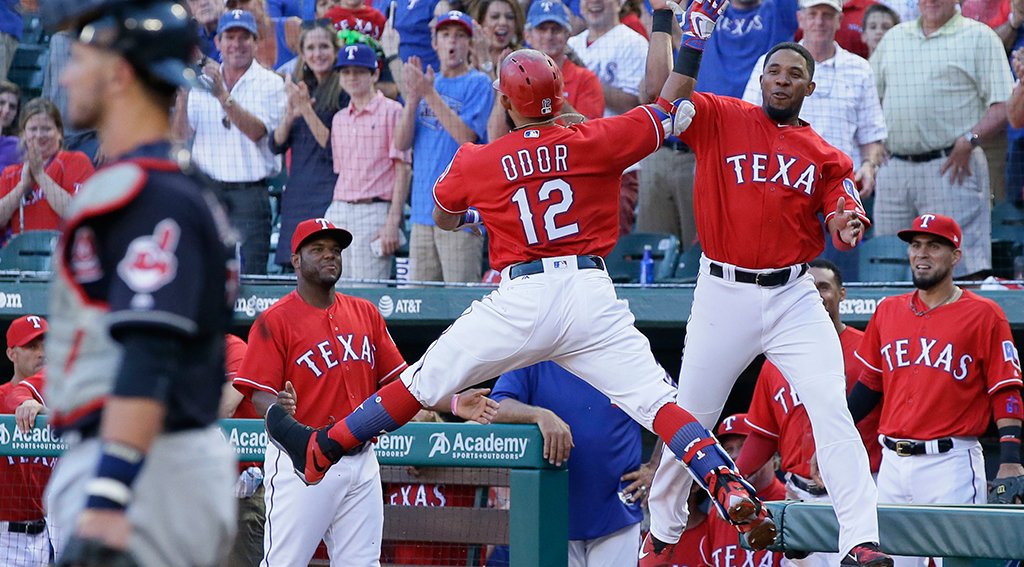 Third Base: Evan Longoria, Tampa Bay Rays 2-4 HR, 3 RBI, 1 R
As he continues to climb up the Rays all-time leaderboard in virtually every offensive category, in his 9th consecutive start at third base for Tampa Bay, Evan Longoria showed flashes of his 2011 Game 162 heroics leading the Rays to an Opening Day win over the Yankees by a score of 7-3.
Longoria got the scoring started in the bottom of the first inning with a RBI sac fly to right field.  In his next at-bat, Longoria deposited Masahiro Tanaka's 1-1 pitch just to the right of a section down the left field line at Tropicana Field known as "162 Landing" to extend the Rays lead 5-2.
In his final at-bat of the afternoon, Longoria  singled on a sharp ground ball in the home half of the 8th inning, to cap off a 2-4 day at the plate.
Short Stop: Chris Owings, Arizona Diamondbacks 2-5 1 RBI
Coming to the plate with 2 outs in the 9th inning with a line of 1-4 with 3 strikeouts it didn't seem Chris Owings was going to find his way on list.
That all changed when he officially spoiled closer, Mark Melancon's Giants debut as he blooped a walk-off RBI single in front of Giants right fielder, Hunter Pence to give the Diamondbacks a 6-5 win.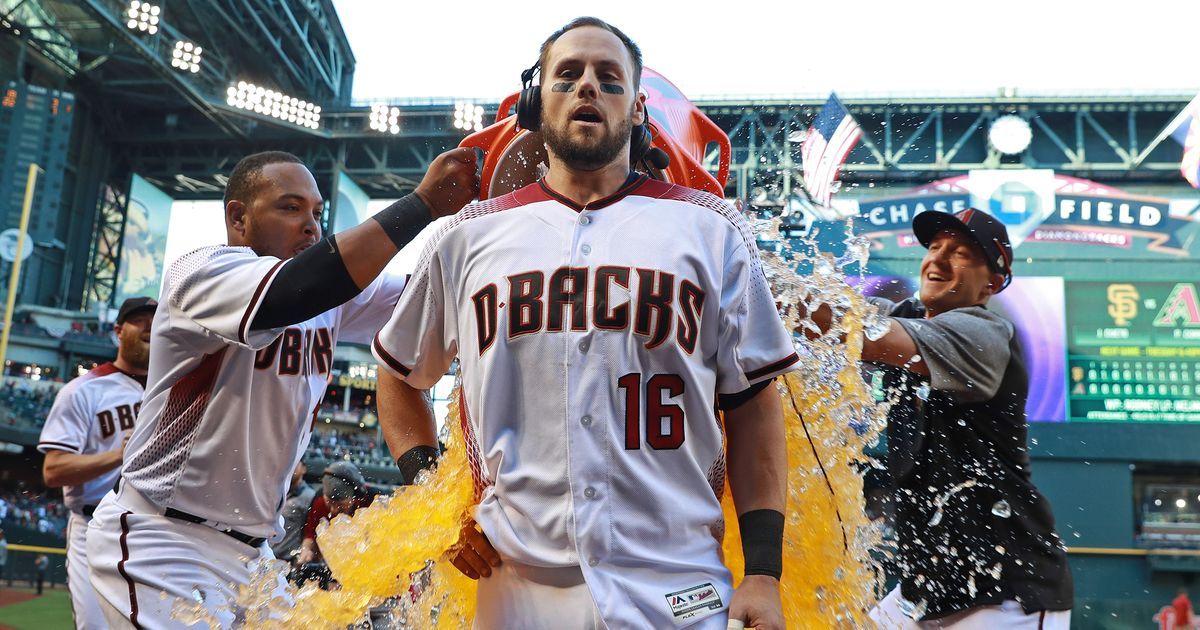 Left Field: Khris Davis, Oakland Athletics 3-4 2 HR, 2 RBI, 2 R
Oakland Athletics left fielder, Khris Davis becomes the 4th player that went deep in their team's first game to make the list. With the score tied at 2 in the 6th inning "Krush" Davis sent a Ricky Nolasco, first pitch curveball  deep into the California night to give the A's a one run lead.
In his next at-bat in the 8th inning, Davis drilled another breaking ball, this time over the newly re-named "Rickey Henderson Field" sign in deep left centerfield to put the A's up for good with a score of 4-2.
Center Field: Joc Pederson, Los Angeles Dodgers 1-3 HR, 4 RBI, 1 R
Though Joc Pederson only had one knock in the Dodgers 14-3 win over the Padres it was a big one.
With the bases load and the score tied at one in the bottom of the 3rd, Pederson unloaded on a chest high fastball sending a linedive over the 330 sign down the right field line at Dodger Stadium for the first grand-slam of the MLB season.
Pederson, who opened the Dodgers scoring with a sac fly in the bottom of the second inning, teammed up with Yasmani Grandal in the 3rd to become the first back-to-back home runs by the Dodgers in franchise history.
Right Field: Bryce Harper, Washington Nationals 1-3 HR, BB, 1 RBI, 1 R
After a down season in 2016 following his 2015 MVP season, Bryce Harper got off on the right foot in the 2017 season blasting his fifth Opening Day homer in as many years in a 4-2 Nationals win over the Miami Marlins.
With his solo blast in the bottom of the 6th, Harper, 24, has more Opening Day home runs before the age of 25 than any player in MLB history.
Designated Hitter: Mark Trumbo, Baltimore Orioles 2-5 HR, 2B, 2 RBI, 1 R
In his first game since agreeing to a 3 year, $37.5 million deal to return to the Orioles in the off-season, Mark Trumbo who batted 5th and was the team's designated hitter on Monday afternoon sent the "Birdland" faithful home happy.
Coming to the plate with 2 outs in the bottom of the 11th, already with an RBI double to his name on the afternoon, Trumbo unleashed on a "Trumbomb" off Toronto Blue Jays interim closer, Jason Grilli into the left field seats to give the Orioles their 6th straight Opening Day win by a score of 3-2.
Relief Pitcher: Andrew Miller, Cleveland Indians 1 ip, 2 K, W
On a day where many notable relievers seemed to struggle, arguably baseball's most dominant relief pitcher, Andrew Miller was an exception.
Miller worked a clean bottom of the 8th inning, striking out 2 batters on 14 pitches and picking up the win in relief after the Indians rallied for 3 runs in the top of the 9th inning off Rangers closer, Sam Dyson.
Of the 3 new managers across MLB, both Torey Lovullo of the Arizona Diamondbacks and Bud Black of the Colorado Rockies picked up wins in their first game with their new clubs.  Lovullo, 51, is in his first year as a major league manager, while Black, 59, spent the last 9 seasons guiding the San Diego Padres to a 649-713 (.477) mark.