Daydreamers You Can Stop Dreamin'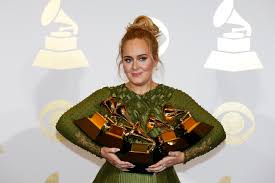 Bob, Staff Writer
April 5, 2017
After a 15-month tour of her blockbuster album "25" that came out in 2015 Adele will make her "final stop" on July 2. Her albums have been top sellers in 2015 and 2016. Adele's fans, or as they call themselves, "the daydreamers," were extremely sad that the tour was coming to an end. They  were left with only a dream of Adele going on tour again.
Then, on March 28, she announced the tour is not coming to an end; making her fans' daydreams turn into a reality. Adele stated she wants to take about three months off to spend time with family and friends.
"I went to every one of Adele's tours. Her voice is to die for and she's such an inspiration," Kenny Ortiz, a junior at William Paterson University, said.
In contrast of the original saddening news, Adele plans to do the tour all over again, starting in October! In this plan she intends to play in the same places she traveled to, including stops like New Zealand and Australia. Adele's touring life has been stress-free and laid-back for the most part. Her vocal cords that once threatened her career have not been a problem as of late. Performing live has simply not been an issue for Adele.
Although fans are excited, other major acts like Justin Bieber, Bruno Mars and the Weekend are not too thrilled. Adele's tour will most likely interfere with their tours throughout the year, causing them to lose sales. In 2016, Adele sold out her tour in five minutes. This tour is a massive threat to other tours from all artists in the upcoming year.
With all of  the hype people have been asking "so when is it happening!?" Adele has plans to announce the tour dates on Twitter soon. She loves her fans so much that she plans to have a special guest star join her on tour as an opening act. Although the star remains a mystery, there are rumors going around that it could be Lady Gaga.
"Just to think of Adele and Lady Gaga on tour together, it can't get any better then this," Joan Rivera, a freshman at William Paterson University said. "My two favorite performers on stage!"