Team USA Wins 2017 World Baseball Classic
"I had the opportunity to manage for our country, our coaches had the opportunity to coach for our country, the players had the opportunity to play for our country, but this is for the men and women that serve our country."-Team USA manager, Jim Leyland
WAYNE, N.J.- Fourth time's the charm? Typically this isn't the case in American culture, however in the fourth edition of the World Baseball Classic, Team USA has brought the title home to American soil.
After sub-par showings in the first 3 international tournaments, resulting in a 10-10 record which included two second round exits in both 2006 and again in 2009, the stars of the states shined bright this time around.
Team USA, finally played where they belong and the only team standing in their way, undefeated (7-0) Team Puerto Rico.
More than 51,000 fans piled into Dodger Stadium Wednesday night to take in this highly anticipated matchup between these two baseball heavyweights, for a matchup that may be better remembered as "The Stro-Show."
After facing criticism for turning down the opportunity to represent team Puerto Rico in favor of Team U.S.A. in the WBC, Marcus Stroman let his pitching do the talking.
Stroman who struggled with the same Team Puerto Rico lineup just five days earlier, was nothing short of brilliant Wednesday night twirling 6 no-hit innings while fanning 3 and surrendering just one walk.  Angel Pagan lead off the home half of the 7th inning and provided the lone hit for Team Puerto Rico off Stroman before he gave way to the bullpen.
Contrary to their style for the majority of the tournament, Team USA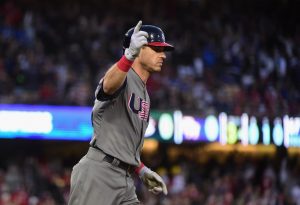 opened the scoring thanks to a 2-run home run from Ian Kinsler in the visitors side of the third.
The U.S. scoring did not stop there as they tacked on 2 more in the top of the 5th on a pair of RBI singles by Christian Yelich and Andrew McCutchen.
The scoring outburst continued for Team USA in the top of the 7th, as Brandon Crawford laced lefty specialist, J.C. Romero's full count offering into centerfield for a 2 RBI single plating Nolan Arenado and Eric Hosmer.  The following batter Giancarlo Stanton would join the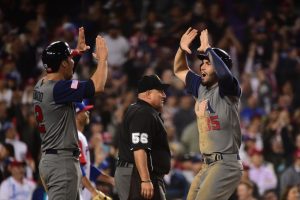 hit parade smacking a RBI single through the leftside to put Team USA ahead 7-0.  Andrew McCutchen would cap off Team USA's scoring for the night with a RBI infield single in the top of the 8th.
Team USA opened the tournament in Miami with a 2-1 record thanks in part to extra inning heroics by Adam Jones in an opening game win over Columbia, followed by a heart breaking loss to the Dominican Republic the following night.  USA secured a trip to San Diego with an 8-0 victory over Canada to conclude the first round.
USA again relied on late game heroics in the opening game of round 2 against Venezuela as a solo home run by Jones tied the game at 2 in the 8th and Eric Hosmer gave the U.S. the lead for good with a 2-run shot later in the frame.  After dropping the middle game again, this time to Puerto Rico, U.S. secured a rematch with the Dominican Republic in a win-or-go home clash for the right to play Team Japan in the semi-final round.
After falling in a 2-0 hole early, the "comeback kids" mounted another comeback highlighted by Giancarlo Stanton's fourth inning blast that left the bat at a staggering 117.3 mph and gave Team USA a 4-2 advantage.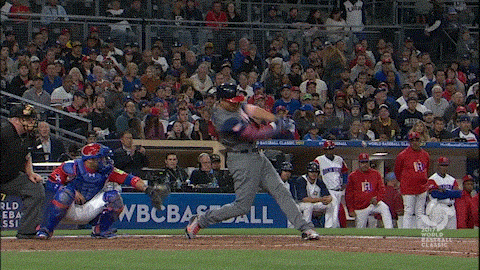 The play of the night however came in the bottom of the 7th when San Diego native, Adam Jones found himself in the spotlight again.
With the U.S. holding onto a 4-2 lead Jones soared above the 396 sign in dead centerfield of Petco Park, robbing Baltimore Orioles teammate, Team Dominican third baseman Manny Machado of a home run, deflating any chance of a comeback for the defending champions.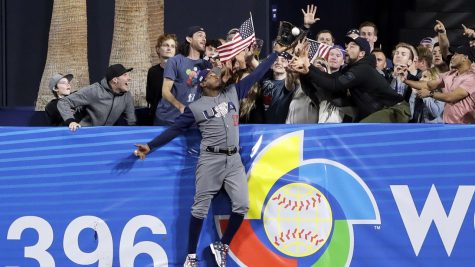 In a clash of styles, Team USA took to Dodger Stadium Tuesday night to take on Team Japan in the semi-final round, with the chance to take on Team Puerto Rico in the Championship Round hanging in the glimpse.
Team USA was aided by a strong performance by starting pitcher, Tanner Roark who surrendered just 2 hits over 4 innings of scoreless work.
Japanese countryman Tomoyuki Sugano put forth his best efforts for Team Japan going 6 strong innings, while fanning 6 and surrendering one unearned run.
Team U.S. broke the scoreless bout in the top of the fourth as Christian Yelich reached base with one out via a two-base fielding error by Japanese second baseman, Ryosuke Kikuchi and touched home two batters later on a RBI single by Andrew McCutchen.
The U.S. held onto their slim 1-0 lead until the bottom of the 6th inning when Kikuchi avenged his defensive miscue by sending American reliever, Nate Jones' 1-2 offering deep into the rainy California night to even the score at 1.
The U.S. stayed right on character as in the top of the 8th inning they pushed across the eventual game winning run.
Following a one out single by Brandon Crawford and a double off the left-centerfield wall by Ian Kinsler, the infield was forced to play in against who else, but Adam Jones.
On the first offering Jones saw from Japanese reliever Kodai Senga, he tapped a weak groundball to the typically swift fielding third baseman, Nobuhiro Matsuda.
Matsuda, a 4-time Golden Glove Award winner in Japan's Pacific League, bobbled the slick ball allowing for his only play to be at first base, allowing the go-ahead and eventual game-winning run to score.
Offensively Team USA was lead by Eric Hosmer: 10/25 (.400) 1 hr, 5 rbi, 6 r, Brandon Crawford: 10/26 (.385) 4 xbh, 6 rbi, 3 r, Christian Yelich: 9/29 (.310) 4 2B, 3 rbi, 7 r, Ian Kinsler: 8/30 (.267) 1 hr, 3 rbi, 6 r and Adam Jones: 7/35 (.200) 2 hr, 5 rbi, 4 r.
Heading into the WBC, the achilles heal of Team USA was said to be their starting pitching.  This was NOT the case as their starter's pitched to the tune of a sparkling 1.25 ERA.
WBC MVP, Marcus Stroman lead the charge going 1-1 with a 2.35 ERA while striking out 9 over 15 1/3 innings (3 GS).
Other Team USA starters followed suite, Danny Duffy: 2 gs, 2-0, 8 ip, 8 K's, 1.13 ERA, Chris Archer: 1 gs, 0-0, 4 ip, 3 K's, 0.00 ERA, Tanner Roark: 2 g, 1 gs, 0-0, 5 1/3 ip, 1 K, 5.06 ERA and Drew Smyly: 1 gs, 0-0, 4 2/3 ip, 8 K's, 0.00 ERA.
Notable relievers for Team USA included, Sam Dyson: 4 g, 1-0, 5 ip, 4 K's, 0.00 ERA, Tyler Clippard: 3 g, 1-0, 4 1/3 ip, 6 K's, 2.08 ERA, Pat Neshek: 4 g, 1-0, 4 ip, 3 K's, 0.00 ERA and Luke Gregerson: 4 g, 3 sv, 4 ip, 3 K's, 0.00 ERA.
The WBC title was the icing on the cake for Team USA skipper Jim Leyland, in what was likely his last game of his Cooperstown-bound managerial career.  Leyland, 72, has not managed in MLB since 2013 and has no intentions of returning.  His 1,769 wins across 22 seasons is good for 16th on the all-time wins list.
Team USA pitcher Marcus Stroman, first baseman Eric Hosmer and outfielder Christian Yelich were named to the All-WBC team.