New York Yankees 2017 Season Preview
It's a new era of Yankee baseball, and it's just getting started.
WAYNE, N.J.- For the first time in over twenty years the New York Yankees are in "rebuilding mode" heading into a season.  This rebuild however, in typical Yankee fashion, is different from other teams that have gone through the gut wrenching transition, to someday find light at the end of the tunnel.
The Yankees officially began their rebuild last season on Saturday, August 13 to be specific.  In the week prior, the Yankees had dealt closer Aroldis Chapman to the Chicago Cubs, set-up man Andrew Miller to the Cleveland Indians and their best offensive player, Carlos Beltran to the Texas Rangers, in addition to forcing Alex Rodriguez into retirement as he played his final game on August 12.
On August 13, Tyler Austin (who will begin the season on the DL with a broken foot) and Aaron Judge both made their major league debuts and homered on consecutive pitches in their fist major league at-bats.  A new generation of baby bombers was among us, and it only took one day.  The star of the show however was catcher Gary Sanchez who took the league by storm, hitting home runs at a Babe Ruth type pace en route to a second place finish in the American League Rookie of the Year Award voting.
This group of youngsters took over a club that was 3 games over .500 in the second week of August and made them a contender all the way through the last week in October.  For the first time in essentially 4 years, Yankees baseball was intriguing again, and not a bunch of guys over 35 that could never play up to the value of their contracts.
It's a new era of Yankee baseball, and it's just getting started.
Starting from the top down, both General Manager Brian Cashman and manager Joe Girardi are entering the final year of their current contract.  Cashman who has held the position since 1998, overachieved last season as he began the rebuilding process by obtaining some of the game's top prospects.  Girardi will be entering his 10th season at the helm having lead the club to a 819-639 mark that has included 5 postseason appearances and a World Series title in 2009.  While Girardi has yet to be recognized as AL Manager of the Year while in pinstripes, he has done an exceptional job in managing a roster that has lacked the talent it possessed in the previous two decades.
After trading veteran catcher Brian McCann to the Houston Astros this past offseason, the Yankees have handed the full-time catching responsibilities over to Gary Sanchez.
The 24-year-old phenom burst onto the scene last season, quickly becoming a fan favorite after blasting 20 home runs and driving in 42 runs in just 53 games.  Perhaps the most impressive dimension of Sanchez' game is his strong throwing arm that he often had on display in his rookie season, gunning down 41% of would be base stealers.  As the pressure continues to mount for the newly crowned face of the franchise, it will be fun to watch how he responds en route to joining a long lineage of great Yankee catchers.  Spelling Sanchez will be Austin Romine who hit .242 in 165 at-bats last season while throwing out base stealers at a 17% clip.
Looking at the infield from left to right, Chase Headley will again begin the season as the Yanks starting third baseman.  Headley, 33 will be entering the third year of his 4 year, $52 million contract he signed following the 2014 season.  After a putrid April in which he batted .150 with zero home runs and 2 RBI, Headley turned his season around hitting .275 with 14 home runs and 49 RBI over the season's final two months.  Headley also improved his defense at the hot corner in 2016 committing just 10 errors compared to 23 the previous season.
Excluding the historic 2 month performance by Gary Sanchez, shortstop Didi Gregorius was arguably the Yankees team MVP. Gregorius enjoyed a breakout season in 2016 setting career highs in nearly every single offensive category.  His 54 extra base hits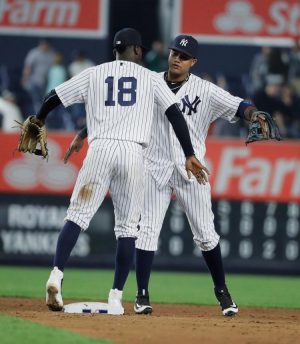 last season were the most by a Yankees shortstop since the man he "replaced" Derek Jeter had 55 in 2007. In fact, Gregorius and double play partner Starlin Castro teamed up to become the first shortstop, second base combination in Yankees history to slug 20 home runs a piece. Didi who is still just 27-years-old, is sitting just outside that core crop  of young shortstops that are taking over the game. Unfortunately, Gregorius will be out until at least the end of April after straining his right shoulder while playing for Team Netherlands in the World Baseball Classic. Keeping it up the middle, in his first season in the Bronx, second baseman Starlin Castro slugging 15 of his career high 21 home runs at home while hitting .310 at home compared to a dismal .230 on the road.  Despite his undisciplined approach at the plate Castro finished his season on a high note hitting .299 over his final 49 games.
With the injury to Gregorius, an unexpected potential roster spot has opened up as for Pete Kozma and Tyler Wade.  Kozma, 29, debuted in 2011 with the St. Louis Cardinals and played within the organization through the 2015 season including appearing in 143 games for the big league club in 2013.  Kozma spent the 2016 season at triple-A, Scranton Wilkes-Barre hitting .209 in 455 at-bats across 130 games and is currently hitting .209 (7/34) in Grapefruit League play.  Wade, 22, spent his fourth professional season in 2016 at double-A Trenton hitting .259 with 27 stolen bases and 90 runs scored 133 games.  Based off their performances so far this Spring, Wade has the upper hand in breaking camp with the big league club over Kozma hitting .341 (14/41) over 24 games.
Ronald Torreyes and Rob Refsnyder appear to be competing for the utility infielder job.  Both Torreyes, 24, and Refsnyder, 25, have proved their value by displaying their versatility playing all infield positions (excluding first base) in addition to both corner outfield positions.
The trio of Greg Bird, Chris Carter and Matt Holliday will serve as the primary first base options making it the most intriguing position in the Yanks infield.  After bursting on the scene at the tail end of the 2015 season, the ideal scenario for Greg Bird would have been to learn behind veteran Mark Teixeira in what turned out to be his final season in 2016.  Those plans went south however early in Spring Training last season when Bird re-aggravated a shoulder injury, resulting in a torn labrum and costing him the entire season.
The left handed Bird could be put into a platoon role with the reigning National League home run leader, Chris Carter.  After spending the 2016 season with the Milwaukee Brewers blasting 41 home runs while driving in 94 runs despite striking out a league leading 204 times, Carter fell into the Yankees lap late in the off-season for a team friendly 1 year, $3.5 million deal.  
After spending the last 7 ½ seasons with the St. Louis Cardinals, 37-year-old veteran Matt Holliday signed a 1 year, $13 million deal in December.  Holliday will likely be the team's primary DH, but according to Girardi he will also see time at first base where he has played just 10 games in his career, in addition to his natural position of left field.  Despite coming off a bit of down season where he slugged 20 home runs but hit a career low .246 average, Holliday brings an impressive resume in addition to his veteran leadership that will be valued in the young Yankee clubhouse.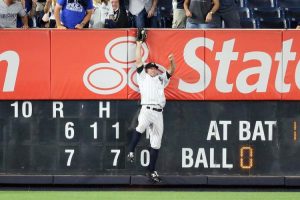 Brett Gardner, the longest tenured Yankee, is coming off a down 2016 heading into his age 33 season.  While his name swirled in trade rumors over the off-season, Gardner ultimately stayed put in the Bronx, entering his 10th season with the club.  Despite seeing a decline in his stolen base totals for the third straight season, the speedy Gardner will remain a fixture at the top of the Yankees lineup.
Centerfield will again be manned by Jacoby Ellsbury who is entering the 4th year of his 7-year, $153 million deal signed prior to the 2014 season.  While Ellsbury will never live up to the magnitude of his contract, and has ultimately been a disappointment nearing the midway point of his tenure in Yankee pinstripes, the 33-year-old who has been greatly criticized in the past for his durability, has averaged 136 games per season while with the Yankees.  Like Gardner, Ellsbury has seen his stolen base totals dip for a third straight season however both remain above average defenders.
The short porch in right field will be manned by an imposing figure in Aaron Judge who is listed at 6'7", 275.  Judge, 24, got a taste of the
big leagues for the first time last season where he struggled mightily striking out a whopping 42 times in just 84 at-bats.  While Judge's frame and light tower power that saw him slug 19 home runs at Scranton Wilkes-Barre last season are something out of a video game, he will need to become more consistent at the plate to me a key fixture in the Yankees lineup.  
Spelling the outfielders will be switch-hitter Aaron Hicks who will likely see time at all 3 positions.  The former first round pick, struggled mightily in his first season in pinstripes last year to the tune of a .217 average in 327 at-bats, however he posses the strongest throwing arm of any of the outfield options.
While there is some uncertainty from an offensive standpoint, the starting pitching could be what hinders the club's chances of contending for a postseason birth.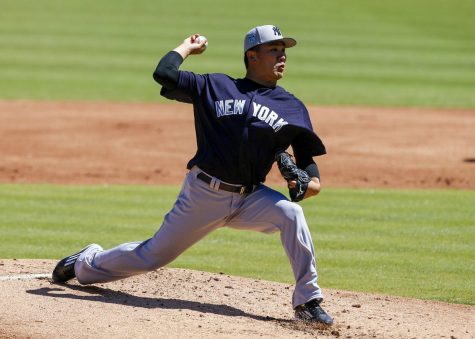 The ace of the staff will again be Masahiro Tanaka who is coming off his best season in pinstripes where he eclipsed the 30 start mark for the first time (31) while posting a 14-4 mark with a 3.07 ERA and 165 strikeouts in 199 ⅔ innings.  Tanaka, 28, who signed a 7-year, $155 million contract prior to the 2014 season can opt out of the deal and become a free agent after this season should he choose.  
Following Tanaka will be another 28-year-old right hander, Michael Pineda who has something to prove heading into his contract season.  Since acquiring Pineda from the Seattle Mariners for then highly touted catching prospect, Jesus Montero in 2011, the Yankees have seen it all from "Big Mike."  Though his 6-12 record and 4.82 are eye opening for the wrong reasons, there are signs of brilliance exemplified by setting career high's in innings pitched with 175 2/4 and strikeouts with 207 en route to leading the league in K/9 with 10.6.
Slotting into the #3 spot, the lone lefty of the starting staff will be C.C. Sabathia who is also entering the last year of his current contract. Following a stint at an alcohol rehab center during the 2015 postseason, Sabathia rejuvenated his career in 2016 as he continues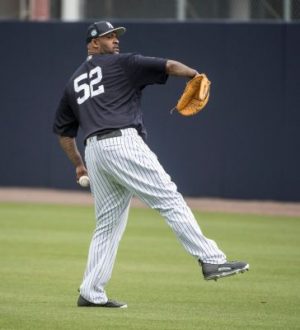 to transition from a power pitcher to a control pitcher.  The 36-year-old southpaw made 30 starts in 2016 for the first time since 2013, while posting a 9-12 mark with a 3.91 ERA.  It will be interesting to see how the big fella fares in 2017 as he has noted that he would like to continue to pitch beyond this season.  
The final 2 spots in the starting rotation are up for grabs between Chad Green, Bryan Mitchell, Luis Severino and Adam Warren.  
In a perfect world, the Yankees would have opened their season with Severino as the fourth starter, however with the way he has pitched so far this Spring, it is now a question if whether or not he will make the club out of Spring Training.  Severino, 23, was brilliant after making his MLB debut in August 2015 sporting a 2.89 ERA in 61 ⅔  innings over 11 starts.  His fortune changed in 2016 however, as he began the season 0-6 with an 7.46 ERA over 7 starts before being demoted to triple-A. Severino returned to the big leagues in July making 11 relief appearances in which he found success going 3-0 with a 0.39 ERA.
Green, 25, spent the majority of 2016 pitching Scranton Wilkes-Barre where he dominated posting a 1.52 ERA and 100 strikeouts in 94 ⅔ innings.  In 8 starts in the big leagues, Green struggled posting a 2-4 mark with a 5.94 ERA.
Mitchell, 25, missed the majority of the 2016 season recovering from a grade 3 turf toe and a fractured sesamoid bone.  Since making his MLB debut in 2014, Mitchell has made 8 starts over the last 3 seasons going 1-4 with a 4.04 ERA.  
Rounding out the group is veteran Adam Warren whom the Yankees re-acquired as part of the deal that sent Aroldis Chapman to the Chicago Cubs.  It seems as if Warren, 29, has an outside shot of claiming a rotation spot, simply because of his value as one of the top bullpen arms the Yankees have to their disposal, however if both Severino and Cessa continue to struggle as we near the end of camp, Warren could be the man for the job.  While he has mainly been used as a reliever throughout his career, Warren made 17 of his 21 career starts for the 2015 Yankees going 6-6 with a 3.66 ERA.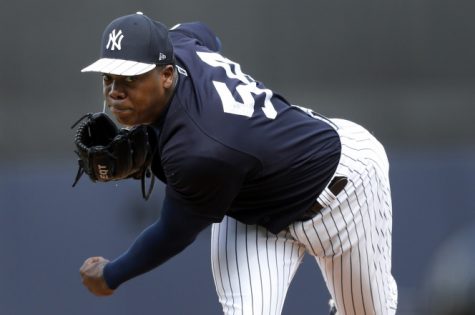 While the bullpen will be missing ⅓ of the 3-headed monster of Aroldis Chapman, Dellin Betances and Andrew Miller (CLE)  that dominated games for a few brief months last season, the group heading into this season could again be one of the best groups in the league.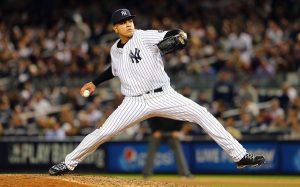 Headlined by their biggest move of the off-season, the re-acquisition of the now highest paid closer in baseball history (5 years, $86 million) Aroldis Chapman, the Yanks bring back a core group that includes right handers Dellin Betances and Tyler Clippard in addition to southpaws Tommy Layne and Chasen Shreve.
Betances, 29, has been named to the all-star team while eclipsing the 100 strikeout mark in each of the past 3 seasons.
After struggling in Arizona for the first half of the 2016 season, Clippard regained his usual dominant form when he returned to the Bronx, the place where his big league career started back in 2007.  In 29 appearances, Clippard logged 25 1/3 innings while fanning 26 batters to the tune of a 2.49 ERA.  
The Verdict: While the Yankees are in "rebuilding" mode don't be shocked if you see them near the top of the league standings come the dog days of August and into October.  With that being said there will be roadblocks, not every prospect is going to reach their ceiling this season and the starting staff remains shaky with less than 2 weeks until Opening Day. While 2019 remains the target for the complete reconstruction of the "Evil Empire"  The roster constructed of a mix of exciting youth and knowledgeable veterans is intriguing.  Despite the shaky starting staff, I see this team eclipsing the 84-78 mark from a year ago, and even pushing towards the 88-89 win total needed for mission October.
Loading ...