Predicting the Madness of the NCAA Tournament
With March Madness just a few days away, here are four teams capable of winning it all.
With "Selection Sunday" in the books, all eyes are looking ahead to March 14 and the start of the 2017 NCAA Tournament. In a field that lacks the depth of past years, there are eight to 10 teams that have a legitimate chance of cutting down the nets on April 3 and bringing a championship back to their school. Here are four of those teams who can win a national title and two that can play the role of a Cinderella team over the course of the next month:
Villanova (31-3, Big East Champions): The top-seeded and defending champion Wildcats have been the consensus No. 1 team in the nation for virtually the entire season, and for good reason. Villanova breezed through their conference tournament, beating Georgetown 81-55 in their first game, followed by a 108-67 drubbing of St. John's, and squeaker against defending Big East tournament champion Seton Hall and a comfortable 74-60 win over Creighton. The Wildcats come into the tournament as one of the hottest teams in the country, winning 12 of their last 13 games, largely due to the outstanding guard play of senior Josh Hart and sophomore Jalen Brunson. Hart has averaged just under 19 points per game this year and is shooting slightly under 51 percent from the field, as well as six rebounds and three assists per game. Hart is also a contender for the Wooden Award, given to the nation's top player every season. Brunson has posted similarly solid numbers, averaging just under 15 points per game and shooting 54 percent from the field. Brunson leads the team in assists per game with four, and gives Villanova security at the guard position for the next few years if he doesn't declare for the NBA Draft before then. Overall, Villanova is widely considered the best team in the country this year, and anything short of a Final Four appearance would be a colossal letdown.

Sports Illustrated

Duke (27-8, ACC Tournament Champions): There's no shot that Duke would have been a top contender in this year's tournament without the incredible performance they turned in during the ACC Tournament in Brooklyn. Duke finished fifth in regular season conference play, but they played like a top seed this past week, beating Clemson, No. 10 Louisville, No.6 North Carolina, who won the regular season ACC crown and Notre Dame in the finals for the 14th time in Coach Mike Krzyzewski's time at Duke. The Blue Devils are another team that comes into the tournament on fire as a two seed, and All-American sophomore guard Luke Kennard has been a huge reason why. Kennard is averaging 20 points per game and five rebounds per game while shooting an impressive 44 percent from three-point range. After beating Notre Dame on Saturday, Duke now has six wins versus the RPI top 25 away from home, while other contenders such as Oregon and Arizona have four total wins versus the top 50. A team that at times this season looked to be headed for an early exit in the tournament now has a great chance to give Krzyzewski his sixth championship.
North Carolina (27-7, ACC Regular Season Champions): The Tar Heels are once again a top seed and a favorite to compete for a title in this latest edition of March Madness. Last year's runners-up have the size and talent to return to the title game less than one month away. Although UNC fell to Duke 93-83 in the ACC tournament semifinals, it would be foolish to overlook them. As a team, they're eighth in the nation with 85 points per game, in addition to 43.5 rebounds per game, which leads the country and 18 assists per game, which places them at second in the country in that category. Those numbers are not at all surprising when looking at the tremendous talent UNC has in both their front and backcourt. Junior forward Justin Jackson leads the team in points per game with 18 and rebounds per game, while senior forward Isaiah Hicks leads the team in rebounds with 5.7 per game and is shooting and incredible 60 percent from the field. Combine these two with the guard play of junior Joel Berry II, who leads the team with 3.7 assists per game, and Coach Roy Williams has a well-balanced offense that can outscore any team in the tournament and bring them back to the finals to finish what they started last season.

The Spokesman-Review

Gonzaga (32-1, WCC Champions):
Based on records alone, Gonzaga is the best basketball team in the country, and it's hard to disagree with just one loss. The Zags were undefeated until a 79-71 loss to BYU a few weeks ago, but had no problem dispatching Pacific University, Santa Clara University and St. Mary's to win the WCC Tournament.
Like North Carolina, Gonzaga relies on a balanced front and backcourt, led by freshman forward Zach Collins. Collins is tied for the team lead in rebounds per game with 5.7 and is shooting 65 percent from the field, while junior guard Nigel Williams-Goss is averaging 17 points per game is tied with Collins with 5.7 rebounds per game. He also averages just under five assists per game, making him one of the most complete players in the nation. Gonzaga has perhaps the easiest path of all teams in the tournament to the Final Four for a one seed, and likely won't face an opponent capable of beating them until the Elite Eight if Arizona makes it.
Dark Horse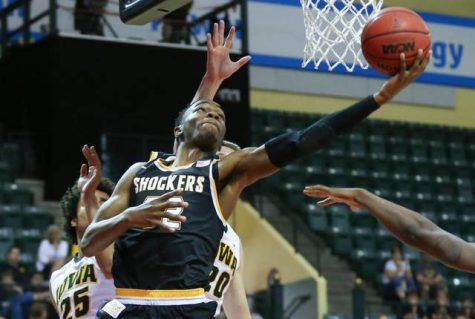 Wichita State (30-4, MVC Tournament Champions): Although their record might deceive some people, the Shockers have had a relatively easy schedule, which is why they ended up as a 10 seed. Wichita State has a great chance of being last year's Syracuse, a team that reached the Final Four as a 10 seed thanks to an easy path after Michigan State's early elimination.
The Shockers are by all accounts the hottest team in the nation, winning their final 15 games that culminated in an MVC Tournament win with a 71-51 thrashing of Illinois State. They rank fifth in the nation with 41 rebounds per game and land at 20 in the nation with 82 points per game. More importantly, they play sound defense, allowing 62 points per game, good for a spot in the top 15 nationwide in that category. For the Shockers, it starts and finishes in the paint, with sophomore forwards Markis McDuffie of Paterson, New Jersey and junior Darral Willis Jr. McDuffie leads the team with 5.7 rebounds per game and 12 points per game, while Willis Jr. follows close behind with 10 points per game and 5.3 rebounds per game. Wichita State is being vastly overlooked, in spite of their 30-4 record, because of a weak conference in which only three other teams had records above .500. However, if they can beat Dayton and pull off the upset against what will most likely be a young Kentucky squad, don't be shocked if the "Shockers" advance to at least the Elite Eight, with plenty of momentum on their side.
Darker Horse
UNC Wilmington (29-5, CAA Champions): The Seahawks have had a string of recent appearances in the NCAA Tournament, and they have the talent this time around to surprise the country and win a few games. If a dark horse is a team that could make the Final Four or Elite Eight, then a darker horse is one that would shock everyone just in making Sweet 16, which is what UNC Wilmington can do. For them, it's all about sophomore forward Devontae Cook, who is shooting 80 percent from the field, by far the best percentage in the nation. He's only taken 224 shots in 34 games, less than any other player in the top 10, but he's missed just 45 in that stretch, and that consistency makes him a dangerous player against teams at any level of play. Sophomore guard C.J. Bryce is an impact player as well, leading the team in points per game with 17.6 and helping UNC Wilmington score 85 points per game, which is a top 10 total in the nation. This is a team that has the potential to pull off what Florida Gulf Coast did as a 15 seed, beating Georgetown and San Diego State to advance to the Sweet 16, but will have the benefit of doing it at a higher seed of 12. Their first-round matchup with Virginia will be a monumental test, but the odds aren't against them. At least one five seed has lost to a 12 seeded team in 15 of the previous 16 NCAA Tournaments. With the most consistent scorer in the nation at their disposable, UNC Wilmington has a great chance to continue that streak.