Paterson, Poetry, Cinematic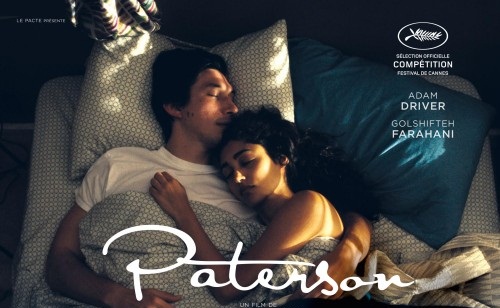 The Jim Jarmusch film named Paterson is a movie centered around a man named Paterson. Paterson is played by actor Adam Driver, who drives an NJ Transit bus throughout the city of Paterson while thinking of poetry and eavesdropping on his passengers. The movie is playing in select theatres.
Paterson is getting great reviews with 96 percent on rottentomatoes.com and an audience score of 75 percent liking it. The film isn't an action-packed, comic book, epic-war, zombie ridden mayhem; it's a film about poetry! It's a film that Jim Jarmusch created as a poem all on itself with recurring patterns, stanzas, video shots, scenes and its own visual rhythmic quality.
Paterson is a man living in Paterson, NJ. He has a simple life. He wakes up every morning at almost the same time, has a moment with his love partner Laura, played by Golshifteh Farahani, eats a bowl of cheerios and goes to work on foot at the Paterson bus station. While waiting for the bus to depart, he writes poetry in his "secret book," which in reality are poems written by Ron Padgett.
After work he goes home, has dinner with Laura and then takes Marvin, their pet dog, out for a walk. He then walks to the local bar and leaves Marvin outside tied with the leash. At the bar, he talks with the bartender, Doc, played by Barry Shabaka Henley. This is Paterson's day-to-day routine.
Paterson is a poet with an average man's life. Richard Brody of The New Yorker writes, "Paterson is simultaneously a paean to art and a tribute to working men- long-suffering men who toil in thankless isolation on repetitive jobs, carrying family responsibilities on their shoulders."
I feel this film also pays homage to the city of Paterson. Paterson has a rich history. Even before European colonists settled in the land we call America, The Lenni-Lenape Native Americans inhabited most of New Jersey and New York. They were called "The Old Women" by other Indian tribes because of their peaceful ways.
The Great Falls in Paterson was a place where they congregated. It was also a source of food for them because the fish were plentiful in what we now call the Passaic River.
European settlers first arrived in 1791 in what is now Passaic County. Paterson was named after William Paterson (1746-1806), the governor of New Jersey and signer of the United States Constitution. However, Alexander Hamilton is known as the "Founder of Paterson."
The power of its waterfalls eventually made Paterson one of the first industrial centers in the United States. Engineers, entrepreneurs, artisans and inventors were drawn to this new technology center.
Pierre L'Enfant, a French engineer and architect, proposed to harness power from the falls by a channel through the rocks and an aqueduct. Thomas Edison's Electric Company drew up plans for a 4,849-kilowatt hydroelectric facility which operated from 1914 until 1969.
In 1986, the plant was restarted and now generates 11,000 kilowatts per hour, enough electricity for 11,000 homes. The Great Falls generates electricity to Paterson and the surrounding areas over 223 years after Alexander Hamilton's initial idea.
Paterson is also the birthplace of numerous artists, poets, inventors, athletes, singers, comedians, movie stars, hip-hop producers and rappers. Lou Costello, for example, is an actor/comedian and has his very own statue and park named after him. Others include John Holland, the inventor of the first submarine, the poet mentioned several times in the movie Paterson, William Carlos William, Frankie Ruiz, a Puerto Rican salsa singer known as "The King of Salsa", Samuel Colt, inventor of the Colt revolver, Giants football player Victor Cruz, hip hop producer Just Blaze and rapper Fetty Wap. This is just to name a few.
Of course, Paterson has a bad reputation for crime, drugs, gangs, violence, littered streets, crooked politicians and a poor schooling system, but when you look beyond the negativity, beyond the stigma Paterson has, it can be quite a place of beauty.
Look at the buildings in the downtown area of Paterson. These are buildings that may be hundreds of years old but yet they still exist in Paterson. Visit the Hamilton Club Building up the street from Passaic County Community College. When you walk inside it feels as if you are entering into the 1800s.
The Great Falls is a beautiful sight to see. In 2009, through ex-President Obama, it became an official national historic park. You can sit on the benches and just listen to that water crash like Paterson does in the movie. On a hot day in the summer time you can cross the bridge and feel the mist from the waterfall hit your body and face.
Down the street from the falls you can visit the Paterson Museum or visit the Art Factory across the street from there.
There's plenty of humbleness, talent and creativity in Paterson that I believe is overshadowed by the negative. I believe poverty is to blame from where all the negativity stems from. I also think this is something Jim Jarmusch wanted to capture in Paterson. Paterson is in fact a special place, and it's even regarded as "The cradle of the industrial revolution in America."
The movie has a very mellow tone. Jarmusch himself is a very unique independent film maker and he has his own style in producing, screen writing and directing his films.
Other movies I've seen from Jarmusch are Ghost Dog (1999), a movie about a modern-day samurai played by Forest Whitaker who is in debt with the Italian mafia. Also, Coffee and Cigarettes (2003), where the film consists of various scenes with different dialogues between characters while they smoke their cigarettes and drink their coffee.
A recurring thing about these films are the cameos by members of the Wu-Tang Clan. For example, in Paterson, there is a scene where Method Man is practicing a rap verse while waiting in a laundromat for his clothes to be ready. In Coffee and Cigarettes, Wu-members RZA and GZA talk to Bill Murray about the harmful chemicals and effects of smoking and drinking coffee. In Ghost Dog, RZA and the samurai cross paths in the street and greet each other.
I really enjoyed watching the streets of Paterson from the bus driver's point of view. I myself have taken the bus many times to either visit friends or family in Paterson. Many of the bus routes in the movie are the routes that I see and take when riding the bus. It was very cool seeing that on screen.
Perhaps the movie appeals more to artists, especially poets, or maybe many people appreciate this movie for what it is. Being a Paterson native, I am proud and happy that this film paints a nice picture of Paterson. Not all is bad in Paterson, and it has its good qualities as well. Paterson is known to inspire many artists. Just look online for a list of all the famous people that came out of Paterson and you will understand.