Jets and Giants Active Early in Free Agency
Both New York football teams have been busy making moves at the start of the free agency period.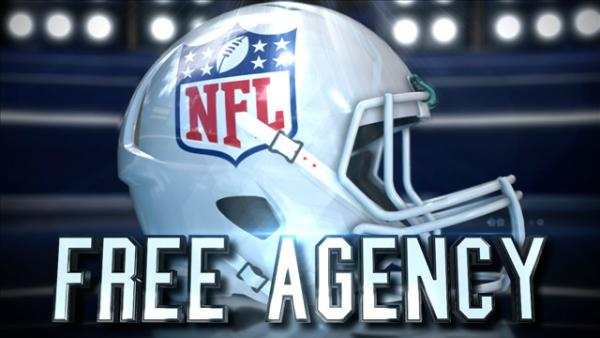 The NFL free agency period is officially underway, and both the New York Giants and New York Jets have made headlines around the league for moves they have made and speculation around moves they might make.
The Giants signed former Jets WR Brandon Marshall to a two-year, $12 million deal. The 32-year-old Marshall is coming off a disappointing 2016 campaign that saw him battling a knee injury and only scoring three touchdowns and accumulating under 1,000 receiving yards.
The addition, which addressed the vacancy left by former Giants wideout Victor Cruz, gives the Giants a formidable outside and red zone threat that excels when catching the ball at its highest point.
Marshall provides a nice compliment to New York's smaller receivers, Odell Beckham Jr. and Sterling Shepard. Their new depth at the position gives Eli Manning and the passing game the tools to improve on their abysmal point total last season (26th in the league). He had 17 touchdowns and 168 career receptions with the Jets, and is the only player in NFL history to have recorded 1,000-yard seasons with four teams (New York, Denver, Miami and Chicago).
The Giants also re-signed RB Orleans Darkwa, to a one-year deal that is likely for less than the $1.797 million. Darkwa played in 10 games for the Giants last year before being placed on injured reserve with a leg injury. He has played well at times in two full seasons with the team, rushing for three touchdowns and averaging four yards-per-carry with limited touches.
Big Blue also signed former Minnesota Vikings TE/FB Rhett Ellison to a four-year, $18 million deal with $8 million guaranteed. Ellison can be the primary blocking tight end and give the Giants room to find a receiving threat at the same position.
The Jets have had a slightly less eventful free agency period so far, but there's plenty of speculation around the league in regard to potential quarterback signings. So far this offseason, the Jets have released 11-year veteran center Nick Mangold, cornerback Darelle Revis, place kicker Nick Folk and offensive tackles Breno Giacomini and Ryan Clady.
By all accounts, this is a clear sign that the Jets are entering a rebuilding mode, but that doesn't mean they aren't in the running to land a free agent quarterback. According to multiple reports, the Jets are interested in former Chicago Bears quarterback Jay Cutler, who would be a serviceable stopgap quarterback for the team and is by far the best option out there besides sticking with either Bryce Petty or Christian Hackenberg.
The biggest signing for the Jets so far has been former Jacksonville Jaguars tackle, Kelvin Beachum to a 3-year, $24 million contract. This is a nice addition for a Jets team that is looking to go in a new direction. Beachum spent the first four years of his career in Pittsburgh before heading to Jacksonville in 2016.
Beachum started 15 games for the Jaguars and was a servicable option. At only 27, Beachum should be an upgrade over the below-average season that Clady put together last season.
The Jets also snagged former Arizona kicker Chandler Catanzaro. The 26-year-old will be replacing Nick Folk, a kicker who had tremendous success with the Jets the past few season. Catanzaro hit 21-of-28 field goals and missed four extra-points last season.
The Jets re-signed offensive lineman Ben Ijalana to a two-year, $11 million contract to sure up their tackle position. Ijalana my compete for the right tackle spot in camp, but he is a great option for a swing tackle next season.
The free agency period officially began at 4 p.m. on Thursday, but teams were allowed to begin negotiating with unrestricted free agents on two days prior to the start of free agency on March 7.