Women's History Hike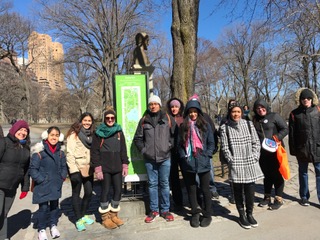 "Get The Hike Outta Here!" an event by the William Paterson University Rec Center celebrated Women's History Month with an excursion to Central Park and the New York Historical Society Museum, Sunday March 5.
The all-day event incorporated transportation by ferry, the sites of Central Park, admission to the historical society museum and the viewing of a moderated discussion. The ferry ride from New Jersey to New York gave students a new perspective on traveling to the city. Though a blustery day, some students zipped up their jackets and braved the winds of the upper deck for the view.

 

"I like taking the ferry into New York because it shows students a different way of getting in and around the city."
Karen Hilberg, the hike organizer and director explained, "I like taking the ferry into New York because it shows students a different way of getting in and around the city."
Caneel Schipper, a junior attested to Hilberg's perspective, "The ferry is great. You get a wonderful view of the skyline…You have to experience it." She encouraged.
On arrival to Central Park via shuttle bus, students "hiked" as a group, up from 59th street to 81st through the Strawberry Fields, witnessing live music, joggers and lots of dogs.
Women's History
The New York Historical Society held a conference on women's history and students attended the afternoon panel. The event was titled: "Reproductive Rights in a Historical Context". The panelists included Michelle Bratcher Goodwin a Chancellor's professor of Law and Director of the University of California, Irvine law school, Loretta Ross an activist and Rickie Solinger a historian and author.
These women discussed ethical, legal and scientific consequences of family planning throughout history and the repercussions in the present. All three were eloquent and informative speakers raising awareness and questions of great importance. The panel was an excellent kick-start to the WPU student's mentality in entering Women's History month.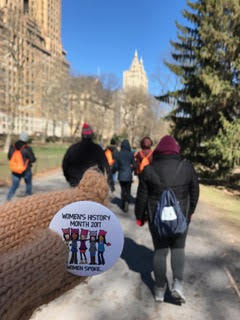 WPU Hikes
"Get the Hike Outta Here" has been an event series on the WPU campus for more than 10 years. Hilberg revealed that it began as an annual hike around the college campus and gradually grew, this year hosting about 15 hikes.
"We've gone (to) all different places, we try to concentrate on state parks, national parks, but we also go to places students want to go." Hilberg pointed out, she added that with colder weather it's been a success to add a museum trip with the hikes.
Hilberg approaches the hikes with an open mind and adventurous spirit, she shares her hope for students is, "I want you to have different adventures you know, so if we go down a different path it doesn't matter where we go."
This explorative spirit is beneficial in college, a time of new experiences and engagements. The next organized hike is on April 1, a "Mystery Hike" for April Fool's Day, to sign up, email Hilberg at [email protected] or visit the Rec. Center website's home page.