Let's Talk About Robert Covington
Justin McHugh brings us all things NBA. Here's his first article about the 76ers Robert Covington.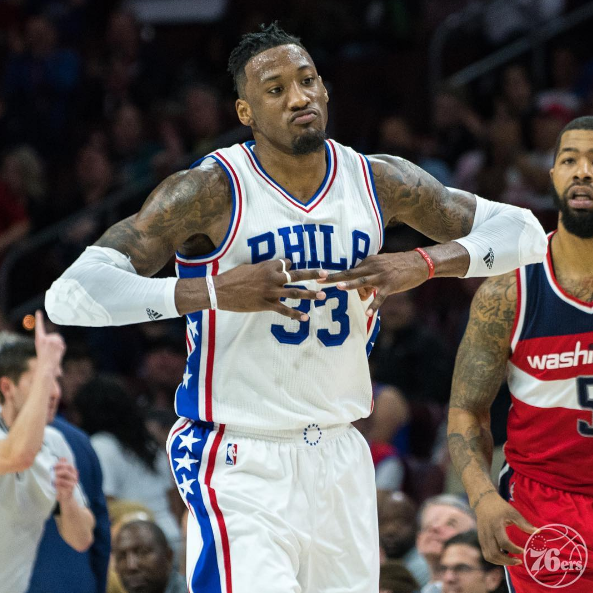 Is Robert Covington the best (healthy) player on the Sixers?
Hello WPU Beacon, my new friend. After the cherry has been put on top of this horrible week for the Philadelphia 76ers, I think it's important to remember how important some of the other guys are on this roster.
Robert Covington, quietly or not, has been one of the most improved players on this young squad. Robert has contributed to many of the 22 wins this year, with a team-best 2.6 Defensive Win Shares, and third-best with 2.6 Win Shares. Many would believe that Joel Embiid leads the team with the highest VORP (Value Over Replacement Player), but it is Covington that leads with a VORP of 1.5, a career best. I think it's safe to say he has received a ton of credit for his rapidly improving defensive ability, whether he is tasked to Isaiah Thomas or Jimmy Butler, his impact is visible. On the other side of the ball, is where many knew he lacked a versatile skill set.
As you can see above, this is a very simple backdoor cut executed by Covington (and a beautiful pass from TJ McConnell). Sure, these are the simple plays you expect guys to make, but often you did not see Covington doing this. When Robert does simple things like this, it opens up a lot of things for him. There's no doubt that the three ball is Covington's main weapon on offense, but it's important to bring some variety to the table.
This year, Covington has attempted 42% of his shots inside the three point line, in comparison to 32% last year. On those 237 (approximate) shot attempts, he is converting at a career best 48% (not including his small sample of 34 minutes in Houston).
Another knock on Covington's game has been his ability to create and his dribbling in general. There is still a lot left to be desired, but his ability to drive to the basket has definitely improved this year, as seen in plays like the one above. Covington's field goal percentage is down a few ticks from last season from 0-3 feet, but his attempt percentage is a lot higher. This year, he is shooting 57.5% percent in that area, while 28% of his shots are coming from 0-3 feet. In his 2015-16 campaign, he shot 59%, but only 19% of his shots came from that area. With his increased tendencies of going to the bucket, one of the negatives that have come with it, are the increase of offensive fouls. It's not too common, but he is already up to twenty offensive fouls, a season high for him in 14 less games than last year.
Robert also has not been shy to go to the basket with his left hand. If he can consistently make plays like this in the future he could be one of the best wings in the entire league.
Sure, maybe you could argue "Cov" hopped when he wasn't allowed to, but it's a nifty move you didn't see him make in his career so far. There is still some left to be desired on the break, as he missed a gimme the other night, but, improvement is improvement.
Oh and of course, can't forget about the classic "F*U" three from Covington. Just how coach drew it up!
If you guys and gals want to see more stuff like this, feel free to let me know.
Unless indicated otherwise, all statistics have been pulled from basketball-reference.com
All highlights used were from the YouTube channel DownToBuck, and you can check out the other thousands of highlights here.