"The Falcon and The Winter Soldier" Ep. 6 Review: "One World, One People"
The conclusion of "Falcon and the Winter Soldier" brings the story of Sam Wilson to a satisfying close as we're introduced to a new star-spangled man. Unfortunately, the rest of its characters aren't afforded that same justice. 
Contains spoilers for ep. 6: "One World, One People"
Let's Recap: The end of last week's episode saw Wilson (Anthony Mackie) preparing to take up the mantle of Captain America while the Flag Smashers plotted an attack on world leaders in New York City. Meanwhile, John Walker (Wyatt Russell) having just lost the Captain America title plans to take the fight to the Flag Smashers with his own homemade shield.
Now to cut to the chase, Wilson is by and for the best part of the finale. His debut as Captain America is simply triumphant.
From the get-go, the episode does an excellent job of distinguishing Wilson's Captain America from any previous incarnations thanks to his suit, which looks fantastic.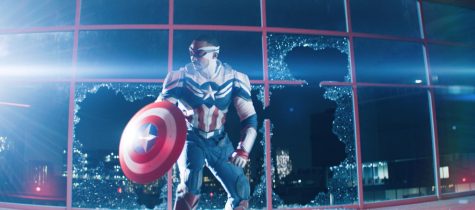 Wilson's new suit has a brand-new design plus features his trademark Falcon wings.
And the suit's differences help drive home the point that Sam Wilson isn't trying to emulate Steve Rogers, he's assuming the role of Captain America on his own terms.
What's also exciting is seeing how Wilson finds creative ways when confronting his foes to go toe-to-toe with them especially since he isn't a super-soldier. 
While confronting Karli Morgenthau (Erin Kellyman), he digs his wings into the ground to maintain his footing when she attempts to shove him. He also has a nice "hero moment" with Morgenthau where despite her clear intentions to kill him Wilson refuses to fight her in the hopes of coming to a peaceful resolution.
More than anything else, Anthony Mackie's performance is really what makes Wilson the new Captain America.
Whether he's acting angry, sad or cracking a few jokes. Mackie just has this captivating on-screen presence.
So, Wilson most definitely got a nice close to his part in the series, but the same can't be said for other characters. You have Bucky Barnes (Sebastian Stan) and Walker throughout, but they're mostly there to assist Captain America and then Walker's inclusion in the episode is a little questionable.
After a harsh and violent heel turn two episodes ago, Walker starts a redemption arc this week, but it feels rushed. Considering that we just watched him murder a defenseless person not too long ago this switch doesn't feel convincing. "The Falcon and the Winter Soldier," tries to push this narrative of him turning over to a new leaf, but Russell is just too good at playing this power-hungry villain. 
So, it's disappointing that based on how this episode ends Walker will just be an antihero at best.
On the bright side though the Flag Smashers' conflict comes to a nice resolution.
After Wilson defeats them rather than celebrating victory over them he acknowledges the group's very real grievances and takes action to address their issues.
And seeing this level of empathy from a superhero is frankly inspiring. 
Unfortunately, virtually any potential for the Flag Smashers to appear later in the MCU is dashed. Morgenthau dies and the rest are blown up by a car bomb for the sake of a gag involving Zemo (Daniel Bruhl) getting the last laugh in his conquest to rid the world of super soldiers.
"The Falcon and the Winter Soldier," spent so much time unraveling the Flag Smashers' complex motivations, but it slams the door shut on them as soon as they've fulfilled their purpose.
And the same can be said for the majority of the series' subplots such as Barnes' relationship with Yori Nakaima (Ken Takemoto) and Wilson's sister Sarah's (Adepero Oduye) financial struggles.
These two were some of the series more grounded and humanizing parts but were both resolved in the last 10 minutes of the show.
Neither of them is given a satisfying conclusion, it seems like the show genuinely forgot about them and was then quickly rushed at the end.
Between the weak writing, poorly handled villains and the show's all-out sprint to tie up every loose end imaginable. This should have made the finale of "The Falcon and The Winter Soldier" disappointing, but Wilson's heroic debut as Captain America along with Mackie's electric performance made the finale worthwhile and time well-spent. 
Click Here to watch "The Falcon and the Winter Soldier," on Disney+.