Invincible Ep. 7 Review: "We Need To Talk"
This article was written before the season finale
The highly anticipated 7th episode of the adult animated superhero series, "Invincible" comes after viewers had to take in the events encompassing the Grayson family and the state of the new Guardians.
And it's safe to assume that the season's finale will offer a level of intensity we have yet to experience. The episode answered many questions while simultaneously raising new ones that are sure to become bomb droppers in the final week. 
Contains Spoilers 
Early in the episode, we witness Nolan aka Omni-Man (J. K. Simmons) being confronted about the deaths of the former Guardians of the Globe to which he hesitantly asks Debbie (Sandra Oh) to "trust him."
She refuses to do so and at that moment he storms off insisting they talk later. After Omni-Man takes some time for self-reflecting he returns to find invisible GDA agents in his home and what follows is quite the gruesome scene with a lot of blood being spilled.
He then sets off to find Mark (Steven Yeun) to confide to him about the truth of his intentions. 
It is revealed that Monster Girl (Grey Griffin) makes a full recovery after extensive guidance by Robot (Zachary Quinto).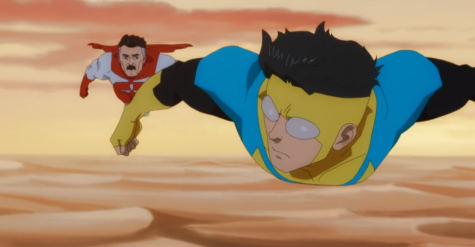 Shortly after, Robot's intentions with the Mauler Twins (Kevin Michael Richardson) are exposed. It's revealed that Robot is a drone extension of Rudolph Connors, a superhuman genius with a fragile and compromised physical build, surviving from within a vat.
He manipulates the twins into creating a clone of him using the DNA of teenage Rex. This problem surfaces amongst the New Guardians later but is interrupted by Cecil's demand for them to be prepared to defend an apocalyptic threat, later revealed to be Omni-Man. 
Now Mark and his relationship troubles with Amber (Zazie Beetz) continue when he finally decides to tell her that he is Invincible. 
Which was something Amber was already something she was aware of and wished Mark her boyfriend just talked to her about it instead of trying to conceal it horribly.
"Ugh, I know you're a superhero," Amber says. "I'm not an idiot, I figured it out weeks ago."
Mark was scared, but all Amber saw was someone who was not willing to be open about a huge part of their lives to her which clearly can have an impact on their relationship.
Mark finally telling her he is Invincible doesn't change anything for Amber and she decides to dump him.
Upset, Mark then goes to Atom Eve (Gillian Jacobs) for advice and to take his mind off things, but she criticizes his behavior and for being selfish. And all this is happening while his dad Omni-Man is pursuing him unknowingly who he eventually runs into. 
In the climactic ending, Mark and Atom Eve intercept Omni-man's fight with the Kaiju where a series of noteworthy events will occur. Eve is ordered to retreat from the battle and report back to the Guardians Headquarters with later finding out (along with the rest of the Guardians) that Omni-Man is a threat.
A reincarnated Immortal returns to avenge the former Guardians' deaths and is abruptly killed which is a death scene that brings back some nostalgia from episode one. Finally, Mark witnessing all these firsthand falls into a state of hysteria, to which Omni-Man replies with an ominous "We need to talk."
Click Here to watch season one of "Invincible" on Amazon.