Team USA World Baseball Classic Preview
"Playing baseball, you hear the national anthem every game and it becomes routine, but I'm guessing that when you put that USA uniform on and hear the national anthem, it might mean a little bit more." -Nolan Arenado, USA third baseman
WAYNE, N.J.- The 2017 World Baseball Classic is just around the corner! The 4th edition of baseball's official 16-team international tournament will begin on March 6 with the first round of the tournament taking place at four different locations around the globe; Gocheok Skydome (Seoul, South Korea), Tokyo Dome (Tokyo, Japan), Marlins Park (Miami, Florida), and Estadio Charros de Jalisco (Guadalajara, Mexico).  The second round hosts will be the Tokyo Dome and Petco Park (San Diego, California), before making its way to Dodger Stadium (Los Angeles, California) for the Championship round beginning March 20.
Through the first 3 WBC tournaments, team USA has displayed a dismal 10-10 record that included second round exists in both the inaugural tournament in 2006 and again 2009  before falling to the eventual champion Japan team in the semi-finals in 2013.  This year, the United States will be a member of "Pool C" and will play their first round games at Marlins Park.  Team USA will play their opening game on March 11 vs. Columbia, before taking on the defending champion, Dominican Republic on March 12 and finishing opening round play with team Canada on March 13.  The top 2 teams from each "pool" will then move on to the second round.
In years past, many players (especially those who would be eligible to represent team USA) have refrained from participating in the event, often citing injury risk as the reason for not participating.  While some of the USA's biggest sluggers such as Mike Trout, Kris Bryant, Bryce Harper and pitchers by the likes of Clayton Kershaw, Madison Bumgarner and Max Scherzer (who was removed from the roster because of a stress fracture on his right ring finger) have continued to shy away from participation, this year's team features stars in its own right. This could finally be the team brings the title WBC back to U.S. soil.
This year's USA club has a tournament high 19 MLB all-stars on their 28-man roster including C Buster Posey and OF Andrew McCutchen.  Team USA players have also racked up the hardware as the roster features 2 former National League MVP winners: Posey (2012) and McCutchen (2013) in addition to 2 former Rookie of the Year Award winners with Posey winning the NL award in 2010 and the reigning AL winner, RHP *Michael Fulmer. The manager of this year's club is the well respected Jim Leyland.  Leyland who retired from managing following the 2013 season won 1,769 games with 4 different organizations over his 22 year managerial career.  Leyland's run, included three Manager of the Year Awards (NL 1990, 1992, AL 2006), a World Series title in 1997 with the then Florida Marlins and two AL pennants with the Detroit Tigers in 2006 and again in 2012.
Behind the dish Leyland will have a trifecta of catching options at his disposal with the previously mentioned Posey, along with a member of the 2013 squad in Jonathan Lucroy and A.J. Ellis.  Posey, who  is arguably the face of this USA squad but Lucroy will serve as an exceptional "backup" coming off a season where he hit a career high 24 home runs. While both Posey and Lucroy could potentially see at bats in the DH role, Ellis will potentially be used as a late inning defensive replacement.
Team USA will feature one of the most star-studded infield's this tournament has to offer.  From left to right starting with the hot corner, and perhaps the brightest star for team USA, Nolan Arenado.  Arenado is a guy who deserves to be in the conversation for the best player in baseball, after leading the NL in both home runs and RBI each of the last 2 seasons while collecting 4 straight Gold Glove Awards.  Behind Arenado is Matt Carpenter who will have his versatility on display as he will likely see time at every position around the horn.  
At shortstop, USA will feature one the game's premier defenders in Brandon Crawford.  Let it be known however that Crawford who had solely been known for his slick fielding glove and powerful throwing arm in the past, had made tremendous strides in rounding out his offensive game setting a career high in hits last season with 152 and driving in 84 runs each of the last 2 seasons.  Behind Crawford will be 22-year-old Alex Bregman, who was baseball's 21st ranked prospect in 2015 according to MLB.com.  Bregman who made his MLB debut with the Houston Astros last season as a third baseman, (playing 40 of 49 games there) will return to his natural position shortstop for where he played during his college career at LSU and throughout the minor leagues.
On the right side of the infield, team USA will utilize the tandem of Ian Kinsler and Daniel Murphy at second base.  Both players are equally talented offensively and could see at bats in the DH role as well. Kinsler, a career .277 hitter slugged 28 home runs while driving in 83 runs a year ago, while the lefty swinging Murphy is a career .296 hitter and finished runner-up in race for both the NL batting title, batting at a  .347 clip, and MVP Award.  Kinsler has the clear defensive advantage over Murphy however, evident by his 2016 Gold Glove Award.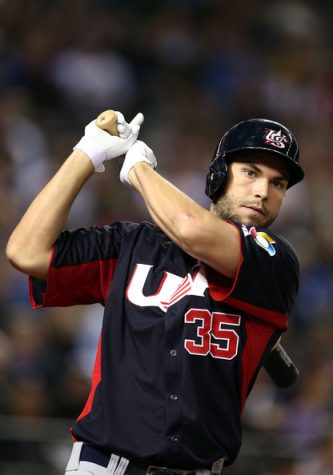 Rounding out the infield at first base for team USA will be another righty/lefty duo of Paul Goldschmidt and Eric Hosmer.  Goldschmidt, otherwise known as "America's First Baseman" will have the chance to live up to the name as he will find himself in the middle of team USA's lineup.  Goldy poses an interesting "Jeff Bagwell-esque" power/speed combo skill set for a first baseman with an excellent fielding ability as well.  Behind Goldschmidt will be the fan favorite and only returning infielder from the 2013 team in Eric Hosmer.  Hosmer has made a household name for himself during the Royals return to glory. Hosmer has increased his home run and RBI totals in each of the past 3 seasons en route to receiving his first all-star nod in 2016.
Team USA will have a strong group patrolling the outfield, featuring a mix of average, power, speed and veteran leadership.  The only true centerfielder of the bunch is Adam Jones who not only is an 11-year MLB veteran, but he was also a member of the 2013 USA team. Joining Jones is now former centerfielder Andrew McCutchen who will be making the move to right field this season for the Pirates.  Rounding out team USA's outfield options are Marlins teammates Giancarlo Stanton and Christian Yelich.  Both figure to be fixtures in team USA's lineup with Yelich consistent approach and Stanton's can't miss power.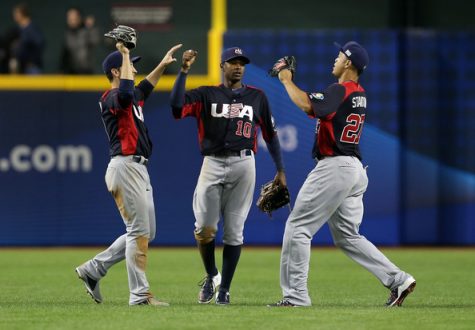 In WBC tournament play, pitch counts limitations are implemented to help avoid potential injuries. In the first round pitchers are limited to 65 pitches per game.  The number jumps to 80 for second round play and reaches 90 for the final two rounds.  Additional pitching rules require pitchers who throw 50 or more pitches must have a minimum 4 days rest before their next outing.  Furthermore, if a pitcher throws 30 or more pitches they have to rest minimum 1 day and no pitcher is permitted to throw 3 straight days regardless of pitch count.
While these pitching limitations puts less of an emphasis on starting pitching, USA lacks star power among its starters.  Of the group of starting pitchers only  Chris Archer has an MLB all-star game appearance under his belt.  Archer will be followed by the likes of RHP Marcus Stroman, LHP *Danny Duffy and RHP *Tanner Roark.  While this staff definitely has the potential to help guide team USA to the promise land, the recent losses of RHP Sonny Gray and Scherzer cannot be overlooked.
Like the developing trend across Major League Baseball team USA's pitching staff is built from the back up.  Starting with the biggest name of the bunch, LHP Andrew Miller who already displayed his overpowering fastball and wipeout slider on American baseball's biggest stage this past year will now have the opportunity to do so on the international level. It has not yet been confirmed whether Miller will be used in strictly the closer's role or as the more versatile "relief ace."  Regardless of which direction Leyland chooses to go with Miller, team USA's bullpen also features a plethora of arms with extended experience in a closing role. Including RHP Tyler Clippard, RHP Sam Dyson, RHP Luke Gregerson, LHP Jake McGee and RHP David Robertson.  Other bullpen arms will include RHP Mychal Givens, RHP Nate Jones and sidewinding righty Pat Neshek.
*A new founded rule for WBC competition allows for each team to have the ability to compose a 10 member designated pitchers pool from which each team can add/subtract 2 pitchers following each round of the tournament. Team USA's Designated Pitchers Pool includes the following: LHP Brett Cecil, LHP Danny Duffy, RHP Michael Fulmer, LHP J.A. Happ, RHP Tanner Roark, LHP Drew Smyly and RHP Alex Wilson.