"The Falcon And The Winter Soldier" Ep. 4 Review: "The World is Watching"
Complex villains and a stellar performance by Wyatt Russell as John Walker make this week's episode of "The Falcon and The Winter Soldier" a must-watch!
Contain Spoilers for ep. 4 "The World is Watching" of "The Falcon and The Winter Soldier"
Let's Recap: At the end of last week's episode, we saw Karli Morgenthau (Erin Kellyman) bomb a government supply depot which injured several while killing three. With the Flag Smashers in the headlines, Sam Wilson (Anthony Mackie), Bucky Barnes (Sebastian Stan) and Helmut Zemo (Daniel Bruhl) continue chasing Morgenthau to find the underlying cause of her plan. Meanwhile, the new Captain America- John Walker follows closely behind.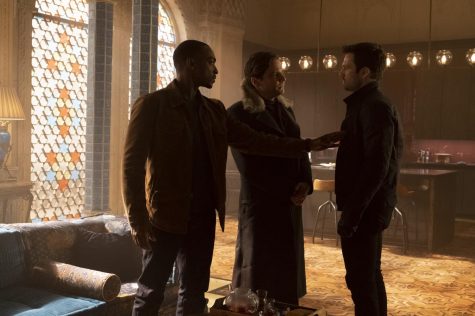 The heroes mostly take a backseat this week while we get more background on Morgenthau and the Flag Smashers.
Their motivations are cleared up. It's explained that for the five years of the Blip, virtually the entire world united to rebuild as one people.
However, the world divided again as soon as it was over. People were forced out of their countries, homes and jobs all in the name of a return to normalcy.
And the worlds shift away from the unity experienced during the Blip that drives Morgenthau and the Flag Smashers.
What's great about this is that Marvel explores the fallout of the Blip in some interesting ways, but is still disappointing that it's never shown what this unified world the Flag Smashers want looks like.
"Wanda Vision" on the other hand showed a hospital unable to cope with the mass amounts of people popping back into existence. This leaves a stronger impression with being able to see this happen, but this isn't the case here. Viewers are only ever able to hear about this world that the Flag Smashers are fighting for and not see it.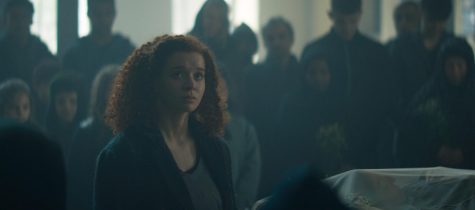 In episode four more is learned about Morgenthau and she is quite compelling.
Morgenthau genuinely believes she's doing the right thing and that her actions will help people all around the world paired with this though is a feeling of hatred for the authorities.
And her actions and words in turn raise a big question: Is she driven more by her desire to help, or her resentment of those that displaced her people?
The real highlight of this episode though is Walker!
It's revealed that he's not proud of the three Medals of Honor that earned him the title of Captain America. They constantly remind him of the lives he couldn't save during his service. He views being Captain America as a chance to make up for his shortcomings and be the best savior he can be.
Walker can't win a fight though. He starts to believe he isn't strong enough to be Captain America and eventually comes across a vial of the super-soldier serum. And now that he's a super-soldier he's confident no one else will die on his watch. 
Wyatt Russel portrays Walker excellently as an arrogant and unstable individual who isn't coping with his issues properly. Walker feels like a ticking time bomb and every roadblock thrown his way makes it seem that he is that much closer to exploding. 
And when he finally does, it's just as bad as one might think.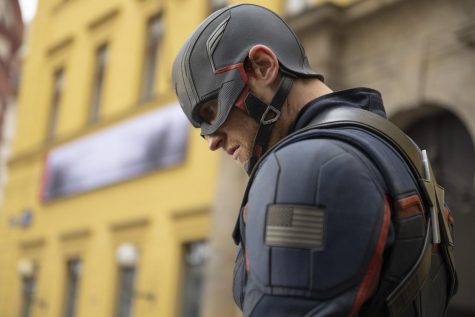 Even as a super soldier, Walker still fails when one of the Flag Smashers kills Walker's partner, Lemar Hoskins (Cle Bennett).
This switches Walker into an uncontrollable rage. He aggressively pursues Hoskins' killer and pins him to the ground, but it doesn't end there.
Walker savagely slaughters the man with Captain America's shield all while the public watches, as bystanders record and as the entire world watches as the Star-Spangled Man gets blood on his hands. 
Walker's murder of a surrendering man is haunting. As soon as Hoskins dies, you know what's about to happen. As a viewer, you feel helpless knowing nothing will stop this human freight train.  
The manner of murder itself is also graphic. The scene is filled with the blood and the visceral sounds of the shield impaling the victim which is even quite shocking for something on Disney+.
And the horror escalates even more when considering the context of the world we live in. This scene is evocative of the countless instances of police brutality in the United States. Walker's victim even remarks earlier in the episode that he used to look up to Captain America as a kid.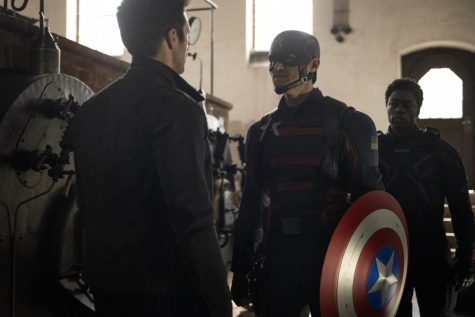 The villains are the focus this week, but the rest of the cast still get some time to shine.
Wilson tries to find a peaceful resolution with Morgenthau by relying on his former career as a war-veteran counselor.
His first instinct being to talk it out makes him a nice foil to Walker and his more aggressive approach. 
There is also the Dora Milaje (Wakanda's royal guards) cameo trying to apprehend Zemo for killing their former king in "Civil War." It's great to see them in action and it's impressive to watch them fight with such power, precision, and coordination in this episode.
Wilson's sister Sarah (Adepero Oduye) makes a brief appearance that emphasizes a key flaw of the series so far which is: Captivating characters from the pilot have been tossed aside.
The series is now more than halfway through the season and fans still don't know how Sarah's financial struggle is developing and the same goes for Bucky's relationship with Yori Nakajima (Ken Takemoto). They could be addressed later, but with two episodes left, it's hard to see how either of these storylines could end without being rushed.
Episode 4 of "The Falcon And The Winter Soldier: The World is Watching packs some shocking moments and puts every character in a tough spot by the end. After this week, it's hard to predict what might happen next.
Will the show be able to juggle its complex villains, Wilson's self-doubt over being Captain America, Sarah's financial difficulties, Barnes' atonement for his sins and Zemo's as-of-yet unknown plan all in the next two eps.?
Wanting to find out that answer seems like the perfect reason to tune in next week!
Click Here to watch "the Falcon and the Winter Soldier," on Disney+.