"The Falcon And The Winter Soldier" Ep. 2 Review: "The Star-Spangled Man"
The second episode of "The Falcon and The Winter Soldier" looks at Captain America's past, future and legacy. 
This Article Contains Spoilers
"The Star-Spangled Man" starts off by introducing John Walker (played by Wyatt Russell) as the new Captain America!
Yes, you heard that right new Captain America. Walker is a highly-decorated soldier who is chosen by the U.S. government to succeed Steve Rogers (played by Chris Evans). 
How did this happen? Well, it was because of Sam Wilson's (played by Anthony Mackie) decision to forfeit the shield which he thought meant the shield and its title would be retired permanently.
Obviously, though things didn't go as he planned and this ends up creating tension between Bucky Barnes (played by Sebastian Stan) and him. Barnes believes Wilson betrayed Rogers' last wishes when he decided to give up the shield, but Wilson stands by his choice.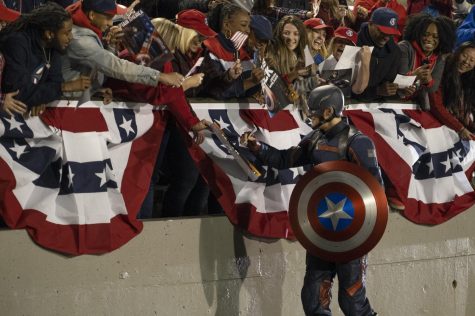 This disagreement in turn leads to arguing between the two throughout much of the episode. Don't worry though there is plenty of witty banter going around.
There's one scene with Wilson joking that Barnes's time in Wakanda during  "Avengers: Infinity War," turned him into the "White Panther."
Also, Barnes's tendency to stare at people is made into a running gag throughout the episode.
Now the Flag Smashers appear once again and are revealed to be more than just an extremist group.
After "Avengers: Endgame," governments around the world ran low on resources and those present during the five-year Blip were given much help.
The Flag Smashers were then formed during this time and are comprised of super soldiers who are trying to do good and help those that were forgotten. Now, what about their endgame? Not sure yet.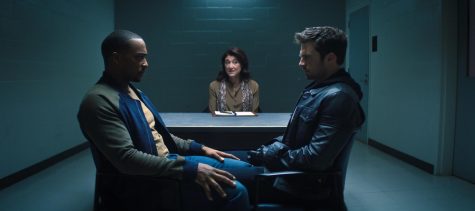 What's this episode's greatest achievement?
It's the usage of the multiple Captain America's to paint different pictures of what it means to be a living representation of America.
You have Steve Rogers who represents an ideal vision of what America could be and an America that has never existed. 
On the other side is John Walker who is anything, but Rogers and is more aligned with the America that exists. Walker has zero empathy, unnecessarily violent and much more that paints a picture of modern America.
The show continues its examination of America with the introduction of Isaiah Bradley (played by Carl Lumbly).
Bradley is a Korean War veteran who is also the world's first Black super-soldier.
However, unlike Rogers who became a celebrity as a result of the Bradley spent 30 years in prison.
Suffering three decades as a test subject for human experiments and with America erasing his name from the history books.
Bradley's presence in the show brings to light the many steps America will take to hide its atrocities it has committed in the past. 
The second episode has a strong emphasis on social commentary which is refreshing to see in the MCU. It also sets the bar high for the rest of the episode with how good it was. 
Click Here to watch "the Falcon and the Winter Soldier," on Disney+.