"The Falcon And The Winter Soldier" Ep. 1 Review: Premier
Marvel's latest Disney+ Original series "The Falcon and the Winter Soldier" gives Falcon and Bucky their own stage to shine in the Marve; Cinematic Universe.
The show continues back when Sam Wilson aka The Falcon (played by Anthony Mackie) was last seen in Marvel's box-office success "Avengers: Endgame" receiving the iconic Captain America shield from a retired Steve Rogers (played by Chris Evans) and inheriting the title "Captain America."
This Article Contains Spoilers
It's clear at the start of the ep. that Wilson is unsure about taking up the mantle. During a speech in Washington D.C., he laments on how symbols are meaningless without the right person behind them. Wilson simply doesn't believe in a "Captain America" without Steve Rogers and ultimately donates the shield to the Smithsonian.
Rejecting the shield stands in stark contrast to Wilson's commitment to Rogers at the conclusion of "Endgame," but poses an interesting question — what makes someone Captain America? 
The premier doesn't ponder on this too long though as Wilson has a lot to deal with this episode.
Four subplots appear to be present in a little over 40 minutes and Sam is knee-deep in three. Each subplot is engaging however, there isn't enough space for them to comfortably coexist in the same episode.
In ep. 1 Sam first takes flight as The Falcon early on when he prevents a plane hijacking.
Now aside from a few fist-fights that show off Sam's creative use of his Falcon gadgets the scene itself is overall visually bland. The majority of the sequence is CGI against a rocky landscape devoid of color.
Shortly after, Sam's buddy, Torres (played by Danny Ramirez) who is both diligent on missions and a jokester notifies him about the existence of the extremist group the "Flag Smashers" who Torres is investigating.
And then you have Sam helping out his sister, Sarah (played by Adepero Oduye) by trying to save their failing family business.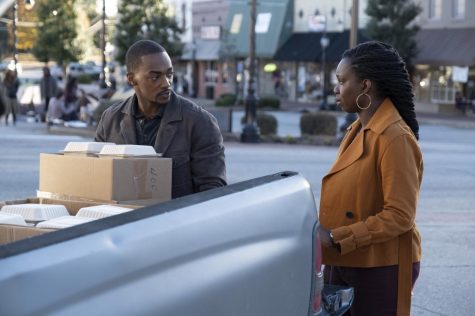 Overall Sam's portion feels a bit jumbled, but the pilot episodes tend to involve a lot of setup for the rest of the show.
So, hopefully, each of his storylines is given a chance to spread their wings as the series moves forward.
Now for the other star of the series Bucky Barnes (played by Sebastian Stan) has less going on in the premiere episode, but works in his favor by adding depth to his story.
After nearly a century of fighting Bucky is finally a civilian again and has been pardoned for his crimes, but his past still haunts him with nightmares serving as a nightly reminder of the murders and crimes he's committed against his will.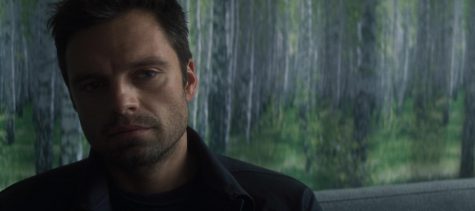 To ensure he remains stable his pardon mandates that he attends regular therapy sessions. He must also work to "make amends" and may no longer carry the title Winter Soldier.
For Bucky though the Winter Soldier still dominates his life. 
There is a beacon of hope though in the form of a lonely old man Yori Nakajima (played by Ken Takemoto).
The two care and are there for one another. Bucky actually takes Yori out for lunch every week and the old man sets him up on a date with a girl named Leah (played by Miki Ishikawa). 
The nature of Bucky and Yori's relationship takes a tragic turn however when Bucky's past comes back to haunt him.
And the impact this might have on their relationship is still up in the air.
Now at moment Sam and Bucky's storylines aren't intertwined yet, but the "Flag-Smasher," will most likely change that.
Overall, premier shows off an interesting take of the Blip, raises a lot of questions regarding the current "antagonists" and the MCU world.
And while not perfect episode one "New World Order" is still a worthy successor to the "Captain America" trilogy. It being slightly congested is not a reason to skip out on next week's episode. 
Click Here to watch "the Falcon and the Winter Soldier," on Disney+.