Grammys 2020: Beyoncé Broke A Record, Taylor Swift Makes History, A Stunning Performance From BTS And More!
Angela Donato, Entertainment Editor & Social Media Manager
March 21, 2021
The 63rd Annual Grammy Awards was hosted by The Daily Show's Trevor Noah back on Sunday, March 14 which was partially socially distanced and in-person unlike other award shows this season so far.
Now, despite the controversy surrounding The Weeknd and his snub's from any nominations the ceremony overall went smoothly throughout the night.
Noah opened up with, "Tonight we're gonna celebrate some of the fantastic music that has touched our lives and saved our souls during this unprecedented year. So, that's what tonight is all about, it's about bringing us all together as music only can. While I mean music and vaccines."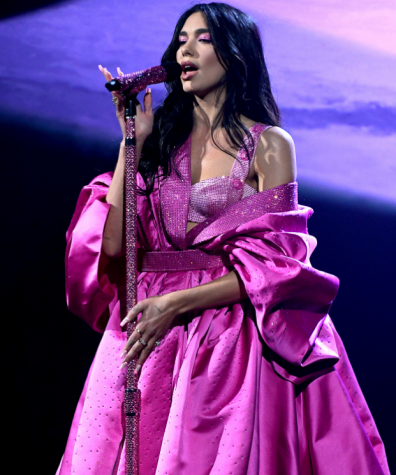 He continued "Tonight we're hoping that this is all about what 2021 can be, full of joy new beginning and coming together. Never forgetting what happened in 2020, but full of hope for what is to come. So, let's do this people!"
Let's Get Into What Happened!
Beyoncé went into the night with nine nominations and picked up four honors.
Upon receiving the win for Best R&B Performance for "Black Parade," she made history and broke the record for most Grammys with a total of 28!
"As an artist, I believe it's my job and all of our jobs to reflect the times. And it's been such a difficult time, so I wanted to uplift, encourage and celebrate all of the beautiful black queens and kings that continue to inspire me and inspire the whole world," Beyoncé said onstage.
This win makes her the most decorated woman in Grammy's history and ties her with Quincy Jones for second place among all the Grammy winners.
(This record is now previously held by artist Alison Krauss)
Taylor Swift's eighth studio album "Folklore" was named Album of the Year and made her the first female performer ever to win Album of the Year three times.
Swift revealed on Friday that she had received a bouquet of flowers from Beyoncé in celebration of her win.
Attached was a note and it read, "Taylor, Congratulations on your Grammy. It was great seeing you on Sunday night. Thank you for always being so supportive. Sending love to you & your family. B."
The singer/songwriter H.E.R. left with winning two honors. She won Song of the Year for "I Can't Breathe" and Best R&B Song for "Better Than I Imagined."
Dua Lipa picked up the honor for Best Pop Vocal Album for "Future Nostalgia."
Billie Eilish won Record of the Year for a second time in a row with "Everything I Wanted" and also won Best Song Written For Visual Media for "No Time To Die [From No Time To Die]"
Megan Thee Stallion left winning big as well getting the Best New Artist honor, Best Rap Performance for "Savage" and Best Rap Song for "Savage."
And according to AP News, with Dua Lipa winning Album Of The Year, Billie Eilish for Record Of The Year, H.E.R. for Song Of The Year and Megan Thee Stallion for Best New Artist, "it marked the first time four separate and slow women won the top four honors."
"I feel like there's been a lot of female empowerment and lots of women winning awards tonight. And so it's been absolutely amazing to just be alongside all that, to feel that energy," Dua Lipa said backstage.
What Else
BTS recreated the Grammy's set all the way back in South Korea for a show-stopping performance of their hit song "Dynamite."
The most-streamed artist in 2020 Bad Bunny performed alongside Jhay Cortez for their song "DÁKITI."
The award show took a moment to pay tribute to the many great musical artists that were lost this past year, in the In Memoriam segment. The Recording Academy this time around considered over 800 people for In Memoriam segment.
Harry Styles won his very first Grammy after his hit song "Watermelon Sugar" won Best Pop Solo Performance.
Harvey Mason jr. the Interim President and Chief Executive Officer of The Recording Academy took a moment during the broadcast to address controversies surrounding the award show.
Jeffrey Murdock, associate professor of music education at The University of Arkansas was the recipient of the 2021 Music Educator Award. This award, "recognizes current educators who have made a significant and lasting contribution to the field of music education and who demonstrate a commitment to the broader cause of maintaining music education in the schools."
"This is absolutely surreal," Murdock said to the Fulbright REVIEW. "There are so many deserving music educators in this country who are in the trenches doing this work. I'm honored to have been chosen from among them."
The ceremony took place outside across from the Staples Center in Downtown Los Angeles, with everyone following COVID-19 protocols and guidelines.