Piers Morgan Leaves "Good Morning Britain" After Disparaging Remarks About Meghan Markel
Co-Presenter Calls His Behavior "Pathetic" And "Diabolic"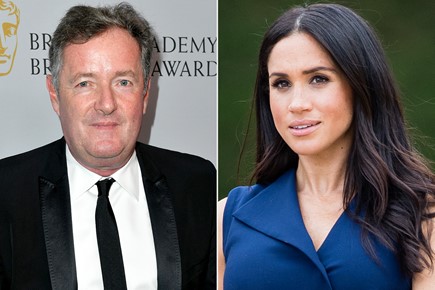 Angela Donato, Entertainment Editor & Social Media Manager
March 13, 2021
Piers Morgan, who drew massive backlash for his on-air remarks regarding Meghan Markel following her interview with Oprah, quit on Tuesday as co-host for the morning broadcast Good Morning Britain (GMB).
This comes after U.K.'s communication regulator Ofcom announced that they launched an investigation following Monday's broadcast under their harm and offense rules after receiving over 41,000 complaints.
"Following discussions with ITV, Piers Morgan has decided now is the time to leave Good Morning Britain," ITV said in a short statement. "ITV has accepted this decision and has nothing further to add."
March 8th: 
On Monday Morgan questioned Markel's overall truthfulness, racism accusations and claims that the continuous harassment she received from news outlets made her suicidal in her interview alongside Harry with Oprah back on March 7, 2021.
"I don't believe a word she says, Meghan Markle," Morgan said "I wouldn't believe it if she read me a weather report. And the fact that she's fired up this onslaught against our royal family, I think is contemptible."
March 9th: 
The following day on Tuesday guest co-presenter Alex Beresford was on Good Morning Britain and condemned Morgan's comments he made the day prior toward Meghan.
"I think that we need to all take a step back and I understand that you don't like Meghan Markel. You've made it so clear a number of times on this program a number of times." Beresford said.
"And I understand that you've got a personal relationship with Meghan Markel or had one and she cut you off. She entitled to cut you off if she wants to. Has she said anything about you since she cut you off, I don't think she has, but yet you continue to trash her."
Morgan then proceeds to storm off the morning show's set and say, "Okay I'm done with this."
Following his exit Beresford says, "Do you know what that's pathetic, that's absolutely diabolical behavior. You see. I'm sorry, but Pierce spouts off on a regular basis and we all have to sit there and listen 6:30 to 7 o'clock. Yesterday was incredibly hard to watch, he has the ability to come in here and talk from a position where he doesn't fully understand."
Later it came out that Meghan herself made a formal complaint to the network over Morgan's complaints.
CNN stated, "Meghan's complaint to ITV concerned the impact Morgan's comments could have on others and how it could degrade the seriousness of mental health issues."
According to ABC News though, "ITV did not cite a source acknowledging Meghan's complaint. Britain's Press Association also reported the matter, without citing a source."
March 10th: 
In a tweet on Wednesday, the English television personality said that he still does not believe Meghan.
On Monday, I said I didn't believe Meghan Markle in her Oprah interview. I've had time to reflect on this opinion, and I still don't. If you did, OK. Freedom of speech is a hill I'm happy to die on. Thanks for all the love, and hate. I'm off to spend more time with my opinions. pic.twitter.com/bv6zpz4Roe

— Piers Morgan (@piersmorgan) March 10, 2021
March 11th:
On Thursday, Morgan's co-host Susanna Reid gave her thoughts on his departure from the program on that morning's broadcast of Good Morning Britain.
Reid spoke with intention throughout her remarks and without mucking around.
"Now Pier's and I have disagreed on many things and that dynamic was one of the things that viewers loved about the program. He is, without doubt, an outspoken, challenging, opinionated, disruptive broadcaster, " she continued. "He has many critics and he has many fans. You will know that I disagreed with him about Meghan's interview."
With saying at the end, "It is certainly going to be very different, but shows go on and so on it will go."
To watch the discussion between Piers Morgan and Alex Beresford where Morgan walks off stage. Click Here