Sexual Assault Dominating 2017 Headlines
Wayne – A Google search of sexual assault cases in 2017 will present more than six pages of links to stories that can disgust and terrorize readers. A full two months have yet to pass this year, and the word rape can be found in major headlines across the United States.
Rape, defined as unlawful sexual intercourse with another person without consent, claims 321,500 victims each year, according to the RAINN website. Although 90 percent of adult rape victims are female, perpetrators and victims are as diverse as the situations in which instances of rape occur.
On Wednesday, Blake Ellis and Melanie Hicken released an investigative article which depicts the horrors of elders being sexually abused and raped in nursing homes around the country.
Last Sunday, Kevin Olsen, younger brother of NFL superstar Greg Olsen, was arrested on multiple charges including assault, cyberstalking, and second-degree forcible rape. The latest of Olsen's criminal offenses come after years of irresponsible behavior. In May 2013, a bystander saw Olsen, who appeared to be under the influence of something, crash his SUV into a tree, exit the vehicle and left the scene of the accident. Then, in September 2014, Olsen was arrested in Miami, FL for driving under the influence while in possession of a stolen or fake driver's license.
Olsen's arrest follows a horrible week at Ohio University where four cases of rape were reported within days of each other. In local news, a 17-year-old from Piscataway, NJ was arrested on Monday after he attempted to rape a woman in New York City.
The Stats
As a brother to two strong women, few things terrify me more than the thought of a stranger attacking my siblings. These horrific events are some of the worst displays of human cruelty affecting victims, families, friends, and entire communities. Those who commit sexual crimes are less likely to see jail time than other criminals. The lack of reporting sexual assaults continues to suppress the number of yearly convictions. Victims may not want to bring shame on their family or friends, while 20 percent of victims failed to report their experiences out of fear of retaliation, according to RAINN.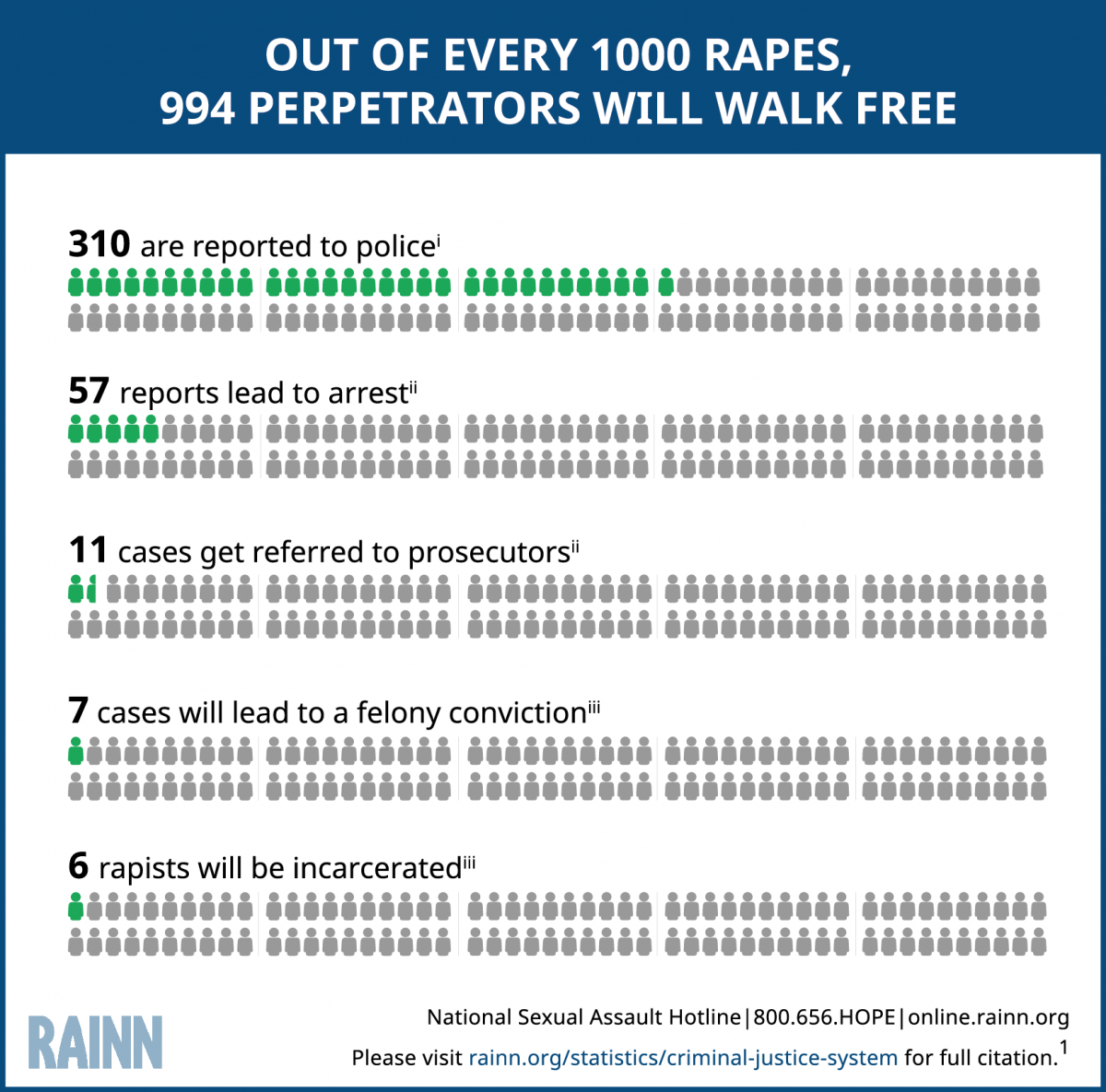 Source: RAINN.org
Sexual abuse or assault victims are drowned in shame and cannot often effectively interpret the emotional aftermath of such a devastating experience. Victims may experience nightmares, or lack of concentration, and may even fall into high states of depression which can lead to suicide. About 33 percent of rape victims consider suicide, with 13 percent attempting suicide, according to Suicide.org. However, suicide is not the end-all answer that many victims seek. Suicide will only spread the pain of helplessness and failure to those close to any victim, stamping friends and family members as secondary victims.
Avoid, Resist, Survive
Few combinations exist as perfectly as milk and cookies, macaroni and cheese, and alcohol and college. For many college students, drinking boundaries are to be pushed to the absolute max. Speak Out About Rape offers the following advice:
"Practice safe drinking. Know your limit. Do not leave any beverages unattended or accept drinks from someone you don't know or trust (this includes non-alcoholic drinks)."
Keep in mind that sexual predators attack people who appear to be weak or inattentive. Always be aware of your surroundings, especially when at gatherings or parties.
As my company commander always told us, "Expect the unexpected." Remaining passive and quiet should not be an option if you are ever being attacked by a sexual predator. A little preparation can go a long way, and plenty of self-defense classes are available nearby the WPU campus. White Tiger Martial Arts in Wayne, NJ offers adults and children powerful self-defense classes. Some sexual assault victims have "frozen" mid-attack, discrediting the automaticity of the fight-or-flight instinct while experts believe possible victims should do whatever it takes to survive the experience.
The 911rape.org website lists these tips for anyone who may have been raped or sexually assaulted:
Notify the police immediately. Reporting the crime may help you regain a sense of personal control.
Get medical care as soon as possible. Having a medical exam is another way of preserving physical evidence.
Talk to a counselor trained to deal with rape victims. Counseling can help you learn how to cope with the emotional and physical impacts of the assault.
Despite experiencing one of the worst attacks imaginable, the fact that you have survived means that you are meant to surpass this event. Support groups and psychologists of all types can be found in the Wayne area. For anyone facing troubling times on campus, Campus Victim Services Coordinator Theresa A. Bivaletz is readily available to support you in your time of need.
For more information about how to avoid, how to resist, or for help dealing with a sexual assault experience or victim, follow the links on the appropriate word.