Retro Reviews: When Marnie Was There (2014)
A Rush of Emotions thats Possibly the Last Installment in the Ghibli Franchise
Studio Ghibli's latest film release back in 2014 is a mysterious yet endearing coming-of-age story, focusing on a young girl who has an illness that has taken over her heart and mind.
The Japanese animation studio, Studio Ghibli, produced the movie and is also known for curating, "Spirited Away (2001)," "Howl's Moving Castle (2004)," "Princess Mononoke (1997)" and many more critically acclaimed films. It was written and directed by renowned Japanese animator and director Hiromasa Yonebayashi who previously made his directorial debut with "The Secret World of Arrietty (2010)," alongside Hayao Miyazaki. After 18 years of working at Studio Ghibli, he left in 2015 and established his own animation company named Studio Ponoc.
12-year-old Anna Sasaki (voiced by Sara Takatsuki) has changed quite a lot from when she was as a child to now who is very distant, detached and closed off. After Anna faints from an asthma attack, her mother Yoriko (voiced by Nanako Matsushima), who she calls "auntie," talks with their doctor about Anna's withdrawn attitude.
She says that her face has become "wooden like" recently and is worried about her. It is then decided that Anna needs some fresh air and will go away for the summer to live with some relatives of her "auntie" who live in a rural, seaside town called Kissakibetsu to get better.
In this far away town that Anna meets the mysterious blonde-haired girl Marnie (voiced by Hana Sugisaki).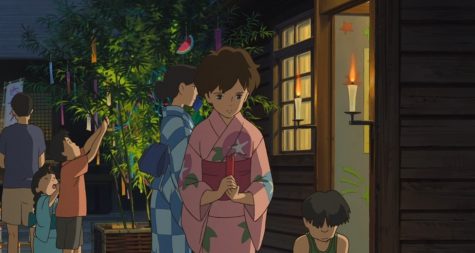 Shortly after her arrival to Kissakibetsu, she goes out and stumbles upon an abandoned mansion on the other side of a marsh and decides to go and explore it. She looks around but eventually finds herself trapped by the rising tide until a Toichi, (voiced by Ken Yasuda) a fisherman finds her. Beginning that night, Anna then starts to see the blonde-haired girl in her dreams.
Later on, after running off from a festival following an argument with another girl, Anna runs off towards the marsh and it is there at the mansion that she has her first encounter with Marnie, with many soon to come. The two young girls agree to continue meeting in secret and begin to develop a budding friendship.
Throughout this film, Anna and Marnie become closer and each time they meet, Anna's "wooden like" face begins to crack as their relationship blossoms. She begins to become a little bit happier, but unknowingly, to Anna, their friendship is pushing to her confront repressed and forgotten memories from long ago.
In turn, Anna soon begins to experience a whirlwind of emotions that become more extreme and heavier as the film progresses. Anna is on the path to growth and healing thanks to Marnie, but the journey will not be a smooth one.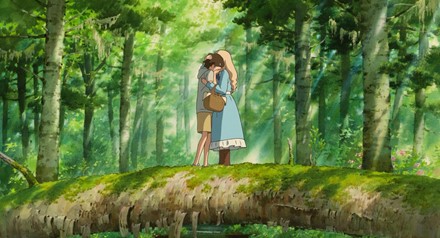 The movie is also visually appealing with dazzling animation that captivates the eye. Reality and fantasy are blended proficiently together especially during Anna's dreams and flashbacks.
The sky is also an important aspect of the film to watch for. Throughout the film, the sky is used to reflect what Anna is feeling and is executed excellently for becoming a tool to push forward the story as well as enhance it.  At times, the sky might look ominous, where at other points it will appear to be almost pearl-like.
In this film, Anna reconnects with someone long forgotten, confronts her own puzzled and heavy thoughts, kindles new bonds and experiences a journey of self-healing and growth.
"When Marnie Was There," is a coming-of-age film with a side of heartache. Its visuals are alluring, it has a varied amount of intriguing characters and plenty of mysteries to get the viewers guessing until the very end.
GKIDS is distributing the film which is now available in Blu-ray, DVD and Digital. You can also stream it on HBO Max.