Lui Yifei ruins the release of Mulan because of a comment on social media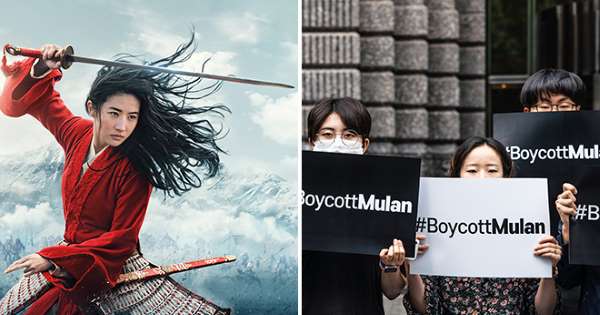 After being delayed twice, Disney finally made the decision to release its live-action movie "Mulan" on its streaming service platform, Disney+.  
Following the release of "Mulan," Yifei attracted controversy because of a message she shared in 2019 on Weibo, a popular Chinese social media platform.
 "I support Hong Kong's police, you can beat me up now," Yifei wrote.
The actress made the comment at the time of the Hong Kong pro-democracy protests. Now, many are participating in #BoycottMulan, a new trend storming Twitter after the release of the movie.  
The #BoycottMulan movement has taken momentum mostly in Hong Kong, Taiwan and Thailand. 
Reports from Sensor Tower, an app download research firm, showed Disney+ spiked 68% from Friday, Sept. 4 through Sunday, Sept. 6, compared to one weekend prior. Although Disney+ has experienced a major increase in subscriptions this weekend alone, the backfire from the comment Yifei made has negatively affected the movie. 
In spite of the boycott, I feel the movie had great direction and showed phenomenal visuals.  It's unfortunate that the film is being boycotted due to a political opinion made by one of the crew members.  
The movie was more than just a remake of the animated "Mulan," it truly portrayed the heroic folk from the Northern and Southern dynasties of Chinese history. 
 As a life-long Disney fan, Mulan's story has always been one of my favorites, and being able to watch the live-action version was better than I imagined. Compared to the other live-action movie remakes Disney has released in recent years, "Mulan" is top three for me. 
The action in the movie was exciting! There was a mix of war and martial arts with just enough comedy to remind the viewers it was still a Disney movie. I love that Mulan gives a strong message to girls about breaking gender norms. I feel this movie is inspiring to watch for both young girls and adults.
With minor changes, like eliminating Mushu and changing the musical tone, the live-action version gave a different vibe to viewers. I'm not complaining because the new Mulan has given me another perspective, but the inner child in me did look forward to a comeback from Mulan's funny dragon companion.
The main actress, Liu Yifei, gave an outstanding performance along with the legendary cast members Jet Li and Donnie Yen.