Students will not get tuition refund, university president clarifies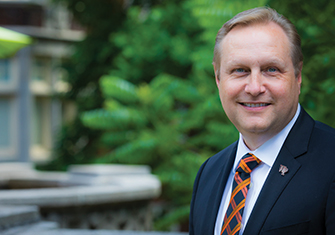 University president Richard J. Helldobler put rumors of a tuition refund to rest Thursday, April 30 at a town hall livestream, where he told students that they would not be reimbursed as a result of the switch to online learning.
Helldobler said that online classes cost more due to the unchanged cost in professors' salary and the technological and infrastructure expenses.
However, he also said that William Paterson's application for a federal CARES Act grant has been accepted. Half of the aid will be distributed to students. The application status is still new, so further details are still unknown. The president told students that he will give an update as soon as possible.
Continuing students were given a choice between a refund for courses, labs, parking fees and, if applicable, room and board, and credit towards the Summer 2020 or Fall 2020 semester. Students who lived on campus during the Spring 2020 semester will also be allowed to register for a free 3-credit course in either the Summer 2020 or Winter 2020-2021 semester.
The university has issued over $3 million in refunds so far. All refunds will be issued by the end of the month.
To relieve students of financial burdens caused by the virus, all registration holds have been removed, and bills for the Fall 2021 semester will not be due until August 13. William Paterson also is also providing emergency relief money for students. FAFSA applications are now due June 1.
The president also discussed plans for a live commencement ceremony, which he said will take place in September or October. A virtual commencement will be held on May 26.
The university is currently waiting for information from Prudential Center regarding when arenas may re-open. If a live commencement ceremony at Prudential Center is not possible, the president said that it will be held on campus. An on-campus ceremony would most likely take place in the Rec Center, according to the president.
For more information, visit the university website's COVID-19 page.