Two Top left tackles on their way to the Big Apple
Many coaches believe that football is won in the trenches. Well, on April 23, both the New York Giants and the New York Jets both selected left tackles with their first round selections.
New York Giants
The Giants drafted Andrew Thomas from the University of Georgia and the Jets took Meckhi Becton from Louisville University. Both teams filled top needs with these picks and immediatly improve their offensive lines.
Starting with the Giants, their offensive line is one of their biggest problems. In the 2018 offseason, they made Nate Solder the highest paid left tackle in history with a monster 4 year/$62 million contract. Thomas has the flexibilty to play guard or right tackle as well. The opportunity was there for the Giants to draft Clemson linebacker Isiah Simmons, who many thought was going to be the pick.
Nevertheless the Giants sure off the offensive line and hope to have Thomas protect Daniel Jones for years to come. They needed this pick also because the rival Washington Redskins drafted Ohio State defensive end Chase Young, who will be a major threat to the them.
New York Jets
The Jets on the other hand, had a lot of different ways they could have gone with the 11th overall pick. There was a pre-draft belief that they would address the wide receiver postion after they lost Robby Anderson in free agency.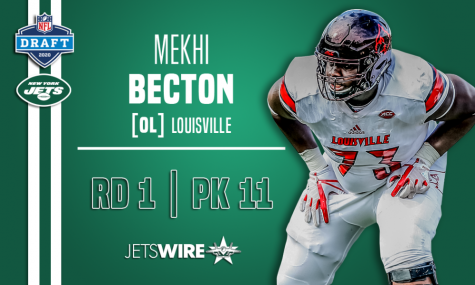 The 2020 wide reciever is looked at as one of the best in recent history. Headlined by Oklahoma's CeeDee Lamb and Alabama's Jerry Jeudy and Henry Ruggs III, the Jets were in prime position to get a new weapon for Sam Darnold.
Nevertheless, they drafted the 6-foot-7-inch monster Mekhi Becton from Lousiville. His combined numbers were through the roof running a fantastic 40 yard dash in under five seconds. Becton has seen his stock rise the past few weeks before the draft. The Jets do address a big need with Becton as their offensive line was ranked one of the worst in the NFL this past season.
Sam Darnold was sacked 52 times last season, which is the 4th highest in the league. Becton will also be relied on to help star running back Le'veon Bell who had an poor 2019. Becton was given All-ACC honors last year.
The other three AFC East teams drafted defensive ends at some point during the draft. The Jets did draft Baylor wideout Denzel Mims with their 2nd rounder so the Becton pick should reign important.
Both Becton and Thomas are expected to be day one contributors for their teams.