William Paterson animals run rampant with social media accounts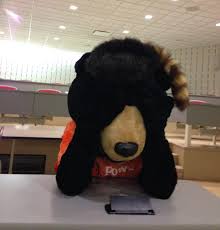 Cole Slaw, No, it's not the food you eat
April 2, 2020
On @wpu_confession, the student confessions instagram account, the owner revealed his true identity yesterday as beloved school mascot Billy the Bear!
The confessions page is set up where students direct message (dm) an anonymous owner of this secretive account and they can post for the school to see.
It consists of complaints about professors, students and even important information regarding the school.
Students can comment their response to the post, which sometimes turns into a battle between students.
Billy the Bear has secretly been busy running this account, a main reason why he barely appears at any sporting events. That's why there's been such a lack of school spirit at athletic games.
"I am completely stunned that our own mascot, who never shows up to anything, is running this page," a WPU student said in an email. "This is very unprofessional. I thought that it was a frat guy tbh."
Many people were not happy with him because he's been out of it for so long and now they know what has been up with him.
He released his statement via @wpu_confession's at 12:30 p.m. during virtual Common Hour.
"Hello fellow students," read the post. "It's me the owner of this account…Billy Bear."
There was a flood of comments on this post and people were attacking him because he never shows up to any events due to him running this page.
Due to confidentially, no comments from this post will be written.
Billy Bear had his own secret office at the bottom of the Student Center. He explained how he got down there.
"Well, on the 2nd floor of the Student Center, there's this blue elevator," he said. "I went to the dark creepy basement and had a computer set up. I've sucked all the internet down there, so that's why many student offices have no internet."
He said he wasn't proud of what he did and that he won't be showing his face again for a while after he actually outed the @wpu_geese account.
"Actually there's one thing you don't know," he said to reporters. "@wpu_geese has been helping me and I have been helping them run their page too. That's why there's been so many geese around!"
@wpu_geese is an account that is dedicated to the geese on campus.
"HONK!," said the owner of the account.
Back on the second floor, Billy Bear's bosses at Campus Activities, Service and Leadership (CASL) are putting him on probation due to his actions. They put out an email to all students.
"Hello students, due to Billy Bear's actions, we have decided to put him on probation because of this awful thing he has done," it read. "We will not be taking down the page, but you will not be seeing our beloved mascot at events for a while, even in the fall."
One student who asked to remain anonymous said that they were happy he stepped up to run this page and that it needed to happen.
"I thought running this page, students would love me more," Mr. Bear said. "Obviously not and I apologize for my actions and I promise I will show up more to events after my probation. I have Will Power!"