Kick Debuts at Shea Center
Joanna Rush Performs "Kick" at Shea Center
April 12, 2017
Wayne – As events aimed at deterring sexual assault take place around the William Paterson campus, Joanna Rush is set to perform the award-winning play "Kick: It's Not How High. It's How Strong," at Shea Center today, April 12.
"Kick," a one-woman show based on the forceful experiences and evolution of Rush, exposes the multifaceted challenges of overcoming rape, shame and self-doubt. As an author, playwright and former Rockette, Rush introduces her audience to a series of characters who guide the show through moments of pain and laughter. Rush maintains that the show's main character, Bernadette O'Connell, will touch the heart of "anyone whose life is not turning out as plan."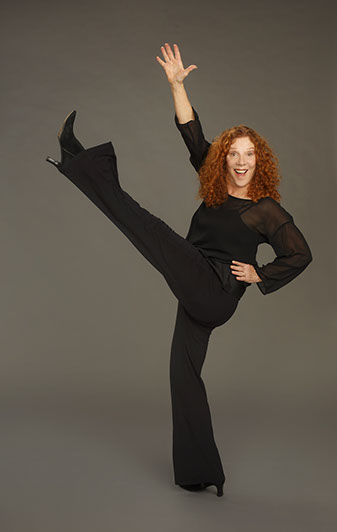 "The play continues to teach me valuable lessons and the connection that I have with the audience is just deep and soul nurturing," said Rush.
The Artist
Born in Montclair, New Jersey, Rush studied acting and dance immediately after high school while performing as a Rockette. Rush's acting career has taken her across Europe, Canada and Africa. Director Lynne Taylor-Corbett believes Rush captivates the imagination of the crowd by entertaining with "wisdom and humor." For her portrayals in "Kick," Rush is the May 2016 winner of Best Solo Performance and has garnered high reviews from countless critics.
Although Rush performs the one-woman show seamlessly, she is not beyond recognizing the mental and physical demands while conducting such a feat. During one performance, Rush lost sight of herself mid-play while her mind focused on future edits for the show. After gaining her composure, Rush received a great review from a critic sitting in the crowd.
The Future
Taylor-Corbett and Rush have also found on-campus success by implementing life lessons from the play into acting and producing workshops for college students. At Ohio's Lorain County Community College, Taylor-Corbett and Rush have managed to motivate students who wish to have successful careers in the field of theater. One student who attended the workshops has become Disney's artistic director of a Children's Theater. Despite stories of success, Rush finds that the budget cuts for arts funding imposed by the new White House administration will take a toll on future artists.
"There are extreme highs and very challenging lows. I think it keeps getting tougher. That being said, I can't imagine a more satisfying life," said Rush.
Aside from "Kick," Rush is also working on developing "Accidental Mummies" and "Outside the Box," another solo venture which focuses on death and fashion. Throughout Rush's career, she has found the sense of community among the audience to be a driving force for inspiration.
"I have learned that there is so much goodness, so much willingness to be there for each other, to tell their stories and to listen to each other. Our audience really gets the importance of a theater experience in our lives," said Rush.
To RSVP for "Kick: It's Not How High. It's How Strong" contact the Women's Center at 973-720-2946. The performance is open to the public and free for William Paterson staff and students.