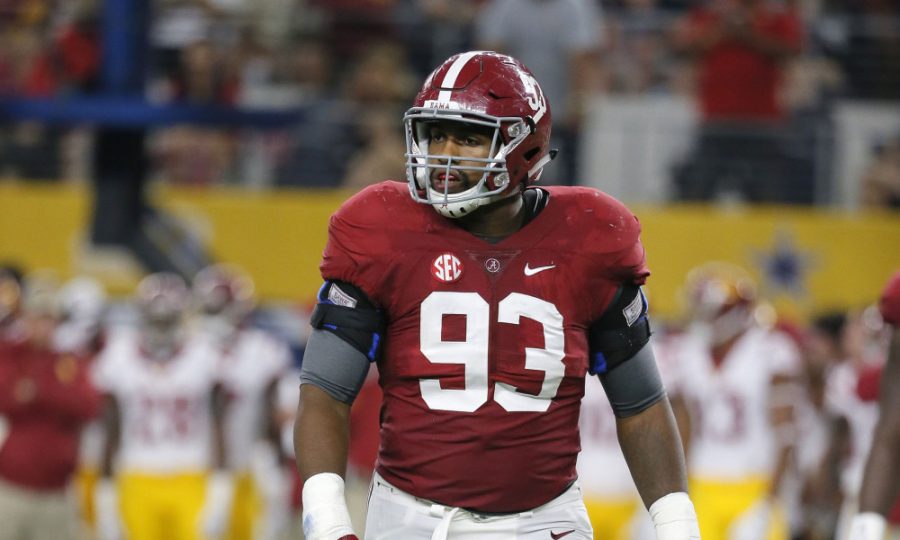 Free Agency Fallout: NFL Mock Draft
March 21, 2017
The free agent frenzy is over and I am ready to get into draft mode. This is the best time of year for football fans, especially if you are a fan of a horrible team (like myself).
With the draft about a month away, I thought I would get caught up and create my first mock draft for this year's draft class.
(NOTE:The following mock draft is a prediction of what I think NFL teams will do. This isn't necessarily what I would do personally.)
Cleveland Browns: Myles Garrett – DE (Texas A&M)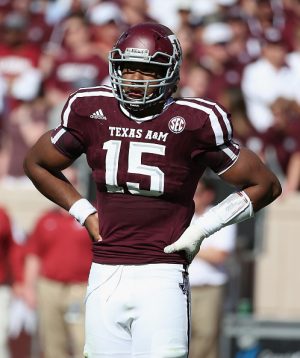 It's easy to make fun of the Browns, but they have done a pretty good job this offseason. Trading almost nothing for a 2018 second-round pick, re-signing Jamie Collins and signing WR Kenny Britt and OG Kevin Zeitler.
Adding Garrett would put a cherry on top of this strong offseason for Cleveland. Garrett has been the consensus number one pick at this spot for a long time. Garrett can transform a front-seven with his speed and size. He was a machine in college and I think he is going to be a franchise piece for the Browns.
2. San Francisco 49ers: Solomon Thomas – DL (Stanford)
I had trouble right away in this mock. The 49ers have so many holes on the roster, they could go in about 25 different directions. I don't think San Francisco is willing to take one of the quarterback prospects in this spot, so they find their last piece for the defensive line in Solomon Thomas.
The Stanford product is coming off of an incredible combine and has shot up draft boards. Thomas would fit well with Arik Armstead and DeForest Buckner in the new 4-3 system San Francisco will be implementing.
3. Chicago Bears: Jamal Adams – S (LSU)
Although I don't believe Mike Glennon is the answer in Chicago, the Bears probably won't invest in anymore quarterbacks this offseason.
They will start to build their defense and there's no better way to do that than selecting Adams. The LSU product has great range and can play both the run and pass. In a weak secondary, he can produce immediately and become a leader for that defense.
4. Jacksonville Jaguars: Leonard Fournette – RB (LSU)
The Jaguars continue to add pieces around Blake Bortles. Although T.J. Yeldon and Chris Ivory are serviceable backs, Fournette has superstar potential. It shouldn't shock anyone if he has a rookie season mirroring Ezekiel Elliot or Todd Gurley.
With his hard nosed style, Fournette isn't going to be afraid to put his head down against NFL defenders. If he can stay healthy, he has Rookie of The Year potential.
5. Tennessee Titans: Marshon Lattimore – CB (Ohio State)
Although Lattimore only had one productive season in college, he still is the top corner prospect in this draft. The Titans have some pieces on defense, but they are lacking a lockdown corner.
I have a strong feeling the Titans address their secondary at number five. They do need a true number one for Marcus Mariota, but I don't think Mike Williams or Corey Davis are top five picks.
6. New York Jets: Malik Hooker – S (Ohio State)
The Jets roster is bare. There is a glaring need at quarterback, but there isn't a rush to draft one with how bad this team is on paper.
The first step for the Jets should be to rebuild the defense. The front seven has a few pieces but the secondary is bad. Adding a ballhawk in Hooker could start to get the ball rolling.
Loading ...
7. Los Angeles Chargers: Jonathan Allen – DL (Alabama)
With the two top safeties off the board, the Chargers can go in a plethora of directions. Some have hinted at a replacement for Philip Rivers, or another weapon for 17 to play with.
I think the Chargers find a player to pair Joey Bosa with. Allen has gotten heat of late because of his combine performance and concerns about his shoulder. If Allen drops to the Chargers, thier front seven will get a much needed boost.
8. Carolina Panthers: Derek Barnett – DL (Tennessee)
I like the idea of Fournette to the Panthers in their run-heavy system, but I don't see him falling to eight at the moment.
For now, the Panthers take Barnett and replace Kony Ealy. Barnett was extremely productive in college and will have the pleasure of learning from Julius Peppers and Charles Johnson.
9. Cincinnati Bengals: Corey Davis – WR (Western Michigan)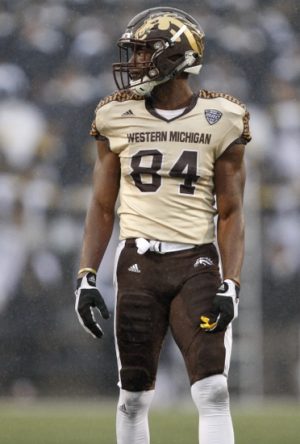 Finally, a wide receiver has come off the board.
Still in a position to contend, quarterback Andy Dalton needs another weapon. Davis would slide in as the number two wideout and be a tremendous duo with A.J. Green.
10. Buffalo Bills: O.J. Howard – TE (Alabama)
The Bills defense is pretty talented. They did lose Stephon Gilmore and could go corner in this spot, but with a talent like Howard still on the board, it would be hard to pass him up.
Howard is a talented receiver and a decent blocker too. Which is a good trait to have when the Bills look to hand the ball off to LeSean McCoy.
11. New Orleans Saints: Reuben Foster – ILB (Alabama)
I love this fit. The Saints defense has been putrid for years and years. Adding Foster would bring an attitude the Saints defense has been lacking for a long time.
Foster can make plays in both the running and passing game, he relies on his athleticism to make a lot of plays, but with experience his instincts should improve.
12. Cleveland Browns: Mitchell Trubisky – QB (UNC)
I have no idea when the Browns will address their need at quarterback, but this pick wouldn't be a bad place to do it. Trubsiky won't be ready to start this year, but with the Browns patiently re-building, there isn't a rush.
I have Trubisky has my number one quarterback. He has the size and arm, but has some problems when he's under pressure. I'm praying for the Browns to finally pick a solid QB.
13. Arizona Cardinals: Quincy Wilson – CB (Florida)
With no answer opposite Patrick Peterson, the Cardinals need a cornerback
Thankfully, this draft class is cornerback heavy. There are plenty of talented guys that are going to go day one or two and I am a big fan of Florida's Quincy Wilson. He should be taken somewhere in the middle of the first round and the Cardinals would be a good fit.
14. Philadelphia Eagles: Gareon Conley – CB (Ohio State)
The Eagles need a cornerback in the worst way. I understand that running back Dalvin Cook could surround young quarterback Carson Wentz with weapons at every position, but cornerback is a more pressing need.
Gareon Conley is a talented press corner and could bring life to a position that was a major hole in a pretty good Philadelphia defense. Philadelphia cannot rely on Wentz just yet, their defense is what is going to win them games.
15. Indianapolis Colts: Dalvin Cook – RB (FSU)
The Colts need to find a way to take pressure off of Andrew Luck. They have been unable to fix either the offensive line or defense up to this point, so why not bring in a potential star at running back.
Cook has tremendous burst and can wreak havoc if he gets to the second level. Cook has had issues with fumbles and drops in college, but if he can clean that up, another special offensive duo could be made in Indianapolis.
16. Baltimore Ravens: Charles Harris – DE (Missouri)
The Ravens defense was among the NFL's best last season, but there is still need for a pass rusher. Elvis Dumervil is gone and Terrell Suggs is 34, the Ravens need someone to fill the void.
17. Washington Redskins: Jabrill Peppers – S (Michigan)
Personally, I am not a huge fan of Peppers. I think he is too much of a risk and showed little production in college. Still, his physical attributes make him hard to pass up on especially at this point in the draft.
The Redskins need help on defense and Peppers versatility is something that they should covet.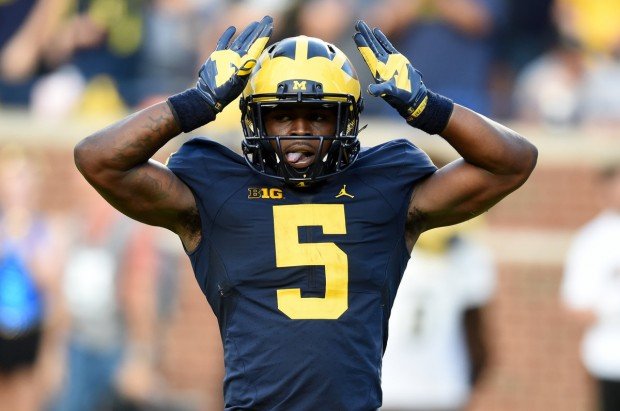 18. Tennessee Titans: Mike Williams – WR (Clemson)
The Titans are back.
This time, they get a target for Mariota. Mike Williams had a strong playoff performance for Clemson and has the size to be a number one wide receiver. If the Titans can fill needs in both the secondary and wideout positions, it would be a major victory.
19. Tampa Bay Buccaneers: John Ross – WR (Washington)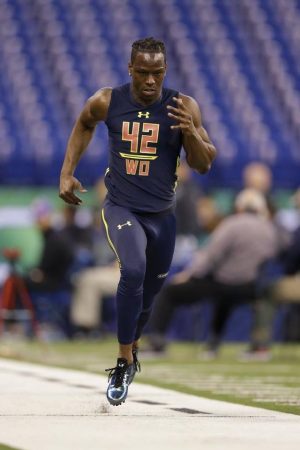 The Buccaneers have something special in Jameis Winston. Entering his third season, he is primed to take a big step in his development.
Giving him another receiver to go along with Mike Evans and tight end Cameron Brate will open up the offense. Ross made headlines with his 4.22 40-yard dash, but he brings more than just speed to the table.
20. Denver Broncos: Ryan Ramczyk – OT (Wisconsin)
The Denver offensive line needs some help. Although Ramczyk recently underwent hip surgery, he is still widely considered a first round talent.
Even with the injury, I think the Broncos take a chance on Ramczyk and try to rebuild in the trenches.
21. Detroit Lions: Taco Charlton –  DL (Michigan)
The Detroit Lions were a playoff team last year with a new-look offense, but the defense had familiar struggles.
With Ziggy Ansah struggling last season, the Lions need to find a way to get to the quarterback. Charlton can provide a pass rush opposite him and try to revive a weak front seven.
22. Miami Dolphins: Haason Reddick – LB (Temple)
Although the Dolphins added veteran Lawrence Timmons to their linebacking corps, it shouldn't steer them away from Reddick.
The New Jersey native has shot up draft boards and with good reason. He is a stellar athlete and had great production in college. His added pass rushing ability should also fit nicely next to Cameron Wake.
23. New York Giants: David Njoku – TE (Miami)
The New York Giants haven't had a good tight end since the Jeremy Shockey days (Sorry Kevin Boss fans).
Adding Njoku would do wonders for Eli Manning. Brandon Marshall and Odell Beckham Jr. are going to garner a ton of attention on the outside and allow Njoku to work the seams all game long.
Loading ...
24. Oakland Raiders: Tre'Davious White – CB (LSU)
With a healthy Derek Carr, the Raiders are going to be expecting a deep playoff run next season. A strong passing game and a solid front seven is going to set them up for success.
The only issue with the Raiders is their secondary. They spent big money on cornerback Sean Smith last season and he flopped. Now, the Raiders will look to the draft.
25. Houston Texans: DeShone Kizer – QB (Notre Dame)
Well, Kizer is going to be a project. Alike the other quarterbacks, Kizer will need time to get used to an NFL offense.
On the plus side, Kizer has the arm, mobility and size of a prototypical NFL quarterback. The Texans could use a bridge quarterback while Kizer develops, but his ceiling is extremely high.
26. Seattle Seahawks: Cam Robinson – OT (Alabama)
This offensive line class is extremely weak. Hence the second tackle being taken is at number 26. Regardless of the strength of the class, Seattle is going to be desperate to find a tackle early.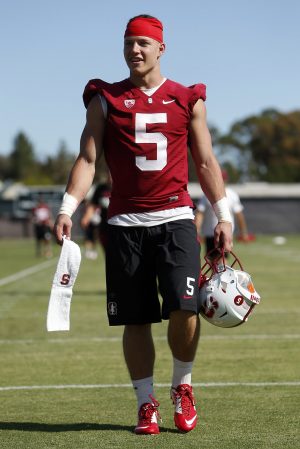 27. Kansas City Chiefs: Christian McCaffrey – RB (Stanford)
There are rumblings about the Chiefs taking a quarterback here, but I think McCaffrey would be an interesting fit in Kansas City.
The Chiefs run a very unique offense and McCaffrey's skill set could fit right in alongside Tyreek Hill and Travis Kelce.
28. Dallas Cowboys: Marlon Humphrey – CB (Alabama)
Yes, Brandon Carr and Morris Claiborne aren't the best corners in the world, but losing both of them is a big hit for Dallas. They need to find a way to replace them and with Humphrey still on the board, I think he is the obvious choice.
29. Green Bay Packers: Forrest Lamp – OG (Western Kentucky)
Yet again, the Packers were quiet in free agency. Of course, they are always a threat with Aaron Rodgers, but with T.J. Lang heading to Detroit, the Packers need to replace him.
Enter Forrest Lamp. He played tackle in college, but he doesn't have the body to stay there at the next level. Move him inside and continue to protect the franchise QB.
30. Pittsburgh Steelers: Takkarist McKinley – OLB (UCLA)
The Steelers don't need to pay much attention to their offense with Antonio Brown inking a long-term deal and Le'veon Bell returning next season.
Their defense should be their main concern. In particular their pass rush needs to be addressed and McKinley is the answer here.
31. Atlanta Falcons: T.J. Watt – LB (Wisconsin)
The Falcons need to get Vic Beasley some help when it comes to rushing the passer. Watt has a strong combine and his pedigree is going to get people excited.
The Falcons defensive line needs the help and although Watt is a controversial pick in the first round, the Falcons have a strong enough roster to take a risk.
32. New Orleans Saints: Chidobe Awuzie – CB (Colorado)
With this cornerback class, the Saints will have a few options to choose from. I thought Awuzie was the right option as he can play a smart man-to-man style.
With such a weak defense, any help on that side of the ball is needed.