Gov. Murphy Signs Flavor Ban into Law Amid Exaggerated Moral Panic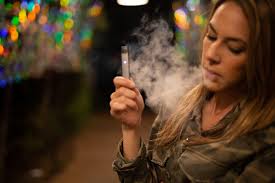 A bill prohibiting the sale of all flavored e-cigarette products was signed into law by Gov. Phil Murphy on Jan. 21 amid mass hysteria surrounding an outbreak of lung injuries.
The new law hopes to curb teenage vaping, a phenomenon now viewed as an epidemic. However, what is often excluded from this discussion is how the increasing popularity of e-cigarettes has affected cigarette use.
According to Truth Initiative, cigarette use by New Jersey high school-aged teenagers has fallen over 8% in the last year. Despite the public outrage surrounding vaping, it is serving its purpose as an alternative to cigarettes proven to be about 95% safer.
Moreover, the lung injuries that prompted this legislation were revealed to be unrelated to flavored e-cigarettes. Almost all of the reported cases were caused by vitamin E in aftermarket THC vaporizers.
The only exception presented in the flavor ban are tobacco flavors. However, in a recent Harvard study on Juul pods, the tobacco and menthol flavors were revealed to pose the most potential damage to the lungs, as traces of the microbial toxin glucan were found in these two flavors primarily. Therefore, this ban affects all products except those deemed the most dangerous.
In addressing teenage vaping, it would be a much more pragmatic approach to simply increase penalties to sellers who are caught selling to people under the age of 21.
This would help decrease underage access to vaping products, while also keeping law-abiding sellers in business. A flavor ban instead threatens to irreparably damage the state's vaping industry and put countless stores out of business.
Taking all of this into account, who stands to gain from banning flavored vape products? The lobbying efforts of the tobacco industry provide an odious answer to this question.
With access to vapes extremely limited by the closure of stores, users will find themselves needing a nicotine fix. With cigarettes still widely available in New Jersey, many will find themselves turning to this far more dangerous product.
The tobacco industry is well aware that former vape users could prove to be a lucrative new market. This is why tobacco companies welcome legislation against e-cigarettes, and lobbyists work to see it become law.
Therein lies the reason that anti-vape activists supporting legislation like the New Jersey flavor ban are working against their own goals. All types of e-cigarettes are intended to be used by ex-smokers looking to quit.
In the right circumstances, they are an excellent tool that can help individuals ween themselves off of nicotine entirely.
Furthermore, individuals who use e-cigarettes responsibly should not be punished by a surge of teenagers using them illegally and irresponsibly. There is a reason why New Jersey laws prohibit the sale of these products to people under 21.
Thus, the moral panic and mass hysteria around e-cigarettes and flavors is not only hyperbolic but is also counterproductive.
The New Jersey state government should not restrict access to a safer smoking alternative while cigarettes are still sold in every convenience store.